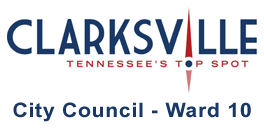 Clarksville, TN – The Clarksville City Council met in its usual first Thursday of the month regular voting session on May 2nd, 2013. The agenda was one of the lightest I believe I have seen in 6 ½ years of being on the council.
More and more often some of our assigned council committees do not to meet on any regular schedule.  A normal schedule would be once a month.
However, there were a couple agenda items that may be of interest to readers.
Rezoning – Ordinance 78-2012-13
This rezoning was very unusual/rare with the request going from R-4 (multi-family, such as an apartment) to Central Business District (CBD). The applicant for rezoning is Eric Huneycutt and was represented by DBS Engineering (whose owner is a major donor to the mayor's past campaigns).
The area up for rezoning is in the area of West Washington Street and Kline Alley. This area is in the Dog Hill/downtown sector. Currently there are five (5) single-family residences and two (2) vacant parcels on the 0.9 acres that make up the section for rezoning. Under the proposal this would become 10 single-family homes whose average living space was listed as 640 sq.ft. Although lot sizes vary, the average is about 3900 sq.ft.  Spacing between the houses may be as little as 10 feet.
I, and others on the council, had concerns with the rezoning request. First, current single-family residential zoning codes will not allow such small lot sizes. Some of these lots are projected to be as small as 2641 sq.ft.  Even Cluster zoning doesn't allow for lots that small. That is why the request is for CBD zoning, where no lot size restriction exist.
It appears from the answers we got that current city code under CBD zoning will not require sidewalks, streetlights or barrier landscaping which is required in new residential development. Kline Alley is very narrow and the eight houses that would face Kline will have 18 adjacent parking slots. If these houses have visitors, then those cars would apparently park in the alley.
The DBS representative did not have a lot of detailed information to provide, as this is early in the development plan. It would also be logical that CBD zoned land could be more valuable as it can be developed into business, commercial and professional activities.
Based on the lack of details, the apparent lack of providing the amenities we now require in new residential developments, and the objection of area residents (about 35 signed a petition asking the rezoning be refused) who showed up and spoke against the rezoning, I voted against (no).
The vote was a 6-yes & 6-no vote. The mayor broke the tie in favor of rezoning. The area is swapping council ward representation based on the last census. It is going from Ward 7 (Councilman Grubbs; voted yes) to Ward 6 (Councilman Harris; voted no).
Resolution 45-2012-13
CDE Bond Refinancing of $52 million
The resolution and supporting documentation was about 52 pages long. Folks, this was some dry and mind-numbing reading with plenty of legal and bond financial requirements/terminology. After reading it and working to grasp the concepts involved, I had a couple of questions to ask of the representative expert hired by CDE to work the bond issue.
My questions related back to issues that arose during the big CDE debate (just a few years ago) on whether CDE was a city department and how much change could we impose upon its operation, if it was.
If you will recall, the bottom-line is CDE is a part of the city. Although there have been improvements in bringing CDE a bit closer to the city fold, I believe more could be done, but I 'll save that for another day.
One issue at that time was if we did away with the Power Board that oversees the current operations of CDE (and created a Utilities Committee from the council as an example), would the city have to refinance the debt load of CDE. During the big CDE debates on ownership, the prevailing answer seemed to be yes.
However, the expert stated Thursday night that the city would not have to refinance, if we did away with the Board, as CDE is considered part of the city. So that resolved that issue.  It was interesting to note some of the eyes that rolled, eyebrows raised, looks exchanged and side discussions carried out when I brought up the possibility of doing away with the Board.
I then asked did that just apply to the currently requested refinancing effort or to all previous debt/bonds held by CDE?  The expert stated it applied to any debt or financing CDE had conducted.
I noted in the agreement that in the event of CDE failing to meet any principal and interest payments that the bond called for, there was "no recourse to the power of taxation of the Municipality or any other funds or monies thereof". These bonds are repaid strictly through the "Net Revenues" of CDE (in other words the ratepayers).
The expert concurred that I had read the agreement correctly that no taxpayer money could be used to bailout CDE if the worst-case financial scenario occurred. Some of the information we received during the big CDE debate ran counter to that. The debate had been that the taxpayer is always on the hook for any financial liability of its functions.
The expert stated, that with such functions as CDE, there are three debt/bond models. Payment could be through taxation, a combination of taxation and ratepayer fees, or totally ratepayer. Utilities are more often the last two models.
I then asked if CDE had financial issues what would happen if the taxpayer was not on the hook?  You may wonder why I seemed interested in the possibility of CDE having money woes?  You need to remember that the council was told that CDE had very tight finances a few years back and was having trouble meeting its power payments.
Also, CDE Lightband was slow to get off the ground and sucking up money wherever it could find it. The expert stated that those who held the bond could take legal action against CDE to force electric rates to levels that makeup any back payments and future payments.
I greatly appreciated the information provided as it resolved a number of past issues, discussions and questions.  The refinancing of the CDE passed with no dissenting votes.
Information Requests and Needs
One final item, which was not on the stated agenda, involved an email (dated Thursday, May 2nd, 2013, 11:48am) that Clarksville Mayor Kim McMillan sent out to all council members and city department heads.
Her email stated:
"Council Members

It has come to my attention once again that several members of the City Council are attempting to individually direct department heads or other city employees to provide information and/or documents and data.  Many of these requests would require the department heads to create documents that do not already exist.  As I have repeatedly said in prior emails, this is a violation of the Clarksville City Charter as Council members can only act as a "body" and not individually in directives to Department heads.  I have also asked that requests for information, other than questions that can be easily answered without the creation of documents or data, come through the Mayor's office to promote consistency and avoid duplication.  I further asked to at least be notified or copied on the emails sent to Department Heads.  Since Council members are continuing to disregard my requests , I am left with no choice but to adopt the policy of my predecessor and require all requests for information and/or documents to come through the Mayor's office.  I am therefore notifying all Department Heads and other city employees to advise Council members that any requests for information and/or documents are to be sent to the Mayor's office.  If you have any questions, please contact me."
At the end of the council meeting, Councilman Allen requested to speak and ask questions/clarifications on the email directive as the council was in session and acting as a "body" as she cited in her communication. Several other council members also wished to address this. This issue has come about again since the budget process started a couple of weeks ago.
The mayor touts "open government" with the budget process by allowing citizens to see what the department directors are asking for. The approach is not as open as it is portrayed. Council members have learned that department directors were already told what and how they would request certain funding for next year.
At issue is what items were directed by the mayor not to be brought up at the initial "public viewing" of her budget preparations?  Some council members have been asking for specific documentation related to items the mayor did or did not allow to be displayed/discussed at the presentations.
At the council session, the discussions had no sooner started than Councilman Redd made a point of order. He stated that the issue of the mayor's directive was not on the agenda and therefore should not be addressed.  Also, it seems as if someone had called for adjournment before the mayor saw Councilman Allen's request to speak.
The mayor concurred with Councilman Redd and the council meeting ended. Seems we are stuck in a "Catch 22". We can't talk unless we are acting as a body. If we act as a body, things have to be on an agenda to discuss. Items have to be on an agenda by the executive session or require 3/4 approval of the council, if they are late. If you can't get 3/4 approval you wait until the next month and start over. Of course by then it may be too late to discuss.
It seems the idea to just take some time and discuss or brainstorm a late developing idea or issue is not within the scope of management to handle. The council is paid a flat rate to work the issues of the city, not by the hour or meeting.  So not taking council time to address problems doesn't save money, but it can cause the problem to fester.
Mayor McMillan cites she is taking the same stance on information requests as former Mayor Johnny Piper. I didn't totally concur with Mayor Piper's actions on this, as I don't with Mayor McMillan. If Mayor McMillan wants to place her office in the "monitoring" position to review all of our information requests, then she needs to be more responsive to getting the information out of her office.
I had already followed the mayor's directive on a previous information request by submitting it to her office on April 18th. As of this date, I have not received any response back. On another request for budget information, I received a response from the mayor's office staff after a week, but not the information requested.  Other council members have noted the same lack of timely response, if we get a response at all.
Questions and requests submitted by council members are made to resolve the needs/concerns of citizens that come to us or as preparation to make decisions on issues such as the upcoming budget.  Most citizens contact us believing we have a more direct source or pipeline to resolve their concerns and address their needs.  I too believe that is the job of the council member to cut the red tape where possible and help the citizen with a timely response to the maximum extent allowed by rules, regulations and budgets.
It seems council members may have to utilize state rules associated with freedom of information requests in order to get timely information responses.  This is the same process any citizen can utilize to get local or state government information.  The official request is made, delivered to the appropriate office, logged/registered with that office and a response is required within seven workdays. If a response is not received within the allotted time frame, a citizen has the right to legal recourse.  The government entity that is slow or does not respond to the information request carries the burden of proof in court as to why the request was not answered and to address the issue.  These procedures are addressed in Tennessee Code Annotated 10-7-503 & 505.
The mayor also needs to remember that charter and code requirements apply to the office of mayor too.  The mayor violated the charter and code rules on cancelling the Dec 2012 regular monthly session of the city council.  However, that was masked over quickly and quietly. She wanted to go to Saudi Arabia with the Conference of U.S. Mayors. She had a duty to ensure the required council meeting was conducted.
However, the desire to take the trip, which was a political good will tour by the Saudis, was a higher priority with our mayor. The cancelled council meeting was dealing with ethics issues that had been battled with for much of the summer and fall. The approval or dismissal of many issues on that agenda would likely depend on a single vote that would make a bare majority one way or another.
The only method listed in the charter/code for a meeting not to be held or items voted on is to NOT have a quorum present. As that is the only legal rationale for not holding a meeting, that is what the mayor presented to the council to vote on and approve as the initial official minutes and reason for not holding that council meeting.
The council should have held the mayor accountable and conducted the meeting using the Mayor Pro Tem, if she believed the Saudi visit was more important. The council did hold firm in not accepting the falsehood (ethics issue?) that no quorum was available to conduct the meeting.  The revised minutes of that cancelled meeting basically stated it was cancelled because she was out of town.
So it rings a bit hollow (when compared to cancelling required meetings) when an "interpretation" of the rules is calling a council member's request of information a "directive" to department directors and major violation of charter/code.  Unlike the cancelled council meeting, we are not closing shop on any department with our information requests.
A "directive" is a council member wanting their street repaved by Friday. Now that might be a problem. Anyway, we will hopefully get our requested information before the night of the first budget vote. I also asked the mayor on April 18th when she would officially submit her full budget to council. I haven't gotten an answer back on that either.
FYI
As I told readers, the signal lights at Exit 11 and Sango are now operational.  One issue drivers need to be alert to. There are two signs hung on the same cable as the signal lights that face the cars coming off of the east bound Exit 11 ramp, which state, NO right turn on red (onto Hwy76 toward Madison Street). I have observed too many drivers running that red light. READ and HEED or the police may be assisting you with a costly reminder.
Editor's Note: This article contains the view points of Councilman Bill Summers and may not represent the views of the rest of the City Council, the City of Clarksville or ClarksvilleOnline.