Clarksville, TN – Firing an opening round 15-under par 56, on June 22nd at Swan Lake Golf Course, the team of Tyler Phillips and Steven Williams hold a one-shot lead at the midway point of the Bud Light/Clarksville Golf Association Two-Man Scramble.
The round was one of four overall, and three in the open division, to finish below 60 through the first 18 holes of play.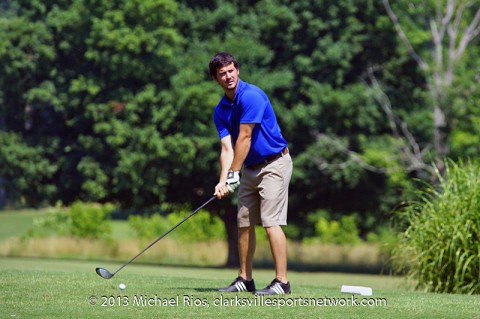 Clev Guinn and Tyler Guy are in second place, with a 14-under 57 first-round total, while Brian Balthrop and Josh Black are sitting in third place with a 12-under 59 total.
Still in the running are seven other teams are shot nine-under 62 or better, with two other teams shooting first-round 63s and 64s.
In the Senior Division, the team of Brad VanKirk and Griff Rudolph were the lone team to post a sub-60 round coming in with a 13-under par 58.
"We decided to have Brad hit first and he just kept getting it in play and that just freed me up to hit driver off every hole," Rudolph said. "It's easy to hit a pretty good drive when out of bounds is only going to cost you is a golf ball if you hit a bad one.
"The key to a scramble is to get that first ball in play, that frees up the next guy to free wheel it and that worked pretty well for us today. Brad kept it in play every hole so I was able to be as aggressive as I wanted to on every hole and we took advantage of it."
That aggressiveness led to the duo being able to card three eagles over the final eight holes.
"We finished up pretty strong," VanKirk said. "The name of the game is carding birdies, but we got a little lucky on (hole) number 11 knocking in about an 80-footer for eagle and Griff hit it in real close on number 14 and it was just a kick in. Finally, we had a 12- to 15-footer on 18 for their third eagle.
"We left a couple out there as far as the birdies, but we kind of made up for it with three eagles. I'm real happy with our (round) and I'll take two of those and say come and get us."
Barker Seay and Bruce Walker enter the final round two shots back after an opening round 11-under 60, while Tommy Shearon and Jeff Whitlow sit another shot back with a 10-under 61.
"We struck the ball pretty well today tee to green," Walker said. "But it's all about putting and we made the putts today and hopefully they'll go in tomorrow too.
"I just feel like we were fortunate today, because we did have a couple of lucky shots find the hole."
Photo Gallery
Box Score and Tee Times
2013 Bud Light / CGA Two Man Scramble
at Swan Lake Golf Course
Round 1 scores
Senior Division
Rudolph/VanKirk

58

Seay/Walker

60

Shearon/Whitlow

61

Richardson/Woodward

62

Ashbrook/Herndon

63

Welker/Blackwell

63

Clouser/Clouser

63

Yarbrough/Rice

64

Manning/Black

64

Kolb/Black

65

Griffin/Johnson

66

Hartz/Jackson

66

Hartlage/Shelton

66

Hyams/Hyams

66

Seay/Seay

67

Gray/Edmondson

67

Groves/Robinson

84

Open Division – Champ Flight

Phillips/Williams

56

Guinn/Guy

57

Balthrop/Black

59

Burney/Schacht

60

Rives/Adcock

61

Cornell/Cunningham

61

Bradley/Richardson

62

Parsons/Wallace

62

Heggie/McKay

62

Williams/Williams

62

Baggett/Fink

63

Guinn/Green

63

Wise/Wise

64

Boyd/Tuck

64

Duke/Samuels

64

Open Division – First Flight

Reigle/Estes

66

Sensing/Sensing

66

Smith/Scalfani

66

Miles/Miles

66

Hunt/Stamey

66

O'Shoney/Nebben

66

Rye/Rye

66

Holland/King

68

Sartain/Sartain

68

Heggie/Tenholder

68

Hayes/Levan

69

Rodriguez/Morris

69

Open Division – Second Flight

Sheffield/Miller

70

Adcock/Beck

70

Ignacio/McWhirter

70

McIntosh/McIntosh

72

O'Shoney/Harris

72

Hyams, Jr/Hyams

72

Haley/Cammuse

74

Croney/Calvin

74

Hightower/Barger

74

Baker/Harvey

78

Smith/Harvey

78

Frost/Frost

78
2013 Bud Light / CGA Two Man Scramble
June 23rd Tee Times

7:30

Seay/Seay
Gray/Edmondson

7:40

Griffin/Johnson
Hartz/Jackson

7:50

Hartlage/Shelton
Hyams/Hyams

8:00

Yarbrough/Rice
Kolb/Black

8:10

Ashbrook/Herndon
Manning/Black

8:20

Welker/Blackwell
Clouser/Clouser

8:30

Shearon/Whitlow
Richardson/Woodward

8:40

Rudolph/VanKirk
Seay/Walker

8:50

Starter's Time

9:00

Baker/Harvey
Groves/Robinson

9:10

Smith/Harvey
Frost/Frost

9:20

Haley/Cammuse
Croney/Calvin

9:30

McIntosh/McIntosh
Hightower/Barger

9:40

O'Shoney/Harris
Hyams, Jr/Hyams

9:50

Sheffield/Miller
Adcock/Beck

10:00

Hayes/Levan
Ignacio/McWhirter

10:10

Holland/King
Rodriguez/Morris

10:20

Sartain/Sartain
Heggie/Tenholder

10:30

Reigle/Estes
Sensing/Sensing

10:40

Smith/Scalfani
Miles/Miles

10:50

Hunt/Stamey
O'Shoney/Nebben

11:00

Starter's Time

11:10

Wise/Wise
Rye/Rye

11:20

Boyd/Tuck
Duke/Samuels

11:30

Bradley/Richardson
Baggett/Fink

11:40

Parsons/Wallace
Guinn/Green

11:50

Heggie/McKay
Williams/Williams

12:00

Rives/Adcock
Cornell/Cunningham

12:10

Balthrop/Black
Burney/Schacht

12:20

Phillips/Williams
Guinn/Guy