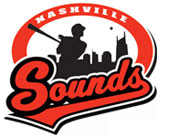 Nashville, TN – Right-hander Johnny Hellweg worked six scoreless frames and combined with a pair of relievers on a shutout in the Nashville Sounds' 1-0 victory over the New Orleans Zephyrs on Saturday evening at Zephyr Field in the opener of a four-game series.
With its fourth shutout win of the year, Nashville (26-50) snapped a four-game skid despite being out-hit, 8-4, on the evening.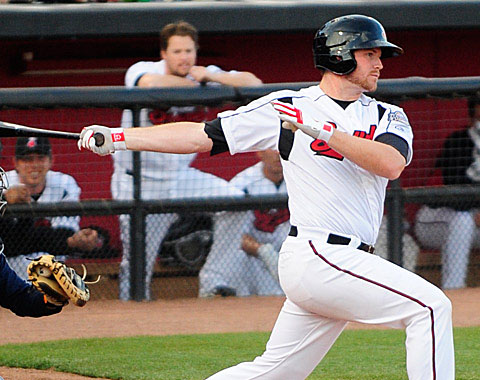 Hellweg (7-4) earned a quality-start win for his fifth consecutive outing, firing six scoreless innings at the Zephyrs. The fireballer scattered six hits but induced four double plays and struck out a pair of batters during his efficient 68-pitch effort. In his last seven outings, Hellweg is 6-0 with a 1.64 ERA (8er/44.0ip).
Travis Webb worked a scoreless inning of relief for Nashville before Rob Wooten closed out the victory with a six-inning save, the closer's 15th stop of the year.
Hellweg and New Orleans' Doug Mathis engaged in a pitchers' duel during the early going, keeping the action scoreless through the first five frames.
The Sounds finally broke through in the sixth when cleanup hitter Sean Halton (2-for-4) delivered a two-out RBI single to left to plate Hainley Statia (2-for-3), who had reached on a one-out infield single and moved to second on a Khris Davis walk. Halton's knock chased Mathis (2-6) from the contest.
Nashville missed a golden opportunity to tack on an insurance run in the eighth. After Ozzie Chavez reached third with only one out, the Z's pitched around Khris Davis to put runners on the corners and reliever Adam Reifer induced an inning-ending double play from Blake Lalli to escape the jam.
New Orleans put the potential tying run on second with one out against Wooten in the home half of the eighth, but the Sounds' closer retired the next two hitters on a popup and a strikeout to keep the 1-0 advantage intact.
Wooten had a much easier go in the ninth, retiring the Z's in order to finish the contest.
The teams continue the series with a 2:00pm matinee on Sunday afternoon. Right-hander Hiram Burgos (0-2, 2.70) will make a rehab start for the Sounds. He is currently on Milwaukee's 15-day disabled list with right shoulder impingement. New Orleans will counter with left-hander Brian Flynn (2-7, 4.11).
Box Score
Nashville Sounds (26-50) 1, New Orleans Zephyrs (38-39) 0
June 22nd, 2013
1
2
3
4
5
6
7
8
9
R
H
E
Nashville Sounds
0
0
0
0
0
1
0
0
0
1
4
1
New Orleans Zephyrs
0
0
0
0
0
0
0
0
0
0
8
2
BATTING
2B: Halton (17, Mathis).
TB: Halton 3; Statia 2.
RBI: Halton (35).
2-out RBI: Halton.
Runners left in scoring position, 2 out: Parker, S; Morris, H 2; Garner.
SAC: Statia.
GIDP: Davis, K, Lalli.
Team RISP: 1-for-8.
Team LOB: 7.FIELDING
E: Webb (1, throw).
DP: 4 (Statia-Davis, B-Morris, H 3, Parker, S-Davis, B-Morris, H).
a-Struck out for Phillips in the 7th.
1-Ran for Skipworth in the 8th.
BATTING
TB: Solano, D; Velazquez, G; Downs; Smolinski; Skipworth 2; Green, N; Petersen.
Runners left in scoring position, 2 out: Downs; Hernandez, Go; Solano, D.
SAC: Velazquez, G.
GIDP: Petersen, Mathis, Mahoney, Solano, D.
Team RISP: 0-for-4.
Team LOB: 5.BASERUNNING
SB: Smolinski (4, 2nd base off Hellweg/Lalli).FIELDING
E: Downs (13, throw), Green, N (4, fielding).
PB: Skipworth (8).
DP: 2 (Green, N-Downs-Mahoney, Solano, D-Mahoney).
Nashville Sounds
Player
IP
H
R
ER
BB
SO
HR
ERA
Johnny Hellweg (W, 7-4)
6.0
6
0
0
0
2
0
2.82
Travis Webb (H, 6)
1.0
2
0
0
1
3
0
6.10
Rob Wooten (S, 15)
2.0
0
0
0
0
3
0
2.52
Totals
9.0
8
0
0
1
8
0
4.43
Webb pitched to 1 batter in the 8th.
Pitches-strikes: Hellweg 68-44, Webb 24-14, Wooten 19-15, Mathis 84-49, Phillips 12-11, Reifer 19-9, Leverton 19-10.
Groundouts-flyouts: Hellweg 7-2, Webb 0-0, Wooten 2-0, Mathis 5-4, Phillips 2-0, Reifer 2-0, Leverton 1-0.
Batters faced: Hellweg 20, Webb 6, Wooten 6, Mathis 22, Phillips 4, Reifer 5, Leverton 4.
Inherited runners-scored: Wooten 1-0, Phillips 2-0.
Umpires: HP: Kellen Levy. 1B: Stu Scheurwater. 3B: Kevin Kennedy.
Weather: 87 degrees, clear.
Wind: 8 mph, R to L.
T: 2:39.
Att: 3,987.
Venue: Zephyr Field.
June 22, 2013