Clarksville, TN – The weekly Clarksville Parks and Recreation Department Recreation Report provides Clarksvillians with a glimpse at the activities and events that are available from the Parks and Recreation Department for them to enjoy together as a family.
This weeks highlights include: Free Sports Tournaments, Doggie Palooza, Independence Day Celebration and Wonder Kids Triathlon.
Free Sports Tournaments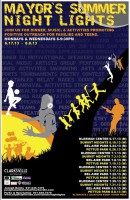 Get out on the court and show us what you've got! Free 5-on-5 basketball and 7-on-7 flag football tournaments will be held as part of the Mayor's Summer Night Lights program!
These sports tournaments are open to ages 11-14, 15-17, and 18 and up. Those wanting to play must be at the location no later than 5:45pm to sign up. Free food and drinks will be provided!
Basketball tournaments will be held at Bel-Aire Park, Summit Heights and the Kleeman Center. Teams must have five players.
The schedule of basketball is as follows:
Bel-Aire Park – June 24th
Kleeman Center – July 1st
Summit Heights – July 3rd
Bel-Aire Park – July 8th
Kleeman Center – July 15th
Summit Heights – July 17th
Bel-Aire Park – July 22nd
Kleeman Center – July 29th
Summit Heights – July 31st
Bel-Aire Park – August 5th
Flag football tournaments will be held at Pettus Park. Teams must have seven players.
Tournaments will be:
June 26th
July 10th
July 24th
August 7th
Doggie Palooza
The 6th Annual Doggie Palooza will be held June 29 after being previously rained out. This free event is from 1:00pm to 4:00pm, at the Heritage Park Bark Park.
Bring your pooch for a day full of demonstrations, contests, prizes and more!

Independence Day Celebration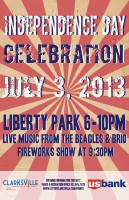 Join us as we celebrate our nation's independence with the 6th annual Independence Day Celebration at a new location! Join us on Wednesday, July 3rd, at Liberty Park for food, fun and entertainment for the entire family.
Activities begin at 6:00pm and will include performances by local bands Brio and The Beagles and will conclude with the city's largest fireworks display starting at 9:30pm!
Guests are encouraged to park at the 7-acre grass area adjacent to the park, or at the old Josten's building, located at 1312 Hwy 48/13. Clarksville Transit System will provide free rides to and from the parking areas beginning at 4:00pm with the last bus departing from Liberty Park at 10:30pm.
Wonder Kids Triathlon
Don't miss the first-ever Wonder Kids Triathlon, presented by Jack in the Box, to be held August 3rd! This event is open to boys and girls ages 3-12 and will take place at the New Providence Pool and surrounding property.
Wonder Kids Triathlon participants will participate in three legs of the event, swimming, biking and running.
Courses vary depending on age:
3-5Yrs: 25m Swim, 300yd Bike, 100yd Run
6-8Yrs: 50m Swim, 600yd Bike, 300yd Run
9-12Yrs: 100m Swim, 1mile Bike, 1/2mile Run
All floatation devices must be Coast Guard approved.
Cost is $25.00 per child and pre-registration is required with a limit of 100 participants in this year's event so register early! Cost covers t-shirt, medal, swim cap and goodie bag.
Registration can be completed at recpro.cityofclarksville.com, at our Community Centers or Main Office, no later than July 29th. Register by July 12th to guarantee correct shirt and swim cap size.