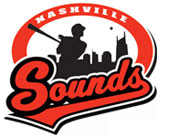 Metairie, LA – The Nashville Sounds' two runs fell short of the mark set by the New Orleans Zephyrs, who defeated Nashville 7-2 Monday night at Zephyr Field to take the series lead with one game to go.
The Z's got on the board in the second inning, plating a run on Koyie Hill's two-out double, which scored Kyle Jensen, who doubled down the left-field line in his first PCL at-bat.
New Orleans added to their lead in the third inning with four runs off of Sounds starter Chris Narveson (1-3). Outfielder Gorkys Hernandez, 4-for-5, started the frame with his second home run of the season over the wall in center. Donovan Solano recorded a triple with his ball hit off the left-field wall and scored on Jake Smolinski's single to make it 3-0.
Sounds first baseman Hunter Morris cut into the Zephyrs' lead in the top of the fourth inning with his 14th home run of the season. The solo shot leapt over the right-field wall and made it 3-1, but the Z's got the run back in the home half of the inning with Matt Downs' home run just fair of the left-field foul pole.
Narveson finished with four runs allowed over six innings of work and took the loss, his third. His 10 hits allowed match the most allowed by a Sounds starter this season, tying Frankie De La Cruz's 10-hit contest on April 29th at Oklahoma City.
Reliever Michael Olmsted took over for Narveson in the sixth inning. The Z's cashed in on a leadoff walk to Hill when Hernandez slapped an RBI single into left field. Hill was in scoring position as a result of a passed ball. Olmsted also chucked a wild pitch with runners on, plunked a batter and logged an error in the frame, but Hill's run was all he let in.
Olmsted was relieved by Tim Dillard, who pitched a 1-2-3 seventh inning. It is only the eighth time in their last 60 innings that Sounds pitching has set down the opposing batters in order, and only the second time this series.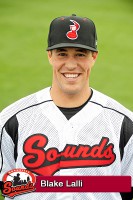 Dillard finished the game for Nashville, but not before New Orleans plated another pair of runs. With two outs and two runners in scoring position, Hainley Statia misfielded a groundball up the middle that allowed a run to score. The play was followed with an RBI single. Both runs were unearned.
Sounds catcher Blake Lalli, three-for-four, gave the Sounds their second run of the game with his RBI double to left field in the eighth inning that scored Josh Prince, who reached base on balls.
Zephyrs starter Duane Below (4-2) picked up the win, scattering six Nashville hits across 5 2/3  innings to allow just one run. Adam Reifer netted the save, his first.
Nashville wraps the road trip Tuesday morning at 11:30am in game four against the New Orleans Zephyrs. RHP Tyler Thornburg (2-3, 6.34) will make the start for Nashville against the Z's RHP Matt Neil (2-5, 3.90).
Baseball returns to Greer Stadium Thursday, June 27th.
Box Score
New Orleans Zephyrs (40-39) 7, Nashville Sounds (26-52) 2
June 24th, 2013
1
2
3
4
5
6
7
8
9
R
H
E
Nashville Sounds
0
0
0
1
0
0
0
1
0
2
8
3
New Orleans Zephyrs
0
1
2
1
0
1
0
2
x
7
13
0
a-Walked for Dillard in the 9th.
BATTING
2B: Narveson (1, Below), Lalli (6, Phillips).
HR: Morris, H (14, 4th inning off Below, 0 on, 1 out).
TB: Narveson 2; Lalli 4; Garner; Halton; Statia; Morris, H 4.
RBI: Morris, H (35), Lalli (14).
Runners left in scoring position, 2 out: Morris, H; Lalli; Parker, S 2; Garner.
GIDP: Davis, B.
Team RISP: 1-for-9.
Team LOB: 7.BASERUNNING
CS: Statia (3, 2nd base by Phillips/Hill, K).FIELDING
E: Olmsted (1, pickoff), Chavez, O (2, throw), Statia (5, fielding).
PB: Lalli (5).
BATTING
2B: Jensen (1, Narveson), Hill, K (12, Narveson), Mahoney (3, Narveson).
3B: Solano, D (1, Narveson).
HR: Hernandez, Go (2, 3rd inning off Narveson, 0 on, 0 out), Downs (6, 4th inning off Narveson, 0 on, 0 out).
TB: Jensen 2; Solano, D 4; Downs 4; Smolinski; Mahoney 3; Hernandez, Go 7; Hill, K 3.
RBI: Hill, K (11), Hernandez, Go 2 (13), Smolinski (13), Downs (26), Mahoney (4).
2-out RBI: Hill, K; Mahoney.
Runners left in scoring position, 2 out: Mahoney 3; Below; Jensen; Smolinski 2; Downs; Green, N.
Team RISP: 4-for-22.
Team LOB: 10.BASERUNNING
SB: Hernandez, Go (19, 2nd base off Narveson/Lalli).FIELDING
DP: (Velazquez, G-Mahoney).
New Orleans Zephyrs
Player
IP
H
R
ER
BB
SO
HR
ERA
Duane Below (W, 4-2)
5.2
6
1
1
1
5
1
2.28
Zach Phillips (H, 8)
1.1
2
1
1
1
2
0
2.06
Adam Reifer (S, 1)
2.0
0
0
0
1
2
0
0.00
Totals
9.0
8
2
2
3
9
1
3.67
Phillips pitched to 2 batters in the 8th.
WP: Olmsted.
HBP: Smolinski (by Olmsted).
Pitches-strikes: Narveson 94-59, Olmsted 30-19, Dillard 33-22, Below 94-59, Phillips 25-15, Reifer 28-16.
Groundouts-flyouts: Narveson 4-3, Olmsted 1-1, Dillard 6-2, Below 5-5, Phillips 1-0, Reifer 2-1.
Batters faced: Narveson 25, Olmsted 6, Dillard 10, Below 24, Phillips 6, Reifer 6.
Inherited runners-scored: Phillips 3-0, Reifer 1-0.
Umpires: HP: Jordan Baker. 1B: Stu Scheurwater. 3B: Kellen Levy.
Weather: 90 degrees, overcast.
Wind: 7 mph, R to L.
T: 3:10.
Att: 3,888.
Venue: Zephyr Field.
June 24, 2013