Coral Springs, FL – Five Austin Peay State University women's golfers have been named to the Women's Golf Coaches Association (WGCA) All-American Scholar Team for Division I, II and III.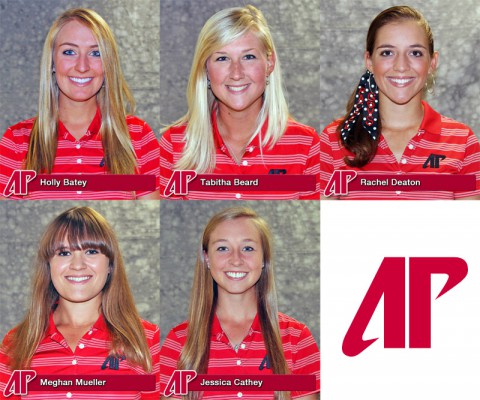 APSU All-American Scholars
Holly Batey, who graduated in May after owning a 3.9523 GPA for 2012-13 in accounting; Tabitha Beard, who also graduated this spring with a 3.9736 GPA for the year in Teaching and Learning; rising senior Rachel Deaton, who had a 3.8073 GPA in information systems this past year; rising senior Meghan Mueller, who had a 3.8095 GPA as a junior in communications, and rising sophomore Jessica Cathey, who had a 3.9318 GPA in her first college academic year as a business major, all were named to the prestigious team.
A total of 644 NCAA student-athletes were named to the team. Criteria for selection to the All-American Scholar Team include a minimum cumulative 3.50 GPA.