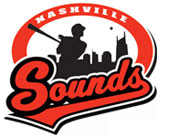 Memphis, TN – The Nashville Sounds suffered a 6-2 defeat at the hands of the cross-state rival Memphis Redbirds on Friday evening at Auto Zone Park.
Nashville (32-57) out-hit Memphis, 11-7, in the loss, but the Sounds gave up more than three runs to the Redbirds for the first time in the clubs' 10 meetings this season.
Following a 34-minute rain delay, Scooter Gennett (2-for-5) opened the contest with a single, giving him hits in each of his 10 games since rejoining the Sounds from Milwaukee. He is batting .410 (16-for-39) over that stretch.
Hainley Statia, a late addition to the Nashville lineup following the scratch of Khris Davis, gave the Sounds a 1-0 lead in the top of the third when he went yard for the first time in nearly two years, pulling a Carlos Martinez offering down the right field line for a solo homer. It was the utilityman's first longball in 619 at-bats, dating back to July 30, 2011.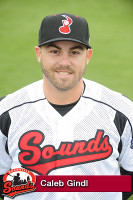 The Sounds later loaded the bases with two outs in the frame against Martinez but the right-hander induced an inning-ending groundout from Blake Lalli to avoid further damage. Caleb Gindl (2-for-3) doubled during the inning to extend his longest hitting streak of the year to eight games (13-for-29, .448).
Memphis jumped into the lead in the fourth with back-to-back home runs off Zach Kroenke, who hadn't allowed a hit in the first three frames.
Greg Garcia started the Redbirds' fourth by reaching on a throwing error by Sounds shortstop Blake Davis. Two batters later, Jamie Romak belted his 17th home run of the year, a two-run shot to left that gave the home team a 2-1 advantage. Jermaine Curtis followed by driving a 2-0 Kroenke offering over the left field wall for his fourth big fly of the year, making it a 3-1 contest.
Martinez (3-2) earned the win for Memphis after holding the Sounds to one run on six hits in his 5 1/3 innings of work.
The Redbirds extended their lead to 5-1 in the bottom of the sixth on left fielder Chris Swauger's two-out, two-run double to left-center off Kroenke (4-11), who suffered his league-leading 11th loss after allowing five runs (four earned) on five hits over six innings.
After Memphis added another run in the seventh on a sacrifice fly, Hunter Morris (2-for-5) led off the eighth inning with a solo homer to left off Mitchell Boggs, the slugger's team-leading 17th big fly of the year. Morris has hit safely in 11 of his last 12 games at a .318 clip (14-for-44).
The Tennessee rivals square off again at 7:05 p.m. on Saturday night. Right-hander R.J. Seidel (1-3, 5.72) will man the bump for the Sounds and face Memphis southpaw Nick Additon (5-4, 4.36).
Box Score
Memphis Redbirds (42-47) 6, Nashville Sounds (32-57) 2
July 5th, 2013
1
2
3
4
5
6
7
8
9
R
H
E
Nashville Sounds
0
0
1
0
0
0
0
1
0
2
11
1
Memphis Redbirds
0
0
0
3
0
2
1
0
x
6
7
0
a-Singled for Kroenke in the 7th. b-Popped out for Lowe in the 8th.
BATTING
2B: Gindl (18, Martinez, C).
HR: Statia (1, 3rd inning off Martinez, C, 0 on, 2 out), Morris, H (17, 8th inning off Boggs, 0 on, 0 out).
TB: Chavez, O; Lalli; Gennett 2; Parker, S 2; Gindl 3; Morris, H 5; Statia 4.
RBI: Statia (14), Morris, H (44).
2-out RBI: Statia.
Runners left in scoring position, 2 out: Lalli 2; Diaz, R; Morris, H.
GIDP: Morris, H, Davis, B.
Team RISP: 1-for-7.
Team LOB: 11.BASERUNNING
CS: Gennett (5, 2nd base by Martinez, C/Johnson, Ro).FIELDING
E: Davis, B (11, throw).
DP: 2 (Davis, B-Gennett-Morris, H, Morris, H-Davis, B-Morris, H).
a-Singled for Rzepczynski in the 7th.
BATTING
2B: Romak (23, Kroenke), Swauger (2, Kroenke).
HR: Romak (17, 4th inning off Kroenke, 1 on, 1 out), Curtis (4, 4th inning off Kroenke, 0 on, 1 out).
TB: Martinez, C; Chambers; Huffman; Curtis 4; Romak 6; Swauger 2.
RBI: Romak 2 (48), Curtis (39), Swauger 2 (2), Jackson, R (25).
2-out RBI: Swauger 2.
Runners left in scoring position, 2 out: Jackson, R; Johnson, Ro; Swauger.
SAC: Martinez, C.
SF: Jackson, R.
GIDP: Jackson, R, Garcia, G.
Team RISP: 2-for-5.
Team LOB: 3.BASERUNNING
SB: Chambers (9, 2nd base off Lowe/Lalli).FIELDING
DP: 2 (Jackson, R-Garcia, G-Peterson 2).
Nashville Sounds
Player
IP
H
R
ER
BB
SO
HR
ERA
Zach Kroenke (L, 4-11)
6.0
5
5
4
2
4
2
4.41
Johnnie Lowe
1.0
2
1
1
0
0
0
4.34
Jesus Sanchez
1.0
0
0
0
1
1
0
2.05
Totals
8.0
7
6
5
3
5
2
4.30
IBB: Curtis (by Kroenke).
Pitches-strikes: Kroenke 75-45, Lowe 12-7, Sanchez, Je 16-10, Martinez, C 97-58, Rzepczynski 18-12, Boggs 18-12, Greenwood 14-7.
Groundouts-flyouts: Kroenke 6-5, Lowe 1-1, Sanchez, Je 1-1, Martinez, C 8-4, Rzepczynski 2-2, Boggs 1-0, Greenwood 1-1.
Batters faced: Kroenke 25, Lowe 4, Sanchez, Je 4, Martinez, C 24, Rzepczynski 6, Boggs 6, Greenwood 4.
Inherited runners-scored: Rzepczynski 1-0.
Umpires: HP: Hal Gibson III. 1B: Brian Hertzog. 3B: Adam Schwarz.
Weather: 86 degrees, partly cloudy.
Wind: 15 mph, In from LF.
T: 2:35 (:34 delay).
Att: 5,760.
Venue: AutoZone Park.
July 5, 2013