Dover, TN – After almost three years in the planning and design, Fort Donelson National Battlefield wishes to announce that final preparations are being made for the fabrication and installation of new and exciting exhibits in the national park's visitor center.
The park's current visitor center opened in 1962, the 100th anniversary of the 1862 Battles of Forts Henry and Donelson. Although the building and its original exhibits have been slightly modified over the years, they largely remain as they did half a century ago.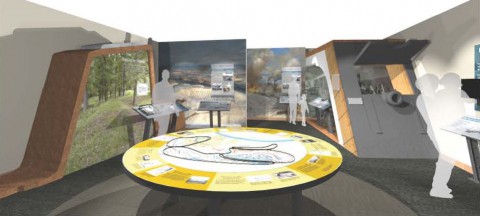 These new exhibits are intended to help visitors make a powerful connection to the park's stories, resources, and, most importantly, those persons, Confederate and Union, Army, Navy, as well as civilians, who were part of the Fort Henry/Fort Donelson Campaign over 151 years ago.
Split Rock Studios, of St. Paul, Minnesota, is the contractor for the museum design and installation. The project was funded through the National Park Service's Recreation Fee Program.
According to Douglas Richardson, Chief Ranger for the park's Interpretation and Education division, "It is exciting to see the final design and mock-ups for the new exhibits come together.The original exhibits have done very well for over one-half of a century and we believe that the new museum will provide a powerful and improved understanding and sense of relevance to current and future generations."
"Many visitors have shared their memories of the original exhibits, which they often remember from a field or family trip from their younger days. We encourage visitors to come and see them one last time before they are removed. While many of the artifacts in the exhibits will be used with the new exhibits, the original 1962 panels will be preserved as part of the park's museum collection," stated national park Superintendent Brian McCutchen.
In order to prepare the museum room for the installation of these exhibits, which is anticipated to happen in August of 2013, the park's visitor center museum room closed to the public on June 8th, 2013, and will remain closed until the installation process is completed. The visitor center will remain open daily from 8:00am to 4:30pm.
The park's orientation film will continue to be offered daily, and the park's self-guided driving tour will not be impacted. The Dover Hotel exhibit room will continue to be opened daily during posted hours.