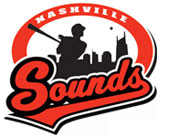 Nashville, TN – Memphis Plates Three With Two Outs In Final Frame To Rally For Victory The Memphis Redbirds scored three runs in the top of the ninth inning to stun the Nashville Sounds, 5-4, in front of 9,201 fans on Saturday evening at Greer Stadium.
Nashville led 4-2 in the ninth and Kyle Heckathorn retired the first two batters of the frame before four consecutive Redbirds reached base against him, capped by Chris Swauger's bases-loaded, go-ahead three-run double. Heckathorn (6-3) suffered the loss while failing to convert his first save opportunity of the season.
Stephen Parker led off the bottom of the ninth with a single for Nashville, but Fernando Salas retired the next three batters in order to close out the contest and notch his fourth save of the year.
The defeat was the Sounds' league-leading 19th one-run defeat of the year and the club's first loss when leading after eight innings (30-1). Memphis had been 0-38 when trailing after eight frames prior to the come-from-behind win.
The Sounds (33-64) grabbed a 1-0 lead in the bottom of the first inning when Kentrail Davis drew a one-out walk, stole second and scored on a two-out Hunter Morris single to left.
Memphis leveled the contest in the second when pitcher Boone Whiting helped his own cause with a two-out RBI single to left off Johnnie Lowe.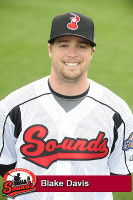 Redbirds shortstop Greg Garcia gave the visitors a 2-1 lead in the top of the third when he belted his first career Triple-A homer, a leadoff solo shot to right off Lowe.
Lowe turned in a solid spot start while filling in for Futures Game-bound Jimmy Nelson, working his second quality start of the year for the Sounds. The right-hander allowed two runs on 10 hits over six frames and took a no-decision.
Nashville tied the score at 2-2 in the bottom of the sixth when Blake Davis scored on Scooter Gennett's bases-loaded Baltimore chop single to the left side of the infield with two outs against Marc Rzepczynski.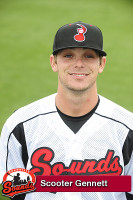 The Sounds pulled back in front in the seventh when they plated a pair of runs against Rzepczynski. Robinzon Diaz (3-for-4) led off with a single through the left side and scored the go-ahead run on Cole Garner's one-out triple to the wall in right-center. Blake Davis followed with a sacrifice fly that extended the Nashville lead to 4-2.
Memphis attempted to rally in the eighth against Jesus Sanchez, loading the bases with one out on a pair of singles sandwiched around a hit batter. However, the Sounds right-hander recovered to strike out pinch-hitter Chad Huffmann and retired Ryan Jackson on a inning-ending groundout.
The cross-state rivals wrap up the four-game set as well as the Tennessee Lottery I-40 Cup season series with a 6:35pm finale on Sunday evening. Left-hander Chris Narveson (2-5, 6.70) will man the bump for the Sounds to face Memphis right-hander Scott McGregor (3-5, 5.70).
Box Score
Memphis Redbirds (47-50) 5, Nashville Sounds (33-64) 4
July 13th, 2013
1
2
3
4
5
6
7
8
9
R
H
E
Memphis Redbirds
0
1
1
0
0
0
0
0
3
5
14
0
Nashville Sounds
1
0
0
0
0
1
2
0
0
4
14
0
a-Struck out for Rzepczynski in the 8th.
BATTING
2B: Swauger (3, Heckathorn).
HR: Garcia, G (1, 3rd inning off Lowe, 0 on, 0 out).
TB: Chambers 3; Whiting; Curtis; Garcia, G 4; Tartamella 2; Jackson, R; Peterson; Pham; Swauger 4.
RBI: Whiting (1), Garcia, G (17), Swauger 3 (5).
2-out RBI: Whiting; Swauger 3.
Runners left in scoring position, 2 out: Peterson; Jackson, R 5; Swauger 2; Tartamella.
SAC: Garcia, G; Whiting.
GIDP: Chambers.
Team RISP: 3-for-13.
Team LOB: 12.BASERUNNING
SB: Swauger (1, 3rd base off Heckathorn/Lalli).
a-Singled for Lowe in the 6th.
BATTING
2B
: Davis, B (14, Whiting), Diaz, R (2, Whiting).
3B
: Garner (1, Rzepczynski).
TB
: Prince; Garner 4; Dillard; Diaz, R 4; Parker, S; Davis, B 3; Gennett; Morris, H; Statia; Davis, Ke.
RBI
: Morris, H (51), Gennett (19), Garner (23), Davis, B (22).
2-out RBI
: Morris, H; Gennett.
Runners left in scoring position, 2 out
: Lalli 3; Prince 2; Morris, H 2.
SAC
: Lalli.
SF
: Davis, B.
Team RISP
: 4-for-12.
Team LOB
: 13.
BASERUNNING
SB
: Davis, Ke (1, 2nd base off Whiting/Tartamella).
CS
: Prince (7, 2nd base by Whiting/Tartamella).
FIELDING
DP: (Gennett-Davis, B-Morris, H).
WP: Lowe.
HBP: Curtis (by Sanchez, Je), Peterson (by Heckathorn).
Pitches-strikes: Whiting 96-63, Rzepczynski 31-19, Rondon, J 8-7, Salas 8-7, Lowe 88-57, Dillard 10-9, Sanchez, Je 21-16, Heckathorn 26-13.
Groundouts-flyouts: Whiting 4-5, Rzepczynski 2-1, Rondon, J 1-0, Salas 0-1, Lowe 9-3, Dillard 1-0, Sanchez, Je 1-0, Heckathorn 1-0.
Batters faced: Whiting 28, Rzepczynski 9, Rondon, J 3, Salas 4, Lowe 28, Dillard 3, Sanchez, Je 6, Heckathorn 7.
Inherited runners-scored: Rzepczynski 2-1.
Umpires: HP: Greg Stanzak. 1B: Marcus Pattillo. 3B: D.J. Reyburn.
Weather: 88 degrees, partly cloudy.
Wind: 1 mph, Out to CF.
T: 3:19.
Att: 9,201.
Venue: Herschel Greer Stadium.
July 13, 2013