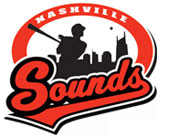 Nashville, TN – The Nashville Sounds lost 3-2 to the Memphis Redbirds Sunday night at Greer Stadium in the deciding contest of the 16-game season series. The loss gives the Redbirds their first Tennessee Lottery I-40 Cup Series Championship, winning the season series versus the Sounds nine games to seven.
The Sounds entered the year as defending champs and would have retained the cup with a series split. With two-outs in the top of the sixth inning, the Redbirds touched Sounds starting pitcher Chris Narveson (2-6) for two run-scoring singles to take the 3-2 lead. Chad Huffman hit a single to centerfield to tie the game and Audry Perez followed with the go-ahead knock, his first Triple-A hit, which proved to be the game winner.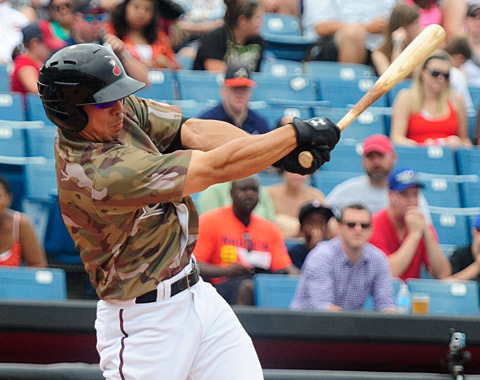 Narverson was charged with the loss, his sixth, allowing Memphis three runs on seven hits and one walk over six innings of work. The lefty fanned four Redbirds before reliever Michael Olmsted entered to pitch a hitless seventh inning, fanning two. Both Zach Kroenke and Rob Wooten worked scoreless innings for Nashville.
Offensively, the Sounds got on the board first via Cole Garner's infield single, which scored catcher Robinzon Diaz in the second inning.
Memphis outfielder Adron Chambers leveled the game in the fourth inning with a solo home run to right field. It is the eight Triple-A home run allowed by Narveson this season.
Tied 1-1 in the home half of the fifth inning, Narverson helped his cause by driving a double off the left-field wall to lead off for the Sounds. Josh Prince moved Narveson over to third with a sac-bunt; then with runners on the corners, Scooter Gennett legged out what would have been an inning-ending double-play, which allowed Narveson to score the go ahead run.
The call at first base was contested by Memphis manager Ron 'Pop' Warner, which promptly led to his ejection, delivered by D.J. Reyburn.
Picking up the win for Memphis was starter Scott McGregor (4-5), who held Nashville to two runs on five hits across seven innings. Reliever Michael Blazek picked up his second save with a spotless ninth.
The Sounds and will enjoy three league-wide off days to honor Triple-A's best players in the All-Star Game in Reno, Nevada. Closer Rob Wooten will represent the Sounds and the PCL in the game on Wednesday night. Nashville will resume play on July 18th in New Orleans against the Zephyrs (Marlins affiliate). RHP R.J. Seidel (1-4, 5.93) is scheduled to throw for Nashville against LHP Duane Below (5-3, 2.39).
Box Score
Memphis Redbirds (48-50) 3, Nashville Sounds (33-65) 2
July 14th, 2013
1
2
3
4
5
6
7
8
9
R
H
E
Memphis Redbirds
0
0
0
1
0
2
0
0
0
3
9
2
Nashville Sounds
0
1
0
0
1
0
0
0
0
2
5
1
a-Singled for Freeman, S in the 9th.
BATTING
2B
: Huffman (8, Narveson).
HR
: Chambers (7, 4th inning off Narveson, 0 on, 1 out).
TB
: Chambers 5; Huffman 3; McGregor; Perez, A; Garcia, G; Peterson; Swauger.
RBI
: Chambers (36), Huffman (37), Perez, A (1).
2-out RBI
: Huffman; Perez, A.
Runners left in scoring position, 2 out
: Peterson 2; Perez, A 2; Romak.
SAC
: Chambers; Jackson, R.
Team RISP
: 2-for-11.
Team LOB
: 9.
BASERUNNING
SB
: Chambers (11, 2nd base off Kroenke/Diaz, R).
FIELDING
E: Romak (6, throw), McGregor (1, fielding).
a-Lined out for Olmsted in the 7th.
BATTING
2B: Parker, S (14, McGregor), Narveson (3, McGregor).
TB: Narveson 2; Garner; Diaz, R; Parker, S 2; Davis, Ke.
RBI: Garner (24), Gennett (20).
Runners left in scoring position, 2 out: Narveson; Diaz, R.
SAC: Prince.
Team RISP: 1-for-7.
Team LOB: 5.FIELDING
E: Davis, B (14, fielding).
Outfield assists: Prince (Perez, A at 2nd base).
Memphis Redbirds
Player
IP
H
R
ER
BB
SO
HR
ERA
Scott McGregor (W, 4-5)
7.0
5
2
1
0
6
0
5.13
Sam Freeman (H, 7)
1.0
0
0
0
0
1
0
2.72
Michael Blazek (S, 2)
1.0
0
0
0
0
1
0
1.93
Totals
9.0
5
2
1
0
8
0
4.01
WP: Kroenke.
Balk: Narveson.
HBP: Garcia, G (by Narveson).
Pitches-strikes: McGregor 86-64, Freeman, S 10-7, Blazek 8-7, Narveson 96-58, Olmsted 18-11, Kroenke 15-10, Wooten 10-7.
Groundouts-flyouts: McGregor 11-2, Freeman, S 2-0, Blazek 1-1, Narveson 6-5, Olmsted 2-0, Kroenke 1-2, Wooten 2-0.
Batters faced: McGregor 28, Freeman, S 3, Blazek 3, Narveson 26, Olmsted 5, Kroenke 4, Wooten 4.
Ejections: Memphis Redbirds Manager Ron Warner ejected by 1B umpire D. J. Reyburn (5th)
Umpires: HP: Marcus Pattillo. 1B: D.J. Reyburn. 3B: Greg Stanzak.
Weather: 86 degrees, partly cloudy.
Wind: 2 mph, In from LF.
T: 2:27.
Att: 3,780.
Venue: Herschel Greer Stadium.
July 14, 2013