Clarksville, TN – On Monday July 29th, 2013, Officers from District 1 of the Clarksville Police Department used Officers in plain clothes to stakeout Mimi Storage businesses in the north Clarksville area.
At around 1:00am Officer John Matos, who had ACE Mini Storage (519 Lafayette Road) under surveillance, observed a suspect with a large pry bar attempting to burglarize a storage unit.
Officer Matos called in a Take Down Team, who moved in and apprehended Jason Lavely.
Due to this arrest several storage unit burglaries were solved and stolen property was recovered at Lavely's residence.
Detective Hurst is the lead investigator in the Burglary investigation and if anyone has information about this case he can be reached at 931.648.0656 ext.# 5263.
Lt. Ty Burdine (CPD District 1) stated that this Operation went so well that he plans to keep Officers working these Stakeouts.
Jason Lavely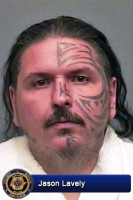 Name: Jason Lavely
DOB:  6/ 12/ 73
Gender: M
Race: W
Address: 534 Inver Lane, Clarksville, TN
Arresting Officer: Andrew Hurst
Charged With: Four Counts of Burglary, Driving on Revoked or Suspended License and Vandalism
Booked Into: Montgomery County Jail
Bond: $16,500.00