Clarksville, TN – Playing its first home match of the year after 17 straight away from the Dunn Center to open the season, Austin Peay State University's volleyball team made the most of the home-court advantage by outlasting Murray State University in a five-set Ohio Valley Conference thriller, 3-2, by scores of 22-25, 25-12, 22-25, 25-17, 15-13.
The win marks the first time this year that the Lady Govs (5-13, 2-1 OVC West) have put together back-to-back wins this season, as well as end a streak of three straight loses in matches that have got a full five games.
"It was a great win and we feel like it shouldn't have been that close," Austin Peay coach Taylor Mott said. "On paper we were so much better than they were, but in the match you couldn't tell a whole lot of difference."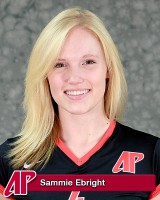 Murray State (11-6, 1-2 OVC West) came out and took control of the match early on by dominating play at the net, something that the Lady Govs have struggled with for most of the season, and winning Game 1.
But Austin Peay would answer back in Game 2 with five blocks that help see the Racers drop from a .353 kill percentage to a negative .050 kill percentage.
"We've been working for two straight weeks on blocking, because we haven't been very good at it most of the season," Mott said. "When you can block it's such a different game. Tonight we ended up with 12 blocks — which is really good for us – but it's still not great.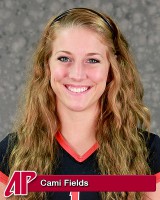 "The first set we really didn't do much, but once we started to block a few balls it changes the whole momentum of the game."
But just when the Lady Govs looked like they had all the momentum in the match, their passing let them down in Game 3, which in turn threw off their setting and offensive attacks; which allowed Murray State to win the game and put them on the verge of taking a key conference divisional road victory.
"With our passing, sometimes we're really good and sometimes we're not really good," Mott said. "For Cami (Fields) our setter it's hard for her to do anything with it and that is what starts all the plays.
"I think this year with running two new defensive players — who are pretty good passers — I feel that we are a better passing team this year, but we're still struggling a little bit defensively, but when we pass the ball well we're pretty good."
Austin Peay would regain control of the match in Game 4, going on a 9-3 run early in the game to go up 14-7 and never letting Murray State get any closer than five points the rest of the way in the game, as the Lady Govs evened the match 2-2.
"We started to get good touches on the block that really helped our defense," said junior outside hitter Jada Stotts, who along with Calyn Hull finished with a team-high 16 kills. "Sometimes we're all over the place with our blocks and the defense doesn't exactly know where to go, but getting up early and getting touches and blocks really helped us out."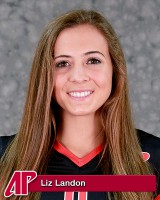 Despite the two-point final margin in the fifth game, Austin Peay controlled things for the most part by getting out to a 11-5 — then held on — as the Racers made one final push before the Lady Govs ended the match with a kill by junior Liz Landon to wrap up the victory.
Landon, along with red-shirt freshman Sammie Ebright, would finish with 15 kills.
The Lady Govs return to action October 5th, as they host Eastern Kentucky University for a 2:00pm OVC match.
Photo Gallery
Video
Box Score
Murray State vs Austin Peay
(October 1st, 2013 at Clarksville, TN)
Murray State
ATTACK
SET
SERVE
SRV
DEF
BLOCK
GEN
##
Player
SP
K
E
TA
PCT
A
SA
SE
RE
DIG
BS
BA
BE
BHE
Points

1

LELM, Alyssa

5

17

4

38

.342

3

0

0

0

0

2

0

0

0

19.0

4

BEDARD, Sam

5

3

1

8

.250

40

0

0

0

10

0

0

0

0

3.0

5

JONES, Kamille

5

4

2

15

.133

0

0

0

0

1

0

1

1

0

4.5

6

OLDEN, Taylor

5

14

7

47

.149

1

5

4

1

8

0

0

1

0

19.0

7

INGRAM, Scottie

5

18

8

57

.175

0

0

0

0

13

0

0

0

0

18.0

11

FOWLER, Miranda

5

1

2

5

-.200

0

0

0

1

2

0

1

0

1

1.5

2

HUDSON, Katlyn

5

0

0

0

.000

3

0

0

0

14

0

0

0

0

0.0

3

STULTZ, Hannah

1

0

0

1

.000

3

0

0

0

2

0

0

0

0

0.0

10

SCHMAHL, Emily

1

0

0

0

.000

0

0

0

0

1

0

0

0

0

0.0

18

LORENZ, Ellie

5

1

0

1

1.000

2

0

0

0

6

0

0

0

0

1.0

TEAM

1

Totals

5

58

24

172

.198

52

5

4

3

57

2

2

2

1

66.0

TOTAL TEAM BLOCKS: 3.0
TEAM ATTACK BY SET
Set
K
E
TA
Pct
Sideout
Pct

1

15

3

34

.353

15-22

68%

2

9

11

40

-.050

8-24

33%

3

15

1

41

.341

15-22

68%

4

9

7

35

.057

12-25

47%

5

10

2

22

.364

8-14

57%

58-107

54%

SET SCORES
1
2
3
4
5
TEAM RECORDS

Murray State

(2)

25

12

25

17

13

11-6, 1-2 OVC

Austin Peay

(3)

22

25

22

25

15

5-13, 2-1 OVC
Austin Peay
ATTACK
SET
SERVE
SRV
DEF
BLOCK
GEN
##
Player
SP
K
E
TA
PCT
A
SA
SE
RE
DIG
BS
BA
BE
BHE
Points

1

FIELDS, Cami

5

2

0

7

.286

58

0

3

0

9

0

2

1

3

3.0

2

HULL, Calyn

5

16

5

38

.289

0

0

0

0

3

0

3

1

0

17.5

4

EBRIGHT, Sammie

5

15

3

32

.375

0

0

0

0

1

0

2

2

0

16.0

8

LANDON, Liz

5

15

0

24

.625

6

0

1

0

4

1

4

1

0

18.0

14

STOTTS, Jada

5

16

6

40

.250

0

2

1

1

19

1

1

0

0

19.5

15

PLYBON, Hillary

3

5

2

11

.273

1

1

0

0

3

0

2

1

0

7.0

3

ADAMS, April

5

0

0

0

.000

0

0

0

3

14

0

0

0

0

0.0

5

BALES, Lizzy

5

0

0

0

.000

1

0

0

1

8

0

0

0

0

0.0

7

MARSELLIS, Aubrey

3

0

0

0

.000

1

0

0

0

0

0

0

0

0

0.0

12

HENDERSON, Lauren

3

8

4

15

.267

1

0

0

0

4

2

2

0

0

11.0

13

LITCHFIELD, Syd

5

0

0

0

.000

1

0

0

0

9

0

0

0

0

0.0

Totals

5

77

20

167

.341

69

3

5

5

74

4

16

6

3

92.0

TOTAL TEAM BLOCKS: 12.0
TEAM ATTACK BY SET
Set
K
E
TA
Pct
Sideout
Pct

1

14

4

33

.303

15-25

60%

2

13

1

29

.414

9-13

69%

3

19

7

44

.273

15-25

60%

4

18

5

37

.351

12-17

70%

5

13

3

24

.417

9-14

64%

60-94

63%

Site: Clarksville, Tenn. (Dunn Center)
Date: Oct 01, 2013 Attend: 425 Time: 2:04
Referees: Mic Huffman, Jack Gallagher


| | | | | | | |
| --- | --- | --- | --- | --- | --- | --- |
| | 1 | 2 | 3 | 4 | 5 | Total |
| Tie scores | 1 | 3 | 6 | 1 | 1 | 12 |
| Lead changes | 0 | 2 | 3 | 0 | 0 | 5 |