Clarksville, TN – On Tuesday, October 1st, 2013 at approximately 3:51pm, a cashier, at the Jade Dragon, on Fort Campbell Boulevard, reported that a black male subject entered the establishment and demanded all the money.
The subject had his hand in the pocket of his hoodie in such a way that the victim thought he had a gun. The victim then gave the subject all the cash in the register.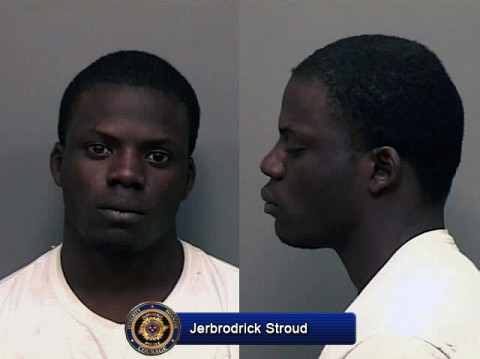 The subject then asked the victim not to call police and ran out.
Officers set up a perimeter and the suspect Jerbrodrick Omar Stroud was found hiding under a lawn trailer off Durrett Drive.
The victim identified Mr. Stroud as the robber and he was booked in Montgomery County jail on an Aggravated Robbery charge. Bond is set at 75,000.
The lead investigator is Detective David Keenom.
Jerbrodrick Stroud
Name: Jerbrodrick Omar Stroud
Date of Birth: 7/ 28/ 93
Gender: M
Race: B
Given Address: 160 Stateline Road, Apt. 4, Clarksville, TN
Arresting Officer: David Keenom
Charged With: Aggravated Robbery
Booked Into: Montgomery County Jail
Bond: $75,000.00