Madison, WI – Austin Peay State University men's golf team was able to keep its streak alive in the final round of the Badger Invitational, but it was not the finish the Govs were seeking.
Shooting its worst round (308) of the fall in windy University Ridge Ggolf Club conditions, Austin Peay slipped to fifth place in the final standings of the Wisconsin tournament. The Governors finished at 891 overall, making it 15 straight regular-season tournaments of at least a Top 5 finish.
South Carolina led from start to finish, shooting an 8-under 856 to win the event. Kansas was second at 880 with Illinois State third (883) and USC Upstate (886) fourth in the 14-team tournament.
"With the wind we just weren't judging our distance correctly," Kayden said. "On the par 3s, we were letting the wind get to us, exaggerating a lot of our shots. We weren't able to recover from them.
"Overall, all the scores were a little higher today because of that wind."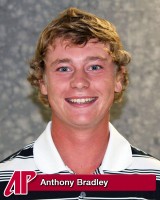 For a third straight week, senior Anthony Bradley was able to garner a Top 10 finish, tying for 10th with a 220 after shooting a final-round 3-over 75.
Sophomore Chris Baker, who got off to a slow start Sunday, was one shot back of Bradley, firing APSU's only par round, his 72 giving him a 221.
But the rest of the Govs could not manage the 25-miles-per hour wind gusts, Tuesday. Seniors Trey Tarpley (80) and Marco Iten (81) along with sophomore Austin Kramer (84) all struggled, forcing APSU to count two 80 scores and pushing the Govs from second to fifth.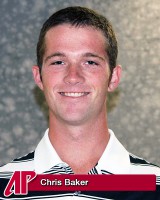 "Chris really had a good day for us," Kayden said. "Shooting a 72 in those windy conditions was really good. Overall, it became a struggling day where we were unable to control our distances from certain yardages. It is hard to achieve success because your shots are too far off line, your struggling to get the ball up and down.
"That was the unfortunate thing with today, we just really struggled with the wind."
Although disappointed with Tuesday's performance, Kayden was pleased to see his team keep its streak of Top 5 finishes continue.
"We have to get back, get some guys some rest—we have played three (tournaments) in a row," Kayden said. "We have some guys who are a little tired—you could see that today—and get some guys back mentally and physically—give them a break—and get them back up for the last two fall tournaments."
Box Score
2013 Badger Invitational
University Ridge Golf Course
Verona, WI
Badger Men's Invitational
Dates: September 29th-October 1st
| | | | | | |
| --- | --- | --- | --- | --- | --- |
| Finish | School – Players | Round 1 | Round 2 | Round 3 | Totals |
| 5 | Austin Peay State University | 290 | 293 | 308 | 891 |
| T 10 | Anthony Bradley (1) | 72 | 73 | 75 | 220 |
| T 14 | Chris Baker (3) | 76 | 73 | 72 | 221 |
| T 48 | Marco Iten (2) | 70 | 78 | 81 | 229 |
| T 48 | Austin Kramer (5) | 73 | 72 | 84 | 229 |
| T 50 | Trey Tarpley (4) | 75 | 75 | 80 | 230 |
| | | | | | |