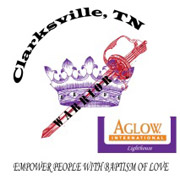 Clarksville, TN – The previously-known Women's Aglow is coming back in Clarksville. It is now known as Aglow due to the inclusion of males in the organization. Males and females are welcome to the meetings.

We are a community-focused organization with the purpose of uniting the Body of Christ in Clarksville. We hope to bring healing to our community through one heart at a time.

Our Interest Meeting is Tuesday, November 19th at 6:30pm.

The meeting will be at God's Place, 1485 Golf Club Lane, Clarksville, TN 37040. June Dawn Knight is presenting the vision to the community. Come! Be a part of our community gathering. All are welcome!

Aglow International is a Transformational Kingdom Culture with mindsets not of this world.

As a Kingdom Movement, we are committed to seeing God's will done on earth as it is in Heaven by raising up champions and warriors across the earth who will bring freedom to the oppressed while providing opportunities for everyone in our spheres of influence to grow into radiant relationships with each other, as well as, the Father, the Son, and the Holy Spirit.

Our local chapter is designed to minister in a different church each month. We will have a community worship team and board members from many different churches. We will bring in various speakers from all over the world. We have churches scheduled for next six months! We hope to bring unity to the Body of Christ in Clarksville, Tennessee.

We are on Facebook at www.facebook.com/clarksvilleaglow, or contact June Dawn at 931.488.LUV2.



Sections
Spirituality
Topics
Aglow International, Christ, Clarksville Aglow, Clarksville TN, God's Place, Golf Club Lane, June Dawn Knight