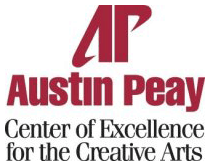 Clarksville, TN – The winner of the 27th Annual Young Composer's Competition at Austin Peay State University was recently announced by the APSU Center of Excellence for the Creative Arts. The winning composer is Christopher Chandler, of Rochester, NY, who won for his "deep in liquid indigo" for chamber ensemble.
Chandler was born in Savannah, GA, in 1986 and currently lives in Rochester, where he is pursuing a Ph.D. in composition at the Eastman School of Music.
As a composer of acoustic and electroacoustic music, his works have been performed by Ensemble Interface, the Argento Chamber Ensemble, the Cleveland Chamber Symphony and Le Nouvel Ensemble Moderne.
His music has been honored with awards including a BMI Student Composer Award, an ASCAP/SEAMUS Student Commission, winner of the American Modern Ensemble's Fifth Composition Competition and the Nadia Boulanger Composition Prize from the American Conservatory in Fontainebleau.
Chandler was also first prize winner in the 2009 Young Composer's Competition here at Austin Peay, for his "the resonance after…" for chamber ensemble and electro-acoustic sounds, which was performed here on campus.
The APSU Young Composers Competition has been held annually since 1987. Since becoming a national competition in 1993, the Department of Music and the Center of Excellence for the Creative Arts have awarded prizes to composers from such prestigious musical institutions such as Peabody Conservatory of Music, Harvard University, Yale University, the Cleveland Institute, New York University and the Eastman School of Music. Its purpose is to encourage young composers by providing professional-level performances of their music as well as financial incentives and support.
Those composers winning first prize are traditionally invited to campus for the performance of their music, a vitally important facet of the competition. While here, these young composers interact with both undergraduate and graduate students in composition and theory, talking to classes and meeting with composition students.
The competition was open to student composers who were citizens or permanent residents of the United States, enrolled in accredited public, private or parochial secondary schools, in accredited colleges or conservatories of music or engaged in the private study of music with recognized and established teachers, and who had not turned 30 by May 30th, 2013.
Scores submitted were for a wide range of instrumental and vocal media, and a panel chosen from qualified University faculty and composers served as judges.