Clarksville, TN – The weekly Clarksville Parks and Recreation Department Recreation Report provides Clarksvillians with a glimpse at the activities and events that are available from the Parks and Recreation Department for them to enjoy together as a family.
This weeks highlights include: Christmas on the Cumberland, Christmas Cookie Bake-Off, Indoor Aquatic Center to host New Year's Eve Bash, and
Chocolate Affair Tickets.
Christmas on the Cumberland
Free Activities and Entertainment this weekend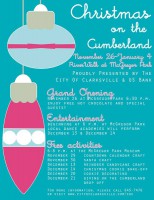 Christmas on the Cumberland has officially begun and everyone is welcome to visit for fun, festive, family friendly activities. Christmas on the Cumberland is located at the RiverWalk at McGregor Park and is open nightly from 5:00pm-10:00pm, Sunday through Thursday and 5:00pm-11:00pm, Fridays and Saturdays through January 4th, 2014.
Admission to the event is free.
Throughout this year's celebration, there will be several weekend opportunities for children and their families to participate in family oriented activities and enjoy live entertainment. Christmas on the Cumberland is an event that children and adults of all ages are sure to enjoy this holiday season!
See below for a schedule of activities that will take place from 6:00pm to 8:00pm at McGregor Park:
December 13th: Kids can enjoy creating their own reindeer candy cane craft and enjoy performances by Dance Force, Gateway CAST & Crowns Performing Arts Center, Natalie's Dance Network, Clarksville High School, Montgomery Central High School
December 14th: Enjoy performances by Distinguished Steppers, Rewind Academy of Dance, Acro Dance Express, Kenwood High School, Rossview High School, Clarksville Academy
Christmas Cookie Bake-Off
The Christmas Cookie Bake-Off, which was once a feature of "Downtown for the Holidays, is now part of Christmas on the Cumberland! Bakers of all skill levels are encouraged to bake their favorite holiday treat and submit their entry from 5:00pm-7:00pm December 14th at the Museum at McGregor Park.
Parking will be available for drop-offs. Entry fee is five samples for judging along with two dozen treats which will be donated to Manna Café.
Entries will be judged according to taste, presentation, and originality.
Prizes:
1st place – Kitchen aid Mixer
2nd place – Sweet Treats Bakery Experience for Two
3rd place – Bakeware Set
Indoor Aquatic Center to host New Year's Eve Bash
Cheers to a splashing new year! Visit the Indoor Aquatic Center at New Providence this New Year's Eve for the 3rd annual New Year's Eve Splash! The Clarksville Parks and Recreation Department is hosting a New Year's Eve pool party from 8:30pm to 12:30am on Monday, December 31st.
Party-goers can enjoy music, refreshments and free access to "The Aqua Run" wibit and "The Aqua Climb" climbing wall. This year, pool partiers can also enjoy a new, inflatable waterslide! Cost to attend this event is $3.00.
This event is open to all ages, though minors ages 17 and under must be accompanied by a parent or adult guardian after 10:00pm.
Chocolate Affair Tickets make the perfect gift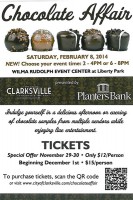 With only a couple of shopping weeks left before Christmas, Clarksville Parks and Recreation had the perfect gift for the chocolate-lovers in your life- tickets to the "Chocolate Affair". This fun event, presented by the City of Clarksville and Planters Bank, is scheduled to take place Saturday, February 8th at the Wilma Rudolph Event Center.
Event-goers can indulge in a delicious evening sampling chocolate from vendors while enjoying entertainment.
Tickets are only $15.00 per person and are available for purchase on the event's website, www.cityofclarksville.com/chocolateaffair and at the Clarksville Parks and Recreation office. This year's event has two options to choose from, an after lunch ticket from 2:00pm to 4:00pm or an after dinner ticket from 6:00pm to 8:00pm.
Tickets are limited, so purchase yours today!
About Parks and Recreation
The Clarksville Parks and Rec Report and Parks Department press releases is written by Candice Tillman,  the Supervisor of Marketing & Public Relations for the City of Clarksville Department of Parks & Recreation.

Web Site: http://www.cityofclarksville.com/parks%26rec/
Email:
Sections
Events
Topics
Acro Dance Express, Chocolate Affair, Christmas Cookie Bake-off, Christmas on the Cumberland, City of Clarksville, Clarksville, Clarksville Academy, Clarksville High School, Clarksville Parks & Recreation Department, Clarksville Parks and Recreation, Clarksville Parks and Recreation Report, Clarksville TN, Customs House Museum, Customs House Museum and Cultural Center, Dance Force, Distinguished Steppers, Gateway CAST & Crowns Performing Arts Center, Indoor Aquatic Center, Inflatable Waterslide, Kenwood High School, Manna Café Ministries, McGregor Park, McGregor Park Riverwalk, Montgomery Central High School, Natalie's Dance Network, New Year's Eve Bash, New Year's Eve., Planters Bank, Rewind Academy of Dance, Rossview High School, The Aqua Climb, The Aqua Run, Wilma Rudolph Event Center