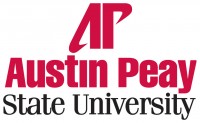 Clarksville, TN – When Keith Wilson, 51, first arrived at Austin Peay State University, George H.W. Bush was president of the United States, Johnny Carson ended his 30-year tenure as host of the Tonight Show and Barcelona hosted the Summer Olympic Games.

Much has changed since 1992, except for Wilson's status as an APSU student. A series of health problems delayed his studies over the years, causing him to sometimes drop out or take only one class a semester.

"You can look at his transcript and see when medical problems got worse," Dr. Bert Randall, APSU professor of philosophy and Wilson's advisor, said. "He might make a low passing grade or not pass a class. But he never complained, never blamed it on anybody. He came back and took the class again. Just kept working at it."

Wilson's tenacity has paid off, and on December 13th, his long academic journey will finally come to an end. During that day's APSU winter commencement ceremony, Wilson will officially earn his bachelor's degree with specializations in philosophy, religious studies and diversity studies.

"People were friendly, and they let me work at my own pace," he said. "The curriculum that I was studying, especially political science and religion, directly related to my life's struggles. It kept me busy and gave me things to think about other than dialysis and other medical procedures. It motivated me and gave me a goal to look forward to. To get a degree is a blessing. To have had the mentors and teachers at APSU was and still is a blessing."

Over the years, medical emergencies and hospital visits interrupted his classes, and medications often made it difficult for him to concentrate on his homework. Wilson also mentioned that he suffered from a learning disability, but he's not the type of person to make any excuses for his setbacks.

"There were times when the grade went to 'F,' and it was difficult," he said. "And you say, 'what did I do? I thought I tried as hard as the other students.' But a lot of times when you look back over it, you didn't."

Wilson's attitude impressed Randall. In his 42 years of teaching at APSU, the philosophy professor rarely came across a student so dedicated and honest.

"I admired the fact he never made excuses," Randall said. "He kept working. I know he was discouraged. He became a hero for me in terms of just not giving up."

Randall was determined to see Wilson graduate, so earlier this year, he contacted the APSU Office of the Registrar for help deciphering all the credit hours Wilson had earned in the last 20 years. Patrice Cheatham, assistant registrar, and Jasmine O'Brien, graduation coordinator, diligently went over Wilson's record to see what classes he was missing.

"Without their compassion, concern for Keith and professional competence, I would not have known how to advise him so that he could fulfill all the requirements for graduation," Randall said.

On December 13th, Wilson will be one of about 840 APSU students participating in the largest winter commencement ceremony in the University's history. In 2008, APSU began hosting two graduation ceremonies to accommodate the University's growing number of graduates.

The first ceremony, featuring candidates from the College of Arts and Letters, the College of Science and Mathematics and the School of Technology and Public Management, will begin at 10:00am.

The second ceremony, featuring degree candidates from the College of Behavioral and Health Sciences, the College of Business and the College of Education, will begin at 2:00pm.

Dr. Bruce Myers, chair of APSU Department of Computer Science and Information Technology and the 2013 APSU National Alumni Association Distinguished Professor Award recipient, will deliver the commencement address.

APSU offers a free live Web cast of each commencement ceremony. A link to the Web cast will be made available within 24 hours of each ceremony.

For more information, visit www.apsu.edu/commencement .



Sections
Education
Topics
APSU, APSU College of Arts and Letters, APSU College of Behavioral and Health Sciences, APSU College of Science and Mathematics, APSU Department of Computer Science and Information Technology, APSU National Alumni Association, APSU National Alumni Association Distinguished Professor Award, APSU Office of the Registrar, APSU School of Technology and Public Management, APSU Student, Austin Peay State University, Bert Randall, Bruce Myers, Clarksville TN, United States, Winter Commencement