APSU Sports Information

Bowling Green, KY – Austin Peay State University women's golf team is getting closer to where it hopes to be when late April and the Ohio Valley Conference tournament rolls around.
The Lady Govs shot a final-round 315, Tuesday, to finish second in the inaugural WKU Lady Topper Classic. APSU finished with a 952 overall, 10 strokes better than third-place Siena.
Host Western Kentucky won the event with a 915. The Govs' finish was their best for the 2013-14 season.
"We had four girls play today—we had a couple of individuals play well," APSU coach Sara Robson said. "We needed one score to have a great round. We still had some short game issues that cost us some strokes but we are getting closer to where we should be. We still have a few weeks to get there (OVC tournament April 21-23)."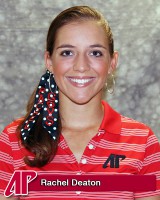 Senior Rachel Deaton continued her consistent tourney play, shooting a final-round 78 for a 234 total and leaving her in sixth-place.
"Rachel had a great tournament," Robson said. "She had a couple tough holes during the tournament but she really played well. She had some great up and downs. Her short game was really helping her out."
Meanwhile, sophomore Jessica Cathey was APSU's next best finisher, shooting a final-round 77 for 235 overall. Senior Tala Mumford had APSU's low round of the day, bouncing back from a difficult closing nine, Monday, to fire a 75, Tuesday.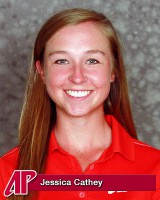 "Tala really scrambled well the first 8-10 holes to keep herself in it to be able to get doing and really playing well," Robson said. "It didn't come easy for her but her ability to scramble really paid off.
"Jessica played well, except for a couple of chips she said that got her. She also said her driver got her into trouble a couple of times also. She really hit her irons well today."
But the Lady Govs could not get the other sub-80 team-counting score. Freshmen Morgan Kauffman and Morgan Gardner each had 85s, with the former finishing at 246 and the latter at 251.
However, a third freshman, Amber Bosworth, took momentum from her hole-in-one yesterday to shoot a final-round 79. She finished tied for 15th at 241.
Junior Meghan Mueller shot a final-round 80 for a 246 total while another freshman, Kelsey Schutt fired an 86 to end at 251.
"Amber played very well today," Robson said. "She had a couple of three-putts that got her at the end—she missed a few short putts that kept her from having a really good score.
"She and Meghan played a lot better today than their scores showed."
Box Score
WKU Lady Topper Classic
Bowling Green, KY | Bowling Green Country Club
Dates: March 31st-April 1st
| | | | | | |
| --- | --- | --- | --- | --- | --- |
| Finish | School – Players | Round 1 | Round 2 | Round 3 | Totals |
| 2 | Austin Peay State University | 316 | 321 | 315 | 952 |
| 6 | Rachel Deaton | 77 | 79 | 78 | 234 |
| T 7 | Jessica Cathey | 78 | 80 | 77 | 235 |
| T 12 | Tala Mumford | 79 | 83 | 75 | 237 |
| T 21 | Morgan Kauffman | 82 | 79 | 85 | 246 |
| T 33 | Morgan Gardner | 83 | 83 | 85 | 251 |
| | | | | | |
| T 15 | Amber Boswoth | 85 | 77 | 79 | 241 |
| T 23 | Meghan Mueller | 85 | 82 | 80 | 247 |
| T 33 | Kelsey Schutt | 83 | 82 | 86 | 251 |
| | | | | | |