Austin Peay Sports Information

Cordova, TN – It's not often Austin Peay State University coach Kirk Kayden will accept a sixth-place finish. But the Govs' 10th-season head man liked what he saw from his Governors, Tuesday afternoon, in the final round of the Memphis Intercollegiate, played at Colonial Country Club South Course.
The Govs shot a final-round 4-over 296 to finish at 897 and moved up to sixth-place, one shot out of a Top 5 finish. In fact, the 296 was the day's third-best round.
Host Memphis won the event with an 874, followed by South Alabama (889), Louisiana (formerly Louisiana Lafayette, 892), Cincinnati (896) and Arkansas State (896).
"They guys came out with intensity today—they really wanted to compete," Kayden said. "It showed. We had one of the top three scores of the day and that is a good sign. That certainly has us moving in the right direction."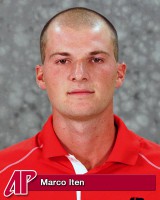 Senior Marco Iten continued his superb spring performance. After capturing the Talis Open Challenge two weeks ago, the Niederlatt, Switzerland native was second at Memphis, shooting even par on the day to finish at 1-over 217. Only Louisiana's Haraldur Magnus (215) was better.
"Just another tremendous effort by Marco," Kayden said. "He just continues to be our consistent guy and that is great to see.  It is awesome that he really has got it going for us. He is playing hard and has been at the top the last couple of weeks.
"He has been doing it against some outstanding teams and tremendous golfers and on some really tough golf courses. Today, he beat out Memphis' top golfers on their home course and Memphis is ranked No. 40 right now."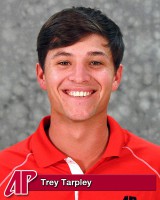 Fellow senior Trey Tarpley put the opening-round 80 in the rearview mirror by finishing with 76-73 (229), his 2-over Tuesday being the Govs' second-lowest score. He finished tied for 36th.
Junior Tucker Wallace was nothing but consistent in Memphis, shooting 76-76-75 for a 227, tying him for 29th place.
Senior Anthony Bradley finished with a 76, giving him a 226 for the tourney and a 26th-place tie.
Freshman Erik Hedberg, playing in his first spring tourney, finished with an 83 and a 245 total. Playing as an individual, sophomore Korey Smith finished with a 77 for a 233.
"Trey played good golf today," Kayden said. "He had that one triple yesterday or he would have been right around par. Today, he was at 1-under after 13 (holes) but doubled 14—he hit in the water. He made par the rest of the way. He just had one bad swing today and is really close to giving us something really good.
"Tucker really came around this week and relied on his experience of playing this golf course. He was consistent off the tee, and if he had made a few more putts, he really would have had a nice finish—he buzzed the edge on a number of birdie chances. If we can get him back to where he was a year ago, that would be huge for us."
This was the first of three straight tourney weeks. The next two will be in Mississippi. In fact, APSU will play in Old Waverly Collegiate, next Monday and Tuesday in West Port, MS.
Box Score
Memphis Intercollegiate
Colonial Country Club | Memphis, TN
Championship Tees
Dates: March 31st – April 1st
| | | | | | |
| --- | --- | --- | --- | --- | --- |
| Finish | School – Players | Round 1 | Round 2 | Round 3 | Totals |
| 6 | Austin Peay State University | 304 | 297 | 296 | 897 |
| 2 | Marco Iten | 74 | 71 | 72 | 217 |
| T 26 | Anthony Bradley | 76 | 74 | 76 | 226 |
| T 29 | Tucker Wallace | 76 | 76 | 75 | 227 |
| T 36 | Trey Tarpley | 80 | 76 | 73 | 229 |
| T 75 | Erik Hedberg | 78 | 84 | 83 | 245 |
| | | | | | |
| T 49 | Korey Smith | 81 | 75 | 77 | 233 |