Austin Peay Sports Information

Edwardsville, IL – Austin Peay State University women's track and field team swept the relay events and saw an individual crush the school record in the 5000m run en route to a runner-up finish at Saturday's Gateway Classic, Saturday, at Ralph Korte Stadium.
The Lady Govs found themselves at the forefront of a strong field on the campus of SIU Edwardsville, finishing just 10 points behind fellow Ohio Valley Conference foe Eastern Illinois' 117 point tally.
Host SIU Edwardsville finished third (105), followed by Missouri (84) and Drake (65).
"Another very solid outing for us," said head coach Doug Molnar. "I couldn't count the number of personal-bests we had, which is a great problem to have. Coach (Valerie) Brown and Coach (James) Jenkins did a great job."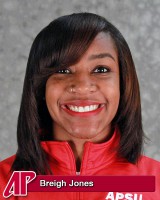 The 4x100m team picked up Austin Peay's first victory on the day. The quartet of sophomores Breigh Jones and Kymmalett Ross and juniors Erika Adams and Maikea Davis paced the field with a 45.85 mark, nearly a half-second in front of the next closest finishers.
The 4x400m team bookended the successful day of relays, winning the afternoons last track event. Davis, Jones and Ross were joined by freshman Terri Morris for a 3:42.74 run to win the event by more than a second. That squad has made great strides toward the school record set in 2002 and finished less than two seconds back of that mark in this meet.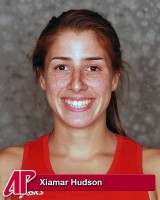 Senior Xiamar Hudson did break a school record, and did so in emphatic fashion. The Clarksville native won the 5000m run with a 17:20.13 mark, easily passing Bertha Castillo's 2007 mark of 17:42.84. She now owns Austin Peay records in both indoor and outdoor track and cross country.
In a battle between two of the premier middle-distance runners in the OVC, Jones bested SIU Edwardsville's Jessica Oranika and moved into first place in the OVC in the 400m dash with a 54.22 run; Oranika was runner-up at 54.38, while Morris finished fourth for Austin Peay with a personal-best 55.82 mark.
Davis also put up a personal best in the 100m dash, earning runner-up honors at 12.04. Even though she sat out her usual 200m event, the Lady Govs got a runner-up nod from Ross (24.62) and a third-place finish from Jones (personal-best 24.71).
Junior Jessica Gray's third-place 2:12.38 mark vaulted her from 10th in the OVC to third, based on standings entering Saturday action.
The Lady Govs short hurdle freshmen continue to battle the field and each other for the upper hand. Myiah Johnson's 14.10 mark was the best so far by an Austin Peay hurdler this season in the 100m event, placing her fifth in the event and edging her by Amia Butler (14.13) both on the day and in Austin Peay's season standings.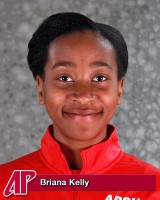 In the field, freshman Briana Kelly posted the best finish with a third-place high jump thanks to a 1.60m mark. Freshmen Chancis Jones (5.76m) and Kaylnn Pitts (5.68m) were fourth and fifth, respectively, in the long jump, with Pitts (12.42m) also placing fifth in the triple jump.
"Overall, it was another outstanding meet where we got production out of everyone," Molnar said. "That's what it's all about. It was a great facility with great competition and we knew that would bring out some good times."
Austin Peay returns to action with a rare mid-week meet Tuesday, in Murray, KY, at the Battle of the Cumberland.