Eastern Kentucky vs. Austin Peay Governors
Friday-Sunday, April 25th-27th
Clarksville, TN | Raymond C. Hand Park

Clarksville, TN – For a second consecutive week, Austin Peay's baseball team (16-25, 8-10 OVC) will square off against a team just ahead of it in the Ohio Valley Conference regular-season race when Eastern Kentucky (20-21, 9-9 OVC) visits Raymond C. Hand Park for a three-game set.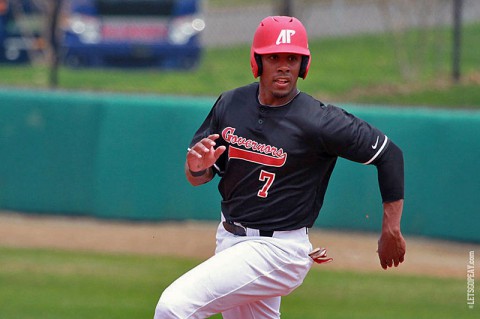 The series will begin with a 6:00pm, Friday contest followed by a 2:00pm, Saturday affair and a 1:00pm, Sunday finale.
Austin Peay enters the weekend tied for eighth with an 8-10 OVC mark. Eastern Kentucky has a 9-9 record, one-game ahead of APSU, and is tied for fifth place in the OVC race. The Govs have six wins in 14 April contests with five of those wins coming in OVC play.
Meanwhile, Eastern Kentucky is 7-6 in April with five OVC wins.
Austin Peay Governors
Austin Peay has not won three consecutive games this season, posting an 0-6 mark when it has back-to-back wins in hand.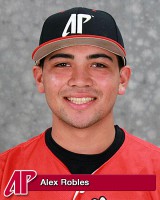 In OVC weekends the Govs are  4-2 in Game 1, 3-3 in Game 2 and 1-5 in Game 3. The Govs are 10-13 at Raymond C. Hand Park this season with 7 home games remaining. APSU is 6-12 away from the friendly confines, winning 5 of their last 8.
Two-way man Alex Robles (3B/P) ranks fifth among all OVC hitters and leads all freshmen with a .353 average; he has a 5-2 record and 3.50 ERA on the mound. Robles is the OVC's reigning Pitcher of the Week after tossing a one-hit shutout at Belmont last week.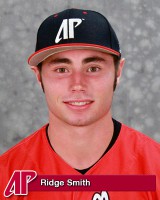 Utility man Ridge Smith posted his first 4-hit contest against Middle Tennessee, Wednesday; he ranks 15th among OVC hitters with 31 RBI this season. Outfielder Cayce Bredlau leads APSU with a .344 batting average and .475 on-base percentage during OVC play.
In 13 second half contests, outfielder Rolando Gautier leads APSU with a .341 batting average and .508 on-base percentage (12 walks).
APSU has seen 7 freshmen start at least half of its games this season and 8 have taken an at-bat this year. Those freshmen have combined to hit .266 (240-for-902) and drive in 144 of the team's 215 RBI.
The Govs defense has battled inconsistency with 76 errors this season (.950 fielding percentage), but its 8 errorless outings have come in its last 24 games (.966 fielding percentage in that span).
Head coach Gary McClure is one of 28 active Division I coaches with 800 wins and he is APSU and the OVC's all-time wins leader.
This season, Austin Peay was picked to finish 2nd in the OVC's preseason poll behind Tennessee Tech. The Govs did not have a player selected to the preseason All-OVC squad; only senior catcher P.J. Torres returns after receiving All-OVC honors (2nd team) last season.
First Pitch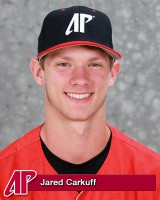 Austin Peay will field the same starting rotation for the second consecutive week. Right-hander Alex Robles has been a member of the weekend rotation each week of the campaign and is 5-2 with a 3.55 ERA in his 10 starts. He is the reigning OVC Pitcher of the Week after tossing a one-hit shutout at Belmont last Thursday, striking out a season-best nine batters. Robles is 4-1 with a 2.93 ERA in 6 OVC starts.
Right-hander Jared Carkuff is scheduled to make his third-straight OVC outing. He picked up his first OVC win at Belmont, last Friday, after allowing 1 run in 6 innings. Carkuff is 1-0 with a 4.35 ERA in his 2 starts.
Left-hander Alex Belew joined the weekend rotation at Belmont and will make his second straight start as the Govs No. 3. He tossed 4.1 scoreless innings in his first start since 2011 and his OVC debut last week, striking out 3 batters.
Probable Pitchers
Date/
Time

Austin Peay Starter
vs. Opponent's Starter
FRI.
6:00pm
RHP Alex Robles (Fr., 5-2, 3.50 ERA)
LHP Tanner Perkins (Sr., 3-6, 3.82 ERA)
SAT.
2:00pm
RHP Jared Carkuff (So., 2-2, 4.18 ERA)
RHP Brent Cobb (Sr., 3-4, 5.17 ERA)
SUN.
1:00pm
LHP Alex Belew (RSr., 0-0, 2.25 ERA)
RHP Caleb Johnson (Fr., 4-0, 3.33 ERA)
Video
Starter-turned-closer-turned-starter Jared Carkuff talks about his most recent transition back to the Govs rotation and whether the Govs feel any pressure as the regular season winds down.
Media Center
Radio: WVRY 105.1 FM
Play by Play: Van Stokes
Online Audio: www.iHigh.com
Live Statistics: www.LetsGoPeay.com
Twitter: @APSUBaseball