APSU Sports Information

Clarksville, TN – For the second consecutive season, Austin Peay State University women's golf team has earned a Public Recognition Award from the NCAA based on their most recent multi-year Academic Progress Rate (APR).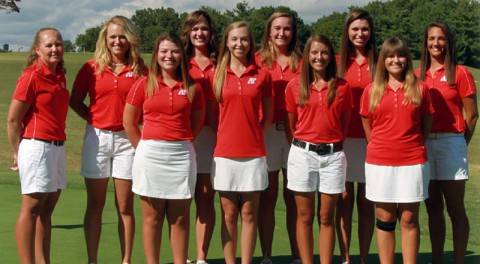 The awards are given to teams scoring in the top 10 percent of the multi-year Academic Progress Rates (APR), which is part of the NCAA's academic reform program.
Each year, the NCAA tracks the classroom performance of student-athletes on every Division I team through the annual scorecard of academic achievement, known as APR.
The rate measures eligibility, graduation and retention each semester or quarter and provides a clear picture of the academic performance in each sport.
The most recent APRs are multi-year rates based on scores from the 2009-10, 2010-11, 2011-12 and 2012-13 academic years.
"It always has been our team philosophy to put academics first," Lady Govs golf coach Sara Robson said. "I am proud of the hard work our girls do to ensure success in the classroom. I also appreciate the support our student-athletes receive from our administration, including the effort Sonya Bain and her staff in academic services put forth to help our student-athletes."
Multi-year APR scores for all Division I sports teams will be announced on May 14th.