Clarksville, TN – On a cold, overcast morning in November, hundreds of well-dressed shoppers huddled against the wind outside a west London British Red Cross store. In America, this type of establishment is simply referred to as a thrift store, but in England, these shops tend to be a little swankier.
"What we think of as a thrift store is not really the same as their thrift stores," Tracy Nichols, Austin Peay State University communication instructor, said. "Some of their stores are like upscale, New York boutiques."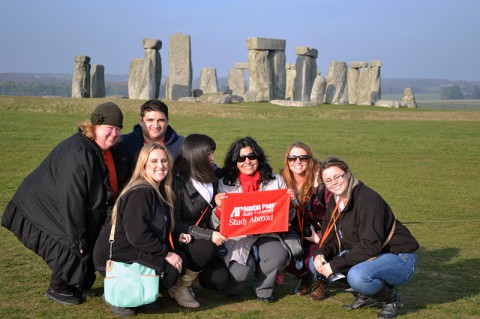 The customers that morning were eager to get out of the cold and peruse the high-end merchandise donated by soccer star David Beckham and his wife, Victoria.
The money raised that day would support the British Red Cross' relief efforts in the Philippines, following the deadly typhoon that struck that country in November.
"Thrift stories are huge in London for the Red Cross," Nichols said. "They have over 300 stores in the UK. Every single penny that's made goes back into the Red Cross. I wanted our students to compare how these organizations operate there."
Last semester, Nichols did just that with the creation of a unique, hybrid service learning and study abroad class for the APSU Department of Communication. The class, Communication in Organizations, spent much of the semester working with the local Red Cross, the Salvation Army and Habitat for Humanity. Then, for a week during Spring Break, the class traveled to London to study how these three organizations operate on a global scale.
"It's the first class that's ever been designated as service learning and study abroad by APSU," Nichols said. "And the students really had an amazing experience. Instead of just having speakers come to class, they actually did these things and worked with the organizations and made tangible contacts and connections. When they go out into the real world, they already have this practical experience working internationally with these organizations."
The students volunteered locally to get a feel for how these organizations operated, and then they developed communication plans and radio spots. With Habitat for Humanity, the class created a public service announcement promoting the organization's Restore. A few weeks later, when they arrived in London, the students spent a busy day working on a renovation project for the British Habitat office.
"We went to a 19th Century, Victorian home that had been abandoned for almost 20 years," Nichols said. "They were going to refurbish it into a home for women who had been abused."
The students worked cleaning the yard, discarding more than 19 years of piled up mail, repairing the facade and sweeping shards of glass from a neglected conservatory. They also learned that the British Habitat for Humanity focuses on renovation projects, while the American organization tends to emphasize new construction.
The class then visited an upscale British Red Cross boutique and toured the headquarters for the International Salvation Army. For some of Nichols' students, it was their first trip abroad.
"The thing that's great about this class is it's not just communication students," she said. "It's open to all students. It's a communication organizations course, so any major can take it as an elective. When I teach this traditionally, I see business majors, psychology majors, sociology majors, English and some history and political science majors since it addresses how people communicate within organizations and what kind of message the organizations are sending out to the public too."
Nichols was inspired to create the class by Dr. Matthew Kenney's Spring Break trip to Trinidad and Tobago for the APSU President's Emerging Leaders Program. Nichols plans to offer the class every spring semester, and with the University's growing focus on experiential learning, it's likely that similar classes will take shape in other departments.
Earlier this year, the University unveiled its Quality Enhancement Plan (QEP), which seeks to "enhance student learning by increasing students' participation in learning experiences that transform perspective and engage students in practical application of their learning." Students are specifically encouraged to seek out opportunities, such as service learning classes or study abroad programs.
For more information on this class, contact Nichols at nicholst@apsu.edu.