Clarksville, TN – The City of Clarksville's Parks and Recreation Department invites the public to the Ford Street Mountain Bike Trail Park on Saturday, June 28th to celebrate the official grand opening of the newly constructed mountain biking trail park.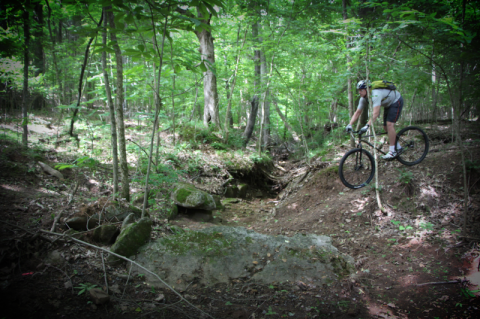 A ribbon cutting ceremony with Mayor Kim McMillan and special guest speakers will be held at 10:00am at the Ford Street Mountain Bike Trail Park, located on Ford Street.
"I am so excited to offer this new option for outdoor activity in Clarksville. As everyone knows, Clarksville provides an unparalleled quality of life and this new addition just adds to those opportunities. I appreciate the hard work that has gone into making this happen," said Mayor McMillan.
The ceremony will be followed by a group mountain bike ride highlighting the new trail. The trail will be open for others as well. The Bicycle Center and Riverside Bike Shop will be on hand to offer bike maintenance, safety features, instructions, and gear for sale.
"We are excited to get this first leg open," said Mark Tummons, Clarksville Parks & Recreation Director, "the Montgomery County area has some nice, moderate/difficult trails, but we lack advanced trails for more experienced riders, so that has been our concentration at this time. Eventually, we will have intermediate and beginner type trails. We also plan to develop a pump and/or BMX type track in the years to come. We expect for new trails to be completed every few months until we reach at least 10 miles of trail."
At this time, the new park consists of a 2.2-mile, advanced-level trail loop designed for experienced mountain bikers. The park's maintenance staff, local COGS, IMBA/SORBA as well as volunteers contributed to the year-long project. The 2.2 miles is only the beginning as eventually the Park will have miles of trail designated for advanced, intermediate, and novice riders. It is anticipated that another ¾-miles will be open by mid to late August, as trail development continues weekly.
All members of the public are invited and encouraged to attend. Those interested in riding are asked to bring their own equipment, as there will be only limited equipment available on a first come, first serve basis.
For more details, please contact the Clarksville Parks and Recreation at 931.645.7476 or visit www.cityofclarksville.com