Clarksville, TN – Dust off your leather jacket, pull on your bobby-socks and hand-jive the night away with Rydell High's senior class of 1959! The hit musical "Grease" returns to the Roxy Regional Theatre, July 11th – August 16th.
Christopher Herr and Ashley Harris star as head "Greaser" Danny Zuko and girl-next-door Sandy Dumbrowski, two teenagers trying to relive the high romance of their "Summer Nights" as the rest of the gang sings and dances its way through such favorites as "Greased Lightnin'," "It's Raining on Prom Night," "We Go Together" and many more!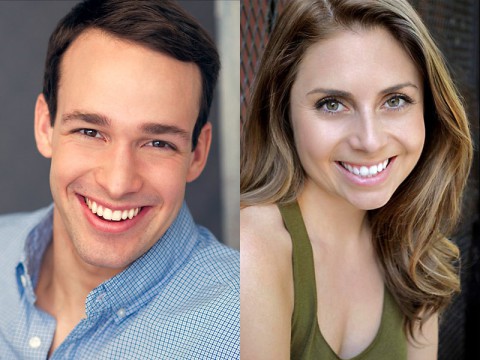 Directed by Tom Thayer and choreographed by Alicia Jayne Kelly*, "Grease" also features Anthony Nuccio as Kenickie, Rori Nogee as Rizzo, Cameron Perry as Doody, Kari Grunberg as Frenchy, Ian Erbe as Sonny, Alicia Jayne Kelly* as Marty, Derik Lawson as Roger, Emily Rourke as Jan, Ryan Bowie as Eugene Florczyk, Samantha Carroll as Patty Simcox, Matthew Smolko as Vince Fontaine, Matt Casey as Johnny Casino and Teen Angel, Ashley Knowles as Cha-Cha, and Leslie Greene as Miss Lynch.
On Saturday, July 19th, at 6:30pm, patrons are invited to a pre-show cookout under the marquee with hamburgers, hot dogs and all the fixin's. Then at 8:00pm, they can sing their hearts out along with Rydell High's senior class of 1959 in that evening's performance of "Grease". Tickets to the "Grease Cookout & Singalong" are $40.00 (adults) and $25.00 (ages 13 and under).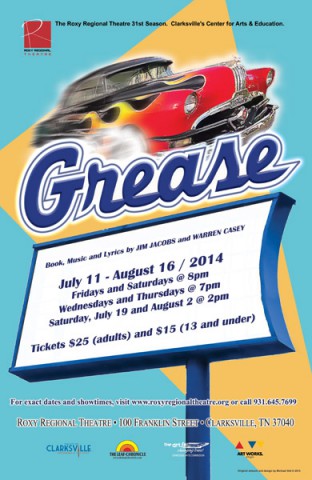 Friday, July 11th, is the traditional pay-what-you-can preview of "Grease". All tickets not pre-sold at the regular ticket price will go on sale at 7:30pm for whatever price patrons wish to pay.
This production is made possible in part through the generous support of Planters Bank, Mark & Valerie Hunter Kelly, and The Air Assault Team of Keller Williams. Additional funding support has been provided by Clarksville Pediatric Dentistry, Dr. Ernest & Joan DeWald, and Melissa A. Schaffner.
"Grease" runs July 11th through August 16th, playing Wednesdays and Thursdays at 7:00pm and Fridays and Saturdays at 8:00pm, with 2:00pm matinees on Saturday, July 19th and August 2nd.
Tickets are $25.00 (adults) and $15.00 (ages 13 and under) and may be reserved online at www.roxyregionaltheatre.org, by phone at 931.645.7699, or at the theatre during regular box office hours (9:00am to 2:00pm, Monday through Friday, and one hour prior to curtain).
Active-duty military, APSU students and CitySaver coupon holders can receive two tickets for the price of one to Wednesday and Thursday performances during the run.
The Roxy Regional Theatre is located at 100 Franklin Street in Clarksville, TN.
*Alicia Jayne Kelly is appearing courtesy of Actors' Equity Association, the Union of Professional Actors and Stage Managers in the United States