Nashville's Fiers Logs Quality Start; Velez Records Three Hits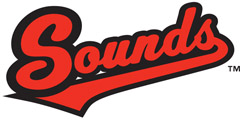 Memphis, TN – Despite a strong outing from pitcher Mike Fiers, the first-place Nashville Sounds (49-46) could not find their stride offensively and suffered a 1-0 loss to the Memphis Redbirds Thursday afternoon at AutoZone Park. The loss marks the fourth time Nashville has been shutout in 2014.
Fiers (6-5), who was recently named to the PCL All-Star team, pitched seven innings, allowing just one run on four hits while striking out eight to pick up his 10th quality start of the year. After this outing, he now boasts an ERA of 2.52, the fourth lowest in the PCL.
Fiers was charged the tough-luck loss after allowing the lone run of the afternoon to come in the bottom of the fifth, when Shane Robinson scored Pete Kozma on a sacrifice fly following a pair of lead-off singles and a sacrifice bunt.
Nashville managed just four hits on the afternoon, three of which came off the bat of Eugenio Velez. He now has hits in six of his last nine starts, hitting .310 (9-for-29) in that stretch. Matt Clark recorded the Sounds only other hit: a single in the ninth.
Redbirds starter Boone Whiting (2-6) went through the Sounds lineup with relative ease, allowing two hits and three walks in five innings while racking up seven strikeouts. Dean Kiekhefer and Eric Fornataro each pitched two innings of scoreless relief to secure the victory.
The Sounds' best chance to tie the score came in the top of the eighth, when Shawn Zarraga walked to lead off the inning, but was stranded on second base. Nashville finished the game hitting 0-for-4 with runners in scoring position.
Nashville reliever Alfredo Figaro pitched a scoreless eighth inning, increasing his streak of scoreless outings between Nashville and Milwaukee to seven games (10.1 IP).
Nashville returns home after the road trip for a brief three-game homestand against Round Rock (AAA-Rangers) that will begin on Friday at 7:05 p.m. RHP Ariel Pena (5-6, 4.81) will get the start for the Sounds against Express RHP Scott Richmond (1-3, 7.46). The contest will be broadcasted on 102.5 The GAME with Jeff Hem on the call.