Nashville, TN – Nashville Zoo is excited to announce the addition of Komodo Dragons to its animal collection. Known as the largest lizard in the world, they can be seen on exhibit in the Unseen New World.
"Komodo dragons are highly intelligent, complex animals that evoke a natural curiosity and are beloved by zoogoers," said Rick Schwartz, Nashville Zoo president. "We are excited to give our guests the opportunity to discover this fascinating species."
The two lizards, both female, hatched at the Los Angeles Zoo in August 2013.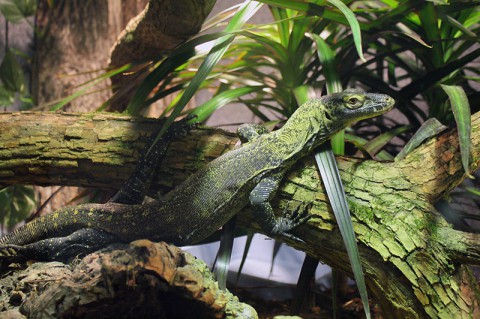 They are currently around two feet long and weigh 2 lbs., but will grow to be over nine feet long and weigh around 200 lbs. in adulthood.
Guests can expect to see them in Unseen New World for approximately a year until they are moved off-exhibit while a permanent habitat is designed and constructed.
"Because they grow so fast, we expect them to outgrow this exhibit in a short period of time," said Schwartz. "We are currently looking at locations and funding to build the permanent habitat."
Komodo Dragons are native to the volcanic islands of Indonesia. They are carnivorous apex predators, meaning they reside at the top of the food chain having few to no other predators in their environment. They are also known for being efficient eaters, managing to eat 80 percent of their body weight in one meal. As an adult, that's over 100 lbs. of meat. Komodo Dragons are listed by the International Union of Conservation of Nature as vulnerable due to habitat loss, loss of prey species, hunting and persecution. Fewer than 2,500 remain in the wild.
Nashville Zoo is accredited by the prestigious Association of Zoos and Aquariums, assuring the highest standards of animal care and husbandry. Attracting more than 776,000 visitors annually, the Zoo is considered one of the top things to do in Nashville.
The Zoo is a non-profit organization located at 3777 Nolensville Pike and is open every day except Thanksgiving, Christmas and New Year's Day. The mission of Nashville Zoo is to inspire a culture of understanding and discovery of our natural world through conservation, innovation and leadership.
For more information about Nashville Zoo, call 615.833.1534 or visit www.nashvillezoo.org