Austin Peay Sports Information

Akron, OH – Austin Peay State University's volleyball team enjoyed a better start to its morning, posting its season's first three-set sweep (25-19, 25-20, 25-12) against Bryant, Saturday, in the Akron Invitational at Rhodes Arena.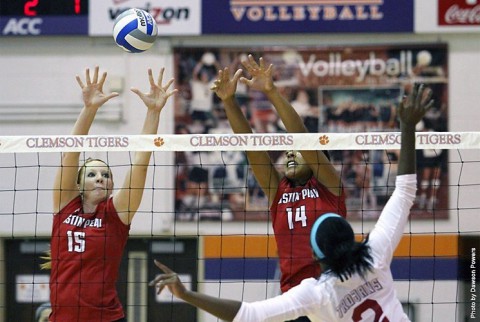 Austin Peay (3-4) had to post a come-from-behind effort to win the first set. Bryant scored the set's first three points and it took a 4-0 Austin Peay run to wrest the lead away, 11-9.
The Bulldogs would tie the set one more time at 11-11, but the Lady Govs used a kill from freshman outside hitter Christina White to retake the lead for good.  A set-ending 6-2 run resulted in the 25-19 APSU win.
The Lady Govs won the second set in wire-to-wire fashion. Austin Peay opened with the set's first two points and built a 6-2 lead. That lead would reach nine points, 12-3, with senior setter Cami Fields serving Austin Peay to six consecutive points.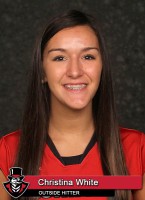 Bryant would get no closer than four points the rest of the way and senior middle blocker Liz Landon ended the threat and the set with a kill for the 25-20 win.
It was nearly a wire-to-wire effort in the third set, Bryant (2-6) would force a pair of lead changes, but Austin Peay built a 7-2 lead thanks to six straight points on Landon's serve. The Lady Govs were not threatened the rest of the way, with a 10-3 run later in the set sealing the match.
White followed up her 19-kill performance against Binghamton with a team-best 10 kills against Bryant. Senior middle blocker Hillary Plybon added nine kills and four blocks in the win. Sophomore outside hitter Sammie Ebright added eight kills.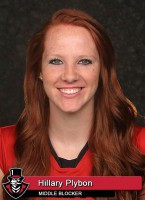 Austin Peay needed only 43 kills to post the sweep, committing 15 errors to record a .226 attack percentage. The Lady Govs also recorded seven blocks.
"We won this morning because we committed fewer errors, had better passing and were able to run our offense," said Lady Govs head coach Taylor Mott. "It isn't more difficult than that. Once we realize that and do it consistently, we'll get the results."
Bryant was held to 27 kills in the loss, finishing with a .047 attack percentage. Elena Lohr led the effort with a seven-kill performance.
Austin Peay concludes its stay at the Akron Invitational when it faces host Akron in a 7:00pm (CT), Saturday contest.
Box Score
Austin Peay 3 vs Bryant 0
| Set Scores | | 1 | 2 | 3 | Team Records |
| --- | --- | --- | --- | --- | --- |
| Bryant | (0) | 19 | 20 | 12 | 2-6 |
| Austin Peay | (3) | 25 | 25 | 25 | 3-4 |
Austin Peay (3-4)
Team Attack By Set
Set
K
E
TA
Pct
1
14
9
51
.098
2
12
4
43
.186
3
17
2
30
.500
Total Team Blocks: 7.0
LEADERS:
Kills-Aces-Blocks: WHITE, Christina (10-1-1); PLYBON, Hillary (9-0-4); EBRIGHT, Sammie (8-0-0); STOTTS, Jada (7-0-1); MARSELLIS, Aubrey (6-2-3); LANDON, Liz (3-1-2)
Assists: MARSELLIS, Aubrey (21); FIELDS, Cami (13); PLYBON, Hillary (2); LANDON, Liz (1); LITCHFIELD, Syd (1)
Digs: LITCHFIELD, Syd (16); STOTTS, Jada (12); MARSELLIS, Aubrey (9); WHITE, Christina (6); FIELDS, Cami (5); EBRIGHT, Sammie (2); LANDON, Liz (1); PLYBON, Hillary (1)
Bryant (2-6)
| ## | Player | SP | K | E | TA | PCT | A | E | SA | SE | RE | DIG | BS | BA | Pts |
| --- | --- | --- | --- | --- | --- | --- | --- | --- | --- | --- | --- | --- | --- | --- | --- |
| 6 | DePOUW, Sara | 3 | 3 | 6 | 17 | -.176 | 0 | 0 | 0 | 0 | 0 | 0 | 0 | 0 | 3.0 |
| 8 | ONOYAN, Taylor | 2 | 2 | 0 | 3 | .667 | 0 | 0 | 0 | 0 | 0 | 1 | 0 | 1 | 2.5 |
| 10 | SULMEISTERS, C. | 3 | 4 | 2 | 13 | .154 | 0 | 0 | 1 | 0 | 1 | 3 | 0 | 0 | 5.0 |
| 13 | LOHR, Elena | 3 | 7 | 5 | 28 | .071 | 2 | 0 | 1 | 1 | 0 | 10 | 0 | 0 | 8.0 |
| 15 | NESTEROV, Vika | 3 | 1 | 2 | 8 | -.125 | 16 | 0 | 0 | 0 | 0 | 8 | 0 | 0 | 1.0 |
| 16 | LUNSFORD, Alexandra | 3 | 3 | 4 | 16 | -.063 | 0 | 0 | 0 | 0 | 0 | 2 | 0 | 1 | 3.5 |
| 2 | VENDITUOLI, Erica | 1 | 0 | 0 | 0 | .000 | 0 | 0 | 0 | 0 | 0 | 0 | 0 | 0 | 0.0 |
| 7 | ROBBINS, Kiley | 2 | 0 | 3 | 8 | -.375 | 0 | 0 | 0 | 0 | 1 | 0 | 0 | 0 | 0.0 |
| 9 | MAGALHAES, Debora | 3 | 0 | 0 | 1 | .000 | 0 | 0 | 0 | 0 | 0 | 15 | 0 | 0 | 0.0 |
| 11 | KMEC, Jana | 1 | 1 | 0 | 2 | .500 | 5 | 0 | 0 | 0 | 0 | 4 | 0 | 0 | 1.0 |
| 12 | GOULD, Carissa | 3 | 0 | 0 | 0 | .000 | 2 | 0 | 0 | 0 | 1 | 6 | 0 | 0 | 0.0 |
| 17 | TAYLOR, Jocelyn | 2 | 6 | 0 | 11 | .545 | 0 | 0 | 0 | 0 | 0 | 0 | 0 | 0 | 6.0 |
| TM | TEAM | 1 | 0 | 0 | 0 | .000 | 0 | 0 | 0 | 0 | 1 | 0 | 0 | 0 | 0.0 |
| | Totals | 30 | 27 | 22 | 107 | .047 | 25 | 0 | 2 | 1 | 4 | 49 | 0 | 2 | 30.0 |
Team Attack By Set
Set
K
E
TA
Pct
1
7
8
39
-.026
2
11
10
42
.024
3
9
4
26
.192
Total Team Blocks: 1.0
LEADERS:
Kills-Aces-Blocks: LOHR, Elena (7-1-0); TAYLOR, Jocelyn (6-0-0); SULMEISTERS, C. (4-1-0); DePOUW, Sara (3-0-0); LUNSFORD, Alexandra (3-0-1); ONOYAN, Taylor (2-0-1); NESTEROV, Vika (1-0-0); KMEC, Jana (1-0-0)
Assists: NESTEROV, Vika (16); KMEC, Jana (5); LOHR, Elena (2); GOULD, Carissa (2)
Digs: MAGALHAES, Debora (15); LOHR, Elena (10); NESTEROV, Vika (8); GOULD, Carissa (6); KMEC, Jana (4); SULMEISTERS, C. (3); LUNSFORD, Alexandra (2); ONOYAN, Taylor (1)