APSU Sports Information Office

Clarksville, TN – Austin Peay State University men's cross country team suffered a disappointing outing, splitting a dual four-mile race with Murray State and Bethel, Saturday, at the Family Life Center Cross Country Course.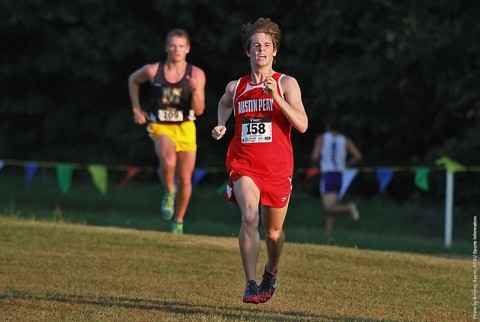 Austin Peay finished with 43 points in its dual with Murray State, which won with a better 18-point total. Governors
Alex Haycraft
(6th, 22:32) and
Daniel Hamm
(8th, 22:40) broke into the top eight to thwart the Racers shutout bid.
The Govs fared better against Bethel, finishing with a better 23-point total against a 32-point effort.
In addition to Haycraft and Hamm, the Govs top five was composed of Kyle Harmon (12th, 23:59), Hunter Guthrie (13th, 24:05) and Mickey Fils (17th, 24:30). Thomas Owen (21st, 25:09), Nathan Sparks (22nd, 25:14) and Alan Crosby (23rd, 25:19) rounded out the Austin Peay effort.
"At times I don't believe the men's team was very competitive," said head coach Doug Molnar. "I'm not sure what happened. We had a good week of practice and coming in we felt good and thought we were in a good position to challenge Murray State. But to be honest they took us to the woodshed and that's not acceptable. We got to work on it and get better."
Austin Peay returns to action in two weeks at the Jacksonville State Foothills Invitational, October 4th, which will be a preview of the Ohio Valley Conference Championship course.