Austin Peay Sports Information Office

Edwardsville, IL – Austin Peay State University's volleyball team suffered its first Ohio Valley Conference loss, dropping a five-set (19-25, 25-19, 25-19, 23-25, 13-15) decision at SIU Edwardsville, Friday night at the Vadalabene Center.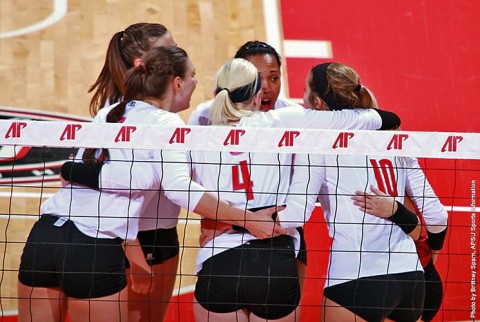 Austin Peay (10-11, 4-1 OVC) opened the match with a 6-3 run as three different players recorded a kill.
However, SIUE charged back with an impressive 11-4 run backed by four service aces to build a 17-7 advantage.
Austin Peay would try to climb back into the set and got as close as five points down the stretch, but could not fully close the gap.
The second set was a back-and-forth affair with SIUE (9-11, 1-4 OVC) scoring the first three points before APSU responded with the next four.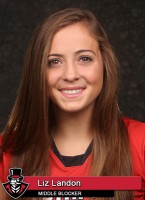 From there, neither team enjoyed more than a three-point advantage until senior middle blocker Liz Landon scored an ace to give Austin Peay a 20-16 lead. The Lady Govs extended the lead to five points on the next rally and were not threatened again, winning 25-19.
The third set was nearly the same story as the second, SIUE opening with four straight points before APSU scored six of the next seven to take a 6-5 lead. Again, neither team could build more than a three-point lead until freshman outside hitter Ashley Slay posted a kill to give APSU a 20-16 lead. Austin Peay closed the set with a 4-1 run to secure to 25-19 victory.
A four-point lead came earlier in the fourth set, as Austin Peay used a 6-1 run to build a 13-9 lead. However, the Lady Govs could not hold the lead and SIUE battled back to tie the set at 18-18. Austin Peay would score the next three points to gain a 21-18 lead but SIUE closed with 7-2 run to post the come-from-behind 25-23 win to force a fifth set.
The see-saw battle storyline continued into the fifth set . SIUE grabbed a three-point lead at 7-4 and extended it to four points, 10-6, after an APSU attack error. The Lady Govs battled back with 5-2 run, slashing the deficit to 14-13 after another Slay kill. However, Austin Peay could not tie the set, committing an error to give SIUE a 15-13 victory.
"We didn't get the job done with our passing tonight," said Lady Govs head coach Taylor Mott. "Give SIUE credit, they saw we were having trouble and kept the pressure on us with aggressive serving and attacking. We have to shake this off and get ready for another tough road match tomorrow."
Senior outside hitter Jada Stotts led APSU with 14 kills. Sophomore outside hitter Sammie Ebright continued her recent hot hitting, finishing with 11 kills and a .400 attack percentage. Slay added 11 kills at a .200 attack percentage.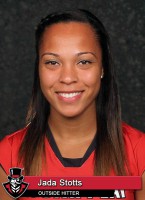 Austin Peay did record a season-best 12 blocks in the match, with Slay and senior middle blocker Liz Landon each recording five blocks to lead a group of six players to record a block. Austin Peay also won the digs battle by a 74-65 edge, but could not convert either advantage into a win.
SIUE's Kristen Torre led all hitters with 20 kills at a .366 attack rate. Adhley Witt and Taylor Held finished with 11 kills each. The Cougars outhit Austin Peay by a 61-54 margin in kills, but used nine service aces to help keep APSU off balance.
Austin Peay, now in a four-team logjam for second place in the OVC race, continues its roadtrip with a 2:00pm, Saturday contest at Eastern Illinois.
Box Score
Austin Peay 2 vs SIUE 3
| Set Scores | | 1 | 2 | 3 | 4 | 5 | Team Records |
| --- | --- | --- | --- | --- | --- | --- | --- |
| SIUE | (3) | 25 | 19 | 19 | 25 | 15 | 9-11, 1-4 OVC |
| Austin Peay | (2) | 19 | 25 | 25 | 23 | 13 | 10-11, 4-1 OVC |
Austin Peay (10-11, 4-1 OVC)
Team Attack By Set
Set
K
E
TA
Pct
1
10
3
41
.171
2
8
2
20
.300
3
11
5
27
.222
4
15
4
32
.344
5
10
4
27
.222
Total Team Blocks: 12.0
LEADERS:
Kills-Aces-Blocks:STOTTS, Jada (14-0-4); EBRIGHT, Sammie (11-1-3); SLAY, Ashley (11-0-5); STROTHER, Samantha (8-1-1); MARSELLIS, Aubrey (5-2-2); LANDON, Liz (5-1-5)Assists:MARSELLIS, Aubrey (44); LITCHFIELD, Syd (4); LANDON, Liz (2); SLAY, Ashley (1); STROTHER, Samantha (1); ADAMS, April (1)

Digs: STOTTS, Jada (19); EBRIGHT, Sammie (16); LITCHFIELD, Syd (12); STROTHER, Samantha (11); MARSELLIS, Aubrey (6); LANDON, Liz (5); SLAY, Ashley (3); ADAMS, April (2)
SIUE (9-11, 1-4 OVC)
| ## | Player | SP | K | E | TA | PCT | A | E | SA | SE | RE | DIG | BS | BA | Points |
| --- | --- | --- | --- | --- | --- | --- | --- | --- | --- | --- | --- | --- | --- | --- | --- |
| 2 | JOENS, Taylor | 5 | 6 | 4 | 24 | .083 | 0 | 0 | 1 | 0 | 0 | 4 | 0 | 3 | 8.5 |
| 7 | NORRIS, Haley | 5 | 1 | 0 | 1 | 1.000 | 4 | 0 | 2 | 2 | 0 | 12 | 0 | 0 | 3.0 |
| 14 | HARRISON, Emily | 5 | 8 | 4 | 22 | .182 | 0 | 0 | 0 | 0 | 0 | 2 | 0 | 1 | 8.5 |
| 15 | TORRE, Kristen | 5 | 20 | 5 | 41 | .366 | 0 | 0 | 0 | 0 | 0 | 2 | 0 | 1 | 20.5 |
| 16 | WITT, Ashley | 5 | 11 | 9 | 30 | .067 | 0 | 0 | 0 | 0 | 0 | 4 | 0 | 3 | 12.5 |
| 19 | MANGUN, Mallory | 5 | 2 | 1 | 8 | .125 | 50 | 0 | 3 | 0 | 0 | 7 | 0 | 1 | 5.5 |
| 3 | SHASHACK, Katie | 5 | 0 | 0 | 1 | .000 | 1 | 0 | 1 | 4 | 0 | 6 | 0 | 0 | 1.0 |
| 4 | STREETAR, Alicia | 5 | 2 | 2 | 10 | .000 | 0 | 0 | 0 | 4 | 2 | 9 | 0 | 0 | 2.0 |
| 8 | COLCLASURE, Chelsea | 5 | 0 | 0 | 0 | .000 | 2 | 0 | 2 | 2 | 2 | 17 | 0 | 0 | 2.0 |
| 11 | HELD, Taylor | 5 | 11 | 4 | 33 | .212 | 0 | 0 | 0 | 0 | 1 | 2 | 0 | 1 | 11.5 |
| | Totals | 50 | 61 | 29 | 170 | .188 | 57 | 0 | 9 | 12 | 5 | 65 | 0 | 10 | 75.0 |
Team Attack By Set
Set
K
E
TA
Pct
1
15
4
40
.275
2
11
10
32
.031
3
8
8
33
.000
4
17
5
40
.300
5
10
2
25
.320
Total Team Blocks: 5.0
LEADERS:
Kills-Aces-Blocks:TORRE, Kristen (20-0-1); WITT, Ashley (11-0-3); HELD, Taylor (11-0-1); HARRISON, Emily (8-0-1); JOENS, Taylor (6-1-3); MANGUN, Mallory (2-3-1); STREETAR, Alicia (2-0-0); NORRIS, Haley (1-2-0)Assists:MANGUN, Mallory (50); NORRIS, Haley (4); COLCLASURE, Chelsea (2); SHASHACK, Katie (1)

Digs: COLCLASURE, Chelsea (17); NORRIS, Haley (12); STREETAR, Alicia (9); MANGUN, Mallory (7); SHASHACK, Katie (6); JOENS, Taylor (4); WITT, Ashley (4); HARRISON, Emily (2); TORRE, Kristen (2); HELD, Taylor (2)