APSU Sports Information Office

Cape Girardeau, MO – Austin Peay State University women's soccer team kicked off an important weekend of Ohio Valley Conference play with a 1-0 win against Southeast Missouri, Friday, at Houck Stadium.
The Lady Govs were able to leave SEMO thanks to a golden goal by sophomore Mary Ruth Locastro in the 95th minute.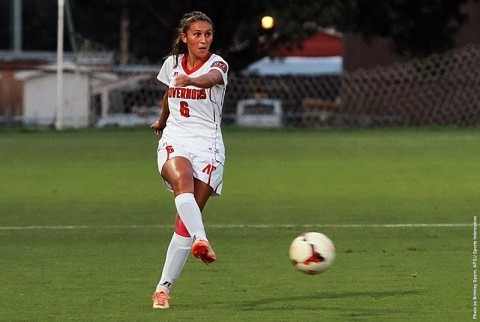 Southeast Missouri (5-5-0, 2-2-0 OVC) controlled much of the possession early in the match but only outshot the Lady Govs 5-2 over the opening 45 minutes. Locastro recorded both shots tor the Lady Govs while junior goalie
Nikki Filippone
recorded one save in the opening stanza.
In the second half, possession was more balanced but the game remained scoreless. Austin Peay (3-9-0, 2-2-0 OVC) was outshot by the Redhawks 8-1 in the second half. Filippone picked up six more saves while freshman Sophia Fabbro recorded the Lady Govs only shot of the second half.
In the overtime period, Locastro was able to find the back of the net after a scramble at the top of the box in the 95th minute to give Austin Peay the win.
"It's always huge to get three points on the road," said head coach Kelley Guth. "We were able to weather the storm, and when we entered the overtime, you could feel the momentum shift. It was a great team win that showed our growth."
Austin Peay next travels to SIU Edwardsville at 1:00pm Sunday, October 12th, at Ralph Korte Stadium.
Box Score
Southeast Missouri (5-5, 2-2) vs Austin Peay (3-9, 2-2)
| Goals By Period | 1 | 2 | OT 1 | Total |
| --- | --- | --- | --- | --- |
| Austin Peay | 0 | 0 | 1 | 1 |
| Southeast Missouri | 0 | 0 | 0 | 0 |
| Goal | Time | Team | Goal Scorer | Assists | Description |
| --- | --- | --- | --- | --- | --- |
| 1. | 94:59 | APSU | Locastro, Mary Ruth (1) | | Rebound |
Austin Peay
Pos
##
Player
Sh
SOG
G
A
Fouls
GK
1
Filippone, Nikki
0
0
0
0
0
F
4
Fabbro, Gina
0
0
0
0
0
F
5
Wistrom, Caroline
0
0
0
0
0
MF
6
Locastro, Mary Ruth
3
3
1
0
0
D
8
Burman, Mallory
0
0
0
0
0
MF
10
Sheppard, Courtney
0
0
0
0
0
D
12
Pultz, Claire
0
0
0
0
0
F
13
Olszewski, Shelby
0
0
0
0
0
MF
14
Carbajal, Frankie
0
0
0
0
0
D
17
Van Wagner, Taylor
0
0
0
0
0
D
20
Ethridge, Maggie
0
0
0
0
0
–Substitutes–
TM
TEAM
0
0
0
0
8
9
Avitabile, Brianna
0
0
0
0
0
15
Plowman, Alyssa
0
0
0
0
0
22
Fabbro, Sophia
1
1
0
0
0
23
Monger, Merritt
0
0
0
0
0
Totals
4
4
1
0
8
Southeast Missouri
| ## | Goalie | Minutes | GA | Saves |
| --- | --- | --- | --- | --- |
| 1 | LIERZ, Kindra | 94:59 | 1 | 3 |
Pos
##
Player
Sh
SOG
G
A
Fouls
GK
1
LIERZ, Kindra
1
1
0
0
0
MF
6
KUZNACIC, Kaitlin
1
0
0
0
0
MF
7
BYRD, Torey
1
1
0
0
0
F
8
BEINE, Breana
3
1
0
0
0
D
11
ROHDE, Christina
1
1
0
0
0
D
12
LUEHMANN, Paige
0
0
0
0
0
MF
13
COLLINGRIDGE, Jenna
0
0
0
0
0
F
19
CROWDEN, Kasey
2
2
0
0
0
D
20
DARGA, Shay
0
0
0
0
0
F
22
MINOR, Natasha
2
1
0
0
0
D
23
JARAMILLO, Valeria
1
1
0
0
0
–Substitutes–
TM
TEAM
0
0
0
0
9
4
BRENDEL, Ashley
1
0
0
0
0
15
ANTONACCI, Jennifer
0
0
0
0
0
24
KESENICH, Sunni
0
0
0
0
0
27
BLANKENHEIM, Paige
0
0
0
0
0
Totals
13
8
0
0
9