APSU Sports Information

Clarksville, TN – Austin Peay State University women's golf team heads to Gulf Shores, AL, to compete in its final fall tournament at the UAB Fall Beach Blast on courses Cypress and Marsh at Peninsula Golf Course.
This two-day tournament will be played Monday and Tuesday on a par-72, 6170-yard layout.
This upcoming tournament's field is comprised of 10 other teams. In addition to Austin Peay and host UAB, Houston Baptist, North Dakota, Sam Houston State, Belmont, Louisiana Monroe, McNeese State, Western Kentucky, Southern Mississippi and West Florida all will be competing.
"We always enjoy this tournament and are looking forward to playing The Peninsula," APSU coach Sara Robson said. "We love the course as it sets up well for our games."
"We need to play with confidence on each shot and accept the outcome of each shot no matter where the ball ends up. If we can do this and move to next shot with determination and focus we will be able to score well," stated Robson. "Getting the speed of the greens as well as how our chips will react on the greens will be our focus during the practice round."
"These girls just need to put two good tournament days together for us to have a successful end to our fall season."
The Lady Govs look to bounce back from a 14th-place finish, tying with WKU at the Blue Raider Invitational, and will be taking a lineup comprised of one senior (Meghan Mueller), one junior (Jessica Cathey), two sophomores (Morgan Kauffman and Amber Bosworth) and one freshman (AnnaMichelle Moore) to the Emerald Coast.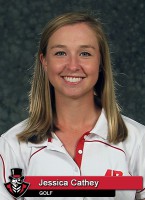 This group has performed well individually in the past, but has only performed together as a lineup twice: at the Drake Creek Invitational and at the F&M Bank APSU Intercollegiate.
Cathey was the top performer in last week's tourney at Middle Tennessee, finishing tied for 16th with a 9-over, 225 three-round total, fashioning an opening-round 72.
Kauffman and Bosworth are looking to improve upon last week's performance, with Kauffman going 30-over and hitting a 246 and Bosworth going 32-over and finishing at 248, respectively.
Mueller and Moore, who last competed at the F&M, return to the lineup after missing MTSU's tournament.
Video – Sara Robson