Nashville, TN – Nashville Zoo's red panda cub Phayara has made her debut. The four month old cub, named by a public vote, can be seen on exhibit in the Zoo's Bamboo Trail.
"Since her birth on July 3rd, Phayara has been in her den growing into a healthy red panda cub and learning the skills she will need to navigate her exhibit," said Karen Rice, carnivore supervisor. "After several months of exploring her nest box area, we introduced her to the exhibit and she's doing exceptionally well; running around, climbing trees and chasing mom around."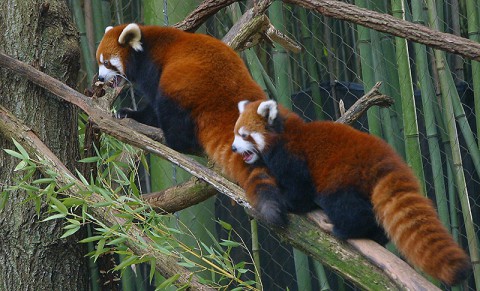 Following her birth announcement, the Zoo gave the public the opportunity to choose her name through a donation voting system.
The winning name Phayara (pronounced f?-yar-a) is a shortened version of the Nepali word Phayraphaska meaning fire fox. The contest raised $1,050 for the Red Panda Network, an organization that supports conservation work for the species around the world.
Guests can see all three of the Zoo's red pandas on exhibit throughout the day. Red pandas are cold tolerant, so they should be out even as temperatures drop during the upcoming cooler months.
Known for their cinnamon colored fur and bushy ringed tail, the red panda is native to the mountains of Central China, Nepal and northern Myanmar (Burma). They are considered vulnerable to extinction due to habitat destruction. In addition, slow rates of reproduction and high infant mortality rates make it very hard for this species to rebound from population declines.
The Zoo's two red panda adults are a part of AZA's Species Survival Program, which manages the breeding of a species in order to maintain a healthy and self-sustaining captive population.
About the Nashville Zoo
Nashville Zoo is accredited by the prestigious Association of Zoos and Aquariums, assuring the highest standards of animal care and husbandry. Attracting more than 776,000 visitors annually, the Zoo is considered one of the top things to do in Nashville.
The Zoo is a non-profit organization located at 3777 Nolensville Pike and is open every day except Thanksgiving, Christmas and New Year's Day. The mission of Nashville Zoo is to inspire a culture of understanding and discovery of our natural world through conservation, innovation and leadership.
For more information about Nashville Zoo, call 615.833.1534 or visit www.nashvillezoo.org