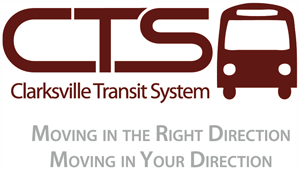 Clarksville, TN – The Clarksville Transit System's "Spooky Special" is back. All CTS rides are free on the specially painted bus on Thursday and Friday, October 30th and 31st, 2014.
"We have so many loyal customers and we want to show them our appreciation," said Arthur Bing of the Clarksville Transit System. "The 'Spooky Tour' has been very popular in the past and we are glad to bring it back this year. We also appreciate the students at Clarksville Academy who provided the design work."
The "Spooky Special" will be rotated on all routes during the two days so riders all over Clarksville will have the opportunity to ride it.
Additionally, on Saturdays throughout the month of November, passengers who donate three canned goods for the "Basket of Thankfulness" will get their ride for free.
"We hope that our passengers will take advantage of the opportunity to ride in exchange for three canned goods. We believe this will help so many people in the community – those who want to ride CTS and those who need a little help this winter," said Mr. Bing.
"CTS does a great job of creating fun ways to encourage ridership and to thank the people who count on CTS every day. These events in October and November are perfect examples," said Clarksville Mayor Kim McMillan. "I appreciate the team at CTS and encourage everyone in Clarksville to take advantage of these special events."
For information about specific routes, please visit www.clarksvilletransit.org or call the Clarksville Transit Center at 931.553.2429.