Written by David E. Gillespie
Blanchfield Army Community Hospital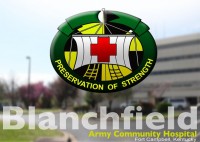 Fort Campbell, KY – Tennessee's top health department official joined military and civilian health administrators at Blanchfield Army Community Hospital Tuesday for a roundtable discussion on how healthcare efforts are synchronized across multiple agencies from local to county, regional and state levels.
The working lunch meeting was an opportunity to bolster longstanding relationships and communicate directly with Dr. John Dreyzehner, Commissioner of the Tennessee Department of Health, which is tasked to protect, promote and improve the health of people in Tennessee.
Representatives from Blanchfield, the Montgomery County Health Department, Mid-Cumberland Regional Public Health, Mid-Cumberland Emergency Response and the Tennessee Department of Health focused on solidifying existing public health assets and ways of sharing knowledge, training and resources.
Communication, coordination and consultation between these health organizations were established long before this year's rise of Ebola virus disease and remain an integral part of any contingency planning, Dreyzehner explained, as he toured Blanchfield's intensive care unit and emergency
room.
"Relationships are critical, and one of the things we have with Fort Campbell is terrific relationships at all levels. We don't want to be exchanging business cards during an emergency. The time to make a friend is before you really need that friend, and we feel really good about the relationships at all levels between the state and Fort Campbell," he said.
"This is really about us being able to coordinate our responses together to ensure the civilian side and the military side are all working together," said Dr. (Maj.) Samuel Peik, chief of preventive medicine at Blanchfield. "Public health doesn't stop at the gate or respect boundaries, so we always want to ensure we have a tight connection with our counterparts."
There has always been a connection, but it has strengthened in the last few years, Peik said. "We've had regular meetings with the county, and we've started bringing multiple counties together for a more regional effort. This is nothing new, but we've definitely been stepping up our efforts recently. With the increased attention on the Ebola virus disease, we are taking these opportunities to exercise the relationships we've built."
Dreyzehner, who began his medical career in 1989 as an Air Force flight surgeon, said he has a special appreciation for the Fort Campbell community and particularly Blanchfield Army Medical Center. "It is very clear from our conversation today and the brief opportunity we've had to walk around [the hospital], folks have really thought through how to take care of people who are deploying regardless of the circumstances."
Some Fort Campbell troops recently deployed, as the 101st Airborne (Air Assault) assumed its role Saturday as the headquarters unit for the military mission in Liberia, joining troops from all five services who continue to provide engineering, healthcare training and logistical support to USAID, the Armed Forces of Liberia, and the Government of Liberia.
Dreyzehner said some members of his staff are also in West Africa supporting the isolation, evaluation and monitoring of Ebola in three affected countries.
"Obviously, we are thinking about Ebola viral disease right now in our country and here on base, but there are all kinds of infectious disease and other threats our brave Soldiers face. We appreciate the preparation that goes into preparing for whatever contingency they may face," Dreyzehner said.
"We understand that we are all in this [Ebola fight] together. We know there is a risk. The risk is not zero, but we know the risk is negligible. The things we are doing in our state and things you are doing at Fort Campbell are enhancing our ability to manage that risk."
Moving forward from his visit, Dreyzehner said Blanchfield could benefit from at least one state resource such as laboratory testing. The state lab facility is capable of testing for specific diseases of concerns, including Ebola. "Fort Campbell has resources available through the Centers for Disease Control and the Department of Defense, but we also know our state lab is close to Fort Campbell. We are happy to provide that kind of assistance."