APSU Sports Information

Clarksville, TN – No Tearra Banks, no problem for Austin Peay State University women's basketball team against Brescia, Saturday, at the Dunn Center.
Despite not having the sophomore center due to an ankle injury, the Lady Govs rolled to a 99-63 victory against the Bearcats.
Making it back-to-back home wins, Austin Peay improves to 2-6 on the season and look to build on that home winning streak with upcoming contests against Southern Illinois and Western Kentucky at the Dunn Center.
The Lady Govs needed less than six minutes to push out to a 17-5 lead, thanks in large part to seven points from senior Kristen Stainback, and never looked back.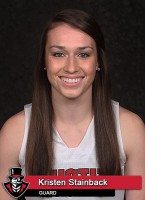 The lead swelled to 20 with less than nine minutes remaining in the first half against the NAIA Division II foe and Austin Peay entered halftime firmly in command with a 54-23 lead, hitting their last five first-half shots.
After allowing opponents to shoot better than 40 percent from the floor in each of their last five contests, Austin Peay clamped down defensively against Brescia, holding the Bearcats to a 23.5 percent clip for the first half and 31.5 percent for the game.
The second half was a sloppier affair as the Lady Govs committed 13 turnovers in the half and they still could not control the rebounding under Brescia's glass, allowing eight offensive rebounds. Austin Peay was able to push its lead to 40 points, but could not extend the lead past that point as the messy play undermined its offense.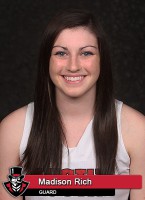 Freshman Madison Rich led Austin Peay with 26 points, converting 4-of-7 from three-point range. Senior guard Tiasha Gray added a 23-point, eight-assist effort. Stainback rounded out the double-digit scoring with 15 points.
Julie Whitfill led Brescia with 26 points, connecting on 6-of-10 outside the three-point arc. Kelsey Kirkpatrick supplied 13 points and Darrian McNary chipped in 11 points.
Austin Peay continues its homestand in one week when it hosts Southern Illinois in a 1:00pm, Saturday contest.
Video – Carrie Daniels
Box Score
Austin Peay 99 (2-6) vs Brescia 63 (3-7)
| | 1 | 2 | Total | Records |
| --- | --- | --- | --- | --- |
| Brescia | 23 | 40 | 63 | 3-7 |
| Austin Peay | 54 | 45 | 99 | 2-6 |
Brescia 63
##
Player
FGM-FGA
3FGM-3FGA
FTM-FTA
OFF-DEF
TOT
PF
TP
A
TO
BLK
STL
MIN
2
Whitfill, Julie
10-17
6-10
0-0
0-1
1
0
26
1
2
0
1
26
5
Kirkpatrick, Kelsey
5-13
3-9
0-0
2-1
3
2
13
1
0
0
3
30
33
McNary, Darrian
5-12
0-1
1-3
1-3
4
3
11
3
8
0
2
31
23
Houston, Jalyn
1-5
1-4
2-2
3-3
6
4
5
2
2
0
5
33
22
Cook, Haley
1-15
0-6
0-5
1-6
7
2
2
3
3
1
1
31
24
Peterson, Caitlin
1-5
0-4
2-2
1-2
3
5
4
0
2
0
0
16
20
Rodgers, Lauren
0-2
0-2
2-2
0-1
1
0
2
0
0
0
0
5
10
McClellan, Toni
0-0
0-0
0-0
1-2
3
2
0
0
0
0
0
11
12
Marigny, Hope
0-4
0-0
0-0
1-0
1
3
0
2
1
0
1
16
32
Wimberg, Morgan
0-0
0-0
0-0
0-0
0
0
0
0
0
0
0
1
0
TEAM
0-0
0-0
0-0
5-3
8
0
0
0
1
0
0
0
Totals
23-73
10-36
7-14
15-22
37
21
63
12
19
1
13
200
Percentages
31.5%
27.8%
50.0%
Austin Peay 99
##
Player
FGM-FGA
FGM3-FGA3
FTM-FTA
OFF-DEF
TOT
PF
TP
A
TO
BLK
STL
MIN
01
Gray, Tiasha
7-13
2-5
7-7
1-4
5
2
23
8
3
0
2
26
04
Stainback, Kristen
6-14
3-8
0-0
0-5
5
0
15
0
3
1
1
22
24
Rates, Beth
3-5
0-0
1-3
5-6
11
1
7
2
2
2
2
25
21
Nwokocha, Jennifer
3-7
0-0
0-1
4-5
9
3
6
1
2
0
1
28
42
Norton, Symantha
2-3
0-1
0-0
3-1
4
2
4
3
2
1
0
15
12
Rich, Madison
8-13
4-7
6-7
1-3
4
1
26
0
2
1
0
23
44
Scott, Jacey
1-5
1-4
4-4
0-2
2
2
7
2
1
0
0
12
23
Gooch, Sydney
2-3
0-0
0-0
0-3
3
3
4
1
0
0
2
20
03
Rivers, April
1-3
1-3
0-0
0-3
3
0
3
5
3
0
0
17
13
Foister, Savannah
0-0
0-0
2-2
0-0
0
1
2
0
1
0
0
4
54
Maki, Lauren
1-2
0-0
0-0
0-1
1
0
2
0
0
2
0
8
TM
TEAM
0-0
0-0
0-0
1-6
7
0
0
0
1
0
0
0
Totals
34-68
11-28
20-24
15-39
54
15
99
22
20
7
8
200
Percentages
50.0%
39.3%
83.3%