Austin Peay Sports Information

Nashville, TN – Austin Peay State University's season-long offensive struggles will send the Governors into the Christmas break on negative note.

The Governors converted just 3-of-20 three-point attempts compared to eight by Lipscomb and that was the difference as APSU fell, 69-63, Sunday afternoon, in non-conference basketball action in Allen Arena.

The loss snapped the Govs win streak at two games as they fell to 4-8 overall on the season.

The victory clipped Lipscomb's two-game losing streak and improved the Bisons to 5-7. It also allowed Lipscomb to sweep the season series.

And like a broken record, the Governors can point to their shooting woes. In fact, it looked like the Governors began their Christmas break early. With less than 11 minutes left in the first half the Governors had just four points and trailed by as much as 15.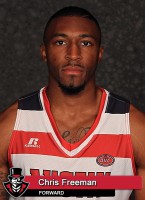 For the sixth time this season the Governors failed to crack the 40 percent mark, shooting just 37.7 percent (20 of 53) from the floor. But it was three-point shooting that literally led to APSU's undoing.
APSU failed to connect on a first-half three pointer, going 0-of-9 and were just slightly better in that final half, going 3-of-11. In fact, APSU's third three pointer came in the waning seconds when the game had been decided.
"You have to be able to make shots and we did not," APSU coach Dave Loos said. "It's extremely frustrating when you get the looks and can't knock them down. But that is where we are right now."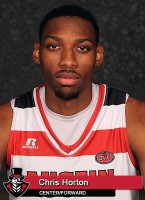 Yet, despite all their offensive woes the Governors scrambled back and tied the game at 51 all with 6:44 left and had more than one opportunity to take the lead or keep it tied. But APSU was unable to convert both from the field and the free-throw line.
Although the Governors shot 74.1 percent (20 of 27) from the free-throw line, they made only 4-of-7 free throws over the final 6:44 while Lipscomb went 11-of-11 in the final 4:33.
"You have to give Lipscomb credit, they made their free throws in the final five minutes," Loos said. "Although we were pretty good at the line overall, we missed some free throws in the final five minutes. If we could have been able to get the lead, who knows what happens."
After being held to six points apiece in last week's meeting, frontcourt player Chris Freeman and Chris Horton both scored in double figures this time. Freeman finished with a double-double, 15 points (six-of-eight shooting) and 11 rebounds while Horton tallied 13 points to go with seven rebounds.
Josh Williams, who had 12 first-half points, finished with a game-high 21 for Lipscomb while Brett Wishon, who had 21 points—all on three pointers—in the previous meeting, again hurt the Governors with 14 points, including four three pointers—two key late second-half bombs help stem APSU's momentum.
Box Score
Lipscomb 69 (5-7) vs Austin Peay 63 (4-8)
| | 1 | 2 | Total | Records |
| --- | --- | --- | --- | --- |
| Austin Peay | 24 | 39 | 63 | 4-8 |
| Lipscomb | 32 | 37 | 69 | 5-7 |
Austin Peay 63
##
Player
FGM-FGA
3FGM-3FGA
FTM-FTA
OFF-DEF
TOT
PF
TP
A
TO
BLK
STL
MIN
15
Freeman, Chris
6-8
0-0
3-6
5-6
11
3
15
0
1
2
1
37
5
Horton, Chris
5-9
0-0
3-3
4-3
7
3
13
0
3
1
2
33
24
Dyson, Ed
3-12
0-7
5-6
0-1
1
4
11
1
1
0
1
29
11
Davis, Khalil
1-8
1-5
6-7
1-3
4
2
9
3
4
0
0
35
12
Purvis, Jeremy
1-4
1-4
0-0
0-1
1
5
3
2
2
0
1
29
4
Robinson, Josh
3-9
0-3
3-5
0-1
1
2
9
3
1
0
0
24
10
Ivory, Tre
1-2
1-1
0-0
0-0
0
0
3
0
0
1
0
9
23
Mboup, Serigne
0-1
0-0
0-0
1-0
1
1
0
0
1
0
0
4
0
TEAM
0-0
0-0
0-0
0-3
3
0
0
0
0
0
0
0
Totals
20-53
3-20
20-27
11-18
29
20
63
9
13
4
5
200
Percentages
37.7%
15.0%
74.1%
Lipscomb 69
##
Player
FGM-FGA
FGM3-FGA3
FTM-FTA
OFF-DEF
TOT
PF
TP
A
TO
BLK
STL
MIN
02
Josh Williams
8-13
2-4
3-6
0-4
4
3
21
1
4
0
0
36
32
Wishon,Brett
4-7
4-6
2-2
0-6
6
3
14
2
1
0
0
32
52
Smith,Malcolm
3-9
0-3
5-6
2-1
3
2
11
1
1
0
0
33
04
Moran,Nathan
3-7
2-6
2-2
0-3
3
1
10
5
4
0
1
29
10
Denny,Talbott
2-5
0-0
5-7
4-4
8
4
9
1
3
0
2
26
14
Lang,Chad
1-2
0-0
0-0
0-1
1
2
2
0
1
1
0
6
23
Korn,Aaron
0-2
0-2
2-2
0-3
3
3
2
0
1
0
1
20
11
Duvall,Asa
0-0
0-0
0-0
0-1
1
0
0
1
0
0
0
4
20
Johnson,Chad
0-0
0-0
0-0
0-1
1
0
0
2
0
0
0
10
55
Brammeier,George
0-0
0-0
0-0
0-1
1
1
0
0
1
0
0
4
TM
TEAM
0-0
0-0
0-0
1-0
1
0
0
0
0
0
0
0
Totals
21-45
8-21
19-25
7-25
32
19
69
13
16
1
4
200
Percentages
46.7%
38.1%
76.0%
Sections
Sports
Topics
APSU, APSU Athletics, APSU Basketball, APSU Men's Basketball, APSU Sports, Austin Peay State University, Bisons, Brett Wishon, Chris Freeman, Chris Horton, David Loos, Governors, Govs, Josh Williams, Lipscomb, Nashville TN, Ohio Valley Conference, OVC