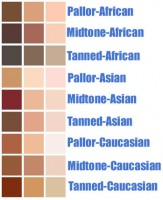 Clarksville, TN – Okay, this is another example of "there's no vaccine for stupidity" and I have to admit I was wrong.
We wives usually have a pretty good idea of how to handle consumer affairs, but once in a great while, we blow it. This is the one time in recent history that my husband was right—and I should have listened to him.
It all started with a $2.00-off coupon I found in the newspaper. A sucker for a good deal, I just couldn't pass this one up.
Having been born with skin the color of a flounder fillet, I have always longed for a golden summer tan. Having no tolerance for lying in the blistering sunshine, I have rarely attained one.
This sun bronzer (minus the $2.00) claims to give you the glorious tan you have dreamed of with just so-o-o-o-o little effort. Just spray it on and then add a little every day until you are the color you want to be.
Sounds easy, doesn't it?
Now I have to admit that in my younger years when all my friends were turning orange from the original "sun in a bottle," I was not about to be snookered into even trying it. Thirty years later I falsely assumed that this procedure had been perfected.
Wrong!!!!!
After several "discussions" on this subject, Bill was coerced into spraying only my legs in the first experiment with this miracle product. I stood in the shower in my underclothes and felt the sticky stuff being sprayed on what we assumed was every square inch of my legs.
The box said that it was "quick drying."
I stepped out of the shower, put on make-up (a brief procedure taking less than half an hour), and then checked to see if my legs were dry.
Not!
I then stood in the bathroom for about an hour while I read a 300-page novel. I was about half-way through when I started reading. As I neared the end of the book, I checked and my legs were still as sticky as if I had poured a bottle of vegetable oil on them.
I began to become quite concerned.
My husband suggested I stand in front of a fan to see if that would help. An hour later I was still gummy. Drastic measures were required by this point. After all, I have other things to do!!
I took a large bath towel and rubbed my legs to get most of the gunk off, breathed a sigh of relief and went on with my life.
A few hours later I looked down to see exactly what had taken place. I have to admit that in the areas where it worked I had a lovely shade of brown, but the inch-wide stripes going down the inside of my legs was not what I had in mind. In addition, my feet looked as if I had been stomping in mud for several weeks without taking a bath. I also had huge areas on thighs and calves where there was only the stark white of my original color.
In a word, I was a disaster!!!
You can now guess who was laughing hysterically at my predicament! I couldn't say a word in defense of my position.
Bill did point out that he could have made a mistake and put on too much, or not sprayed quite in every area as it had originally appeared. He also said that maybe I had just bought a defective spray can. He tried to console me, but every time he thought about my zebra legs, he just couldn't help bursting into laughter.
The one consolation was that it was supposed to go away in a week. In the meantime, I've had to wear black or dark brown stockings every time I've left the house.
It's been a week now. My skin is a lighter color in most places, but my feet are still speckled brown and the stripes down the sides of my legs are still with me.
My advice to you, dear readers, is to leave all "instant sun" in the spray can.
And next time—stubborn me!–I'll consider listening to my husband's opinion—maybe!