Local Coupon Book Continues In The Fifth Year To Help Clarksville Schools Raise Money and Local Families With Big Savings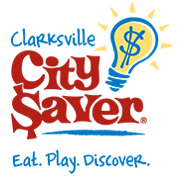 Clarksville, TN – For the fifth consecutive year, The Clarksville-Montgomery County School System and Education Foundation have partnered together to sponsor the City Saver Education Funding Campaign that will run now until February 13th, 2015.
Last year's campaign raised over $200,000 for local schools and the Education Foundation.
During this year's campaign, all Clarksville-Montgomery County elementary and middle school students will be selling the new 2015 Clarksville City Saver coupon book, which contains thousands of dollars in savings at over 200 local favorite restaurants, attractions and retail stores.
The 368-page book will sell for $20.00 and includes dozens of buy one, get one free and 50% off discounts that do not expire until February 1st, 2016.

This book is different than any other fundraiser because of the return on the investment for all who purchase and use the City Saver coupons.

Once again, anyone purchasing a book will also receive the popular Clarksville City Saver smartphone app, which lets consumers redeem additional coupons on their iPhone or Android device. For every book sold, 50% will go directly back to the individual school and 10% will go to the CMCSS Education Foundation.

Liberty Park Grill, Cloud 9, Edward's Steakhouse, Cumberland Grille, Old Chicago Pasta & Pizza, Harbor Cafe, Taco Del Mar, Sakura Japanese, Dickey's Barbecue Pit, Sonic, Berry Bear and Domino's Pizza are just a few of the great restaurants featured in this year's book.

This year's fun stuff section contains great savings to popular local attractions including Austin Peay Athletics, Roxy Theatre, Rainbow Skate Center, Tie Breaker Park, Skyline Lanes Bowling, Gamez on Wheelz and several local dance/gymnastics studios. The book also contains discounts to several popular Nashville attractions such as the Nashville Predators, Sky High Sports, Nashville Zoo, Dave & Buster's, Cheekwood Botanical Garden, The Frist Center and Zanies Comedy Club. The book also contains discounts to Firestone Complete Auto Care, Plato's Closet, Great Clips, Lite Touch Auto Wash, Sam's Club and several other local shops and salons.

The mission of the Clarksville-Montgomery County Education Foundation is to support the improvement of public education by providing the Clarksville-Montgomery County school system additional funding for the support of programs and initiatives that contribute to student achievement.  City Saver is the largest fundraiser of the Foundation.

For more information about the Clarksville-Montgomery County Education Foundation, contact Candy Johnson at 931.920.7955 or visit cmceducationfoundation.com.

For more information about the Clarksville City Saver book, contact Tom Beach at 877.450.SAVE (7283) or visit www.citysaver.com



Sections
Education
Topics
App, APSU Athletics, Berry Bear, Candy Johnson, Cheekwood Botanical Garden, Clarksville City Saver, Clarksville City Saver Coupon Book, Clarksville Montgomery County School System, Clarksville TN, Clarksville-Montgomery County Education Foundation, Cloud 9, CMCSS, Cumberland Grille, Dave & Buster's, Dickey's Barbecue Pit, Domino's Pizza, Edward's Steakhouse, fundraiser, Gamez on Wheelz and several local dance/gymnastics studios. The book also contains discounts to several popular Nashville attractions such as the Nashville Predators, Great Clips, Harbor Cafe, Liberty Park Grill, Lite Touch Auto Wash, Nashville Zoo, Old Chicago Pasta & Pizza, Plato's Closet, Rainbow Skate Center, Roxy Regional Theatre, Sakura Japanese, Sam's Club, Sky High Sports, Skyline Lanes Bowling, Sonic, Taco Del Mar, The Frist Center and Zanies Comedy Club. The book also contains discounts to Firestone Complete Auto Care, Tie Breaker Park, Tom Beach