Clarksville, TN – The City of Clarksville Parks and Recreation Department and Cumberland Bank & Trust are excited to announce the finalists and overall winner of the 2015 Queen City Road Race Art Contest.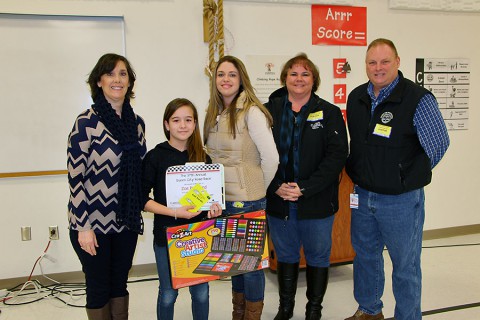 Two semi-finalists were selected from each of the twelve participating elementary schools and were presented a certificate and art kit.
In addition, three finalists were awarded a Subway party for their art class.
Congratulations to Zoe Prichard, Overall Contest Winner and 5th grade student at Pisgah Elementary.  Zoe's artwork will be featured on the 2015 official Queen City Road Race T-shirt and event poster.
Along with that honor, Zoe was awarded $100.00 for her art class, an art kit and a framed poster of her winning artwork!
Overall Winner
Zoe Prichard, Pisgah Elementary
Finalists
Nevaeh Sapp, Burt Elementary
Nevaeh Smith, Burt Elementary
Semi-finalists
Maddy Wood – West Creek Elementary
Brandi L. Williams – West Creek Elementary
Morgan Chancey – Sango Elementary
Parker Ferrell – Sango Elementary
Kayla Powers – Sango Elementary Honorable Mention
Maigan Cope – East Montgomery Elementary
Haleigh Lewis – East Montgomery Elementary
Zoe Dirks – Rossview Elementary
Ava Lindeman – Rossview Elementary
Gabriel Macias – Hazelwood Elementary
Sage Gavi – Moore Magnet Elementary
Michael Slebodnik – Clarksville Academy
Trinity Wilson – Clarksville Academy
Gwen Cole – Immaculate Conception
Moria Johnson – Immaculate Conception
Avrin McGinnis – Barsanti Elementary
Serilda McNerney – Barsanti Elementary
Danielle Darnell – Jackson Elementary
Makenna Frias – Jackson Elementary
Presenting sponsors of the Queen City Road Race, Cumberland Bank & Trust, play a large role in not only the race but the art contest as well.
"We are proud to sponsor the Queen City Road Race. As sponsor, we really enjoy seeing the t-shirt designs the children come up with," said Tirzah Tucker of Cumberland Bank & Trust.
The 37th Annual Queen City Road Race will take place Saturday, May 2nd at 8:00am. The event will include a 5k, 7k, and One Mile Movement. Registration kicks off February 17th, 2015.
For more details on the Queen City Road Race Art Contest and to see pictures of the contest as well as the artwork, please visit www.cityofclarksville.com/qcrr