Austin Peay Sports Information

Kennesaw, GA – Austin Peay State University played better on the second day of the Kennesaw State Owl Invitational, Saturday in Kennesaw, GA, but still couldn't come away with a victory in dropping a 10-7 decision to Indiana and an 8-2 final to Kennesaw State.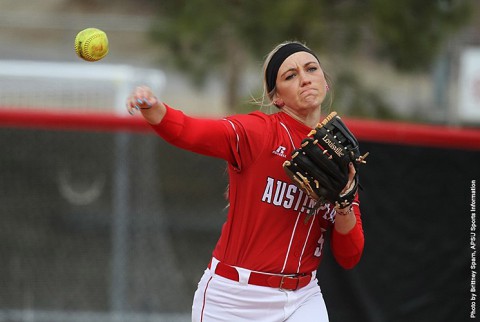 The Lady Govs (1-12) took advantage of three Indiana errors and two walks in the second inning to get out to a 5-0 lead, with
Rikki Arkansas
picking up a RBI on a bases-loaded walk and
Chandler Groves
driving in a run with a sacrifice fly.
But Indiana (4-16) answered with five runs of their own in the bottom of the inning – highlighted by a three-run homer by Mena Fulton.
The Hoosiers would take the lead for good in the bottom of the third inning, by scoring three runs, and push their advantage to 9-5 with a single run in the fourth.
Austin Peay would cut into the deficit with solo home runs from Niya Sparks and Christiana Gable – in the fifth and sixth innings respectively – to make it 9-7.
But that would be as close as the Lady Govs would get, with Indiana adding on a final run in the bottom of the sixth inning for the 10-7 final.
Vinchenza DiBenedetto would lead the Lady Govs with two hits, both doubles, while Allie Blackwood had the other APSU hit.
In the nightcap, Austin Peay would see Kennesaw State (12-6) score in each of the first four innings to take an 8-0 lead.
The Lady Govs would score their two runs in the top of the fifth inning on a two-run homer by Laurel Burroughs, which also scored Courtney Brower – who had reached on an error.
Burroughs would lead the Lady Govs with a 2-for-3 effort at the plate, while Sparks recorded her first triple of the year. DiBenedetto, Arkansas and Alexis Hill also had hits for Austin Peay.
Box Score – Game 1
Austin Peay 7 (1-11) vs Indiana 10 (4-16)
| | 1 | 2 | 3 | 4 | 5 | 6 | 7 | | | R | H | E |
| --- | --- | --- | --- | --- | --- | --- | --- | --- | --- | --- | --- |
| Austin Peay | 0 | 5 | 0 | 0 | 1 | 1 | 0 | | 7 | 5 | 5 |
| Indiana | 0 | 5 | 3 | 1 | 0 | 1 | X | | 10 | 13 | 6 |
W: Lora Olson (3-9) L: BLACKWOOD, Allie (0-2)
Austin Peay (1-11)
| Player | AB | R | H | RBI | BB | SO | PO | A |
| --- | --- | --- | --- | --- | --- | --- | --- | --- |
| GROVES, Chandler lf | 4 | 0 | 0 | 1 | 0 | 0 | 0 | 0 |
| BURROUGHS, Laurel 2b | 3 | 0 | 0 | 0 | 1 | 1 | 4 | 2 |
| GABLE, Christiana 1b | 4 | 1 | 1 | 1 | 0 | 0 | 7 | 0 |
| SPARKS, Niya 3b | 4 | 1 | 1 | 1 | 0 | 1 | 1 | 3 |
| BLACKWOOD, Allie p | 2 | 1 | 1 | 0 | 0 | 0 | 0 | 0 |
| AYALA, Natalie p | 2 | 0 | 0 | 0 | 0 | 2 | 0 | 1 |
| DiBENEDETTO, Vinchen dp | 4 | 1 | 2 | 0 | 0 | 1 | 0 | 0 |
| LAKE, Marissa pr | 0 | 0 | 0 | 0 | 0 | 0 | 0 | 0 |
| HILL, Alexis c | 2 | 1 | 0 | 0 | 2 | 0 | 3 | 0 |
| ARKANSAS, Rikki cf | 1 | 1 | 0 | 1 | 2 | 0 | 2 | 0 |
| OLIVER, Savanna ph | 1 | 0 | 0 | 0 | 0 | 0 | 0 | 0 |
| BROWER, Courtney rf | 3 | 1 | 0 | 0 | 0 | 1 | 0 | 0 |
| INAGAKI, Erica ss | 0 | 0 | 0 | 0 | 0 | 0 | 1 | 3 |
| Totals | 30 | 7 | 5 | 4 | 5 | 6 | 18 | 9 |
Indiana (4-16)
| Player | AB | R | H | RBI | BB | SO | PO | A |
| --- | --- | --- | --- | --- | --- | --- | --- | --- |
| Rebecca Blitz cf | 4 | 1 | 1 | 0 | 0 | 1 | 1 | 0 |
| Michelle Huber ph | 1 | 0 | 0 | 0 | 0 | 0 | 0 | 0 |
| Taylor Uden ss | 1 | 0 | 0 | 0 | 0 | 1 | 0 | 0 |
| Rachel O'Malley ph/ss | 3 | 0 | 2 | 2 | 0 | 0 | 1 | 2 |
| Kelsey Dotson c | 3 | 0 | 2 | 1 | 0 | 0 | 6 | 0 |
| CaraMia Tsirigos 1b | 3 | 0 | 0 | 0 | 1 | 0 | 7 | 0 |
| Kassi Farmer dp | 4 | 2 | 1 | 0 | 0 | 0 | 0 | 0 |
| Brianna Meyer rf | 4 | 1 | 2 | 1 | 0 | 0 | 2 | 0 |
| Shannon Cawley lf | 4 | 2 | 1 | 1 | 0 | 1 | 1 | 0 |
| Mena Fulton 3b | 4 | 2 | 1 | 3 | 0 | 0 | 1 | 2 |
| Alyssa Rosati pr | 0 | 0 | 0 | 0 | 0 | 0 | 0 | 0 |
| Erin Lehman 2b | 4 | 2 | 3 | 1 | 0 | 0 | 2 | 2 |
| Lora Olson p | 0 | 0 | 0 | 0 | 0 | 0 | 0 | 3 |
| Miranda Tamayo p | 0 | 0 | 0 | 0 | 0 | 0 | 0 | 0 |
| Totals | 35 | 10 | 13 | 9 | 1 | 3 | 21 | 9 |
BATTING:
2B: Kelsey Dotson 1; Kassi Farmer 1; Erin Lehman 1
3B: Erin Lehman 1
HR: Shannon Cawley 1; Mena Fulton 1
BASERUNNING:
SB: Rebecca Blitz 1; Kassi Farmer 1; Brianna Meyer 1
HBP: Kelsey Dotson 1
FIELDING:
E: Taylor Uden 2; Rachel O'Malley 1; CaraMia Tsirigos 1; Mena Fulton 2
Box Score – Game 2
Austin Peay 2 (1-12) vs Kennesaw State 8 (12-6)
| | 1 | 2 | 3 | 4 | 5 | 6 | 7 | | | R | H | E |
| --- | --- | --- | --- | --- | --- | --- | --- | --- | --- | --- | --- |
| Austin Peay | 0 | 0 | 0 | 0 | 2 | 0 | 0 | | 2 | 6 | 3 |
| Kennesaw State | 1 | 2 | 3 | 2 | 0 | 0 | X | | 8 | 10 | 3 |
W: MATHEWS, Paige (4-2) L: AYALA, Natalie (1-6)
Austin Peay (1-12)
| Player | AB | R | H | RBI | BB | SO | PO | A |
| --- | --- | --- | --- | --- | --- | --- | --- | --- |
| GROVES, Chandler lf | 4 | 0 | 0 | 0 | 0 | 1 | 2 | 0 |
| BURROUGHS, Laurel 2b | 3 | 1 | 2 | 2 | 0 | 0 | 3 | 4 |
| GABLE, Christiana 1b | 3 | 0 | 0 | 0 | 0 | 0 | 3 | 0 |
| SPARKS, Niya 3b | 3 | 0 | 1 | 0 | 0 | 1 | 2 | 2 |
| DiBENEDETTO, Vinchen dp | 3 | 0 | 1 | 0 | 0 | 0 | 0 | 0 |
| HILL, Alexis c | 3 | 0 | 1 | 0 | 0 | 1 | 3 | 0 |
| AYALA, Natalie p | 1 | 0 | 0 | 0 | 0 | 1 | 0 | 0 |
| NORRIS, Heather p | 1 | 0 | 0 | 0 | 0 | 0 | 0 | 3 |
| ARKANSAS, Rikki cf | 3 | 0 | 1 | 0 | 0 | 1 | 2 | 0 |
| BROWER, Courtney rf | 3 | 1 | 0 | 0 | 0 | 1 | 1 | 0 |
| INAGAKI, Erica ss | 0 | 0 | 0 | 0 | 0 | 0 | 2 | 0 |
| Totals | 27 | 2 | 6 | 2 | 0 | 6 | 18 | 9 |
Kennesaw State (12-6)
| Player | AB | R | H | RBI | BB | SO | PO | A |
| --- | --- | --- | --- | --- | --- | --- | --- | --- |
| RHODES, Natalie cf | 3 | 1 | 1 | 0 | 1 | 0 | 0 | 0 |
| BENNETT, Lauren 2b | 4 | 2 | 3 | 1 | 0 | 0 | 1 | 2 |
| CHAMBERS, Kara ss | 3 | 1 | 2 | 1 | 0 | 0 | 0 | 2 |
| VERINGA, Megan 1b | 3 | 1 | 1 | 3 | 0 | 1 | 11 | 0 |
| KARTMAN, Hillary dp | 3 | 0 | 1 | 0 | 0 | 1 | 0 | 0 |
| SUTTER, Courtney c | 3 | 1 | 0 | 0 | 0 | 1 | 6 | 0 |
| WINKLES, Noelle lf | 2 | 1 | 0 | 0 | 1 | 0 | 0 | 0 |
| DENTON, Taylor rf | 2 | 0 | 0 | 0 | 0 | 0 | 1 | 0 |
| PERKOWSKI, Missy 3b | 3 | 1 | 2 | 2 | 0 | 0 | 1 | 3 |
| MATHEWS, Paige p | 0 | 0 | 0 | 0 | 0 | 0 | 1 | 1 |
| SIKES, Morgan p | 0 | 0 | 0 | 0 | 0 | 0 | 0 | 1 |
| Totals | 26 | 8 | 10 | 7 | 2 | 3 | 21 | 9 |
BATTING:
3B: CHAMBERS, Kara 1
HR: VERINGA, Megan 1
SH: DENTON, Taylor 1
BASERUNNING:
SB: BENNETT, Lauren 1; CHAMBERS, Kara 1
CS: CHAMBERS, Kara 1
FIELDING:
E: CHAMBERS, Kara 1; SUTTER, Courtney 1; PERKOWSKI, Missy 1