Austin Peay Sports Information

Edwardsville, IL – Austin Peay State University women's tennis team dropped a 7-0 decision to SIU Edwardsville, Saturday, at the SIUE Tennis Courts.
With the loss the Lady Govs fall to 2-13 overall, with a 0-5 mark in the Ohio Valley Conference. SIUE improves to 7-8 overall, with a 3-1 OVC record.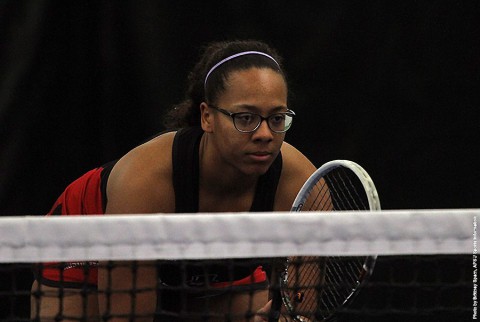 In doubles play, the senior pairing of
Ornella Di Salvo
and
Vanessa Tavares
dropped an 8-4 decision at the No. 1 position.
The Cougars were able to claim the doubles point when the duo of senior Jovana Karac and sophomore Hannah Tatlock lost an 8-3 match at No. 2.
In singles action, the Lady Govs were led by sophomore Isabela Jovanovic who forced a third set before falling to Sierra Halverson 1-6, 6-0, 10-7 at No. 5. In other singles matches, Tatlock dropped a 6-0, 7-6 (4) decision to Mia Frogner at the No. 2 slot while freshman Brittney Covington dropped a 6-2, 6-3 match to Kali Donner at No. 4.
The Lady Govs return to action with a 2:00pm, Friday, contest against OVC foe Morehead State at the Governors Tennis Courts.
Box Score
Singles
No. 1 – Lexi Arnada (SIUE) def. Ornella Di Salvo (APSU) 6-1, 6-2
No. 2 – Mia Frogner (SIUE) def. Hannah Tatlock (APSU) 6-0, 7-6 (4)
No. 3 – Monique Krutak (SIUE) def. Vanessa Tavares (APSU) 6-1, 6-0
No. 4 – Kali Donner (SIUE) def. Brittney Covington (APSU) 6-2, 6-3
No. 5 – Sierra Halverson (SIUE) def. Isabela Jovanovic (APSU) 1-6, 6-0, 10-7
No. 6. – Haley Ilcewicz (SIUE) def. Jovana Karac (APSU) def. 6-3, 6-0
Doubles
No. 1 – Frogner/Kurtak (SIUE) def. Di Salvo/Tavares (APSU) 8-4
No. 2 –ArnadaHalverson (SIUE) def. Tatlock/Karac (APSU) 8-1
No. 3 – Donner/Ilcewicz (SIUE) vs. Covington/Jovanovic (APSU) 8-4