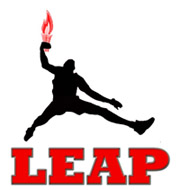 Clarksville, TN – On March 20th, 2015, a hacker defaced the LEAP Organization's website (www.leaporg.net) resulting in its hosting company deactivating it for up to a week while all malware is removed. This couldn't come at a worse time for the organization who is currently in a online building fund campaign.
The morning of the cyber attack, LEAP published an update on various social media outlets that Dave Davidson, the owner of the building reduced the sales price and the Fort Campbell Federal Credit Union provided favorable financing terms that reduced the down payment from $633,277 to $360,000. The organization has already raised $38,743 reducing the down payment to $321,257.
After posting the update, LEAP received its largest donation for the building fund campaign through their GofundMe account.
A few hours later, Rossview High School Art Academy students chipped in by delivering some amazing custom artwork to help market the organization. Later that evening, as Executive Director, Richard "Reason" Garrett was preparing to update the website with the artwork, he noticed it had been hacked and defaced.
"Initially I was frustrated especially when I looked up the hacker on Facebook and saw them bragging on their wall about all the different websites they hacked. Then as I paid more attention to his tagline 'Cyb3r Sw0rd – We Are Unbeatable' I realized this was just an attack of the enemy meant to discourage us from what God called us to do." commented Richard. "They may have struck first with their cyber sword and won a battle, but LEAP stands on the Sword of the Spirit of God and no weapon formed against us will prosper"
LEAP's hosting company should have the website restored and accessible within a week. The organization has purchased additional security to reduce the likelihood of another cyber attack.
LEAP's mission is to instill positive moral growth and sustainable life skills development in youth. Those wishing to contribute to the building fund campaign can still do so through www.gofundme.com/LEAP-Plaz