APSU Sports Information

Clarksville, TN – Staying in the midstate area, Austin Peay State University track and field will make the trek down Interstate 24 for the Vanderbilt Black and Gold. The two-day event, scheduled to begin 4:00pm, Friday, will be held at the Vanderbilt Track and Field Complex.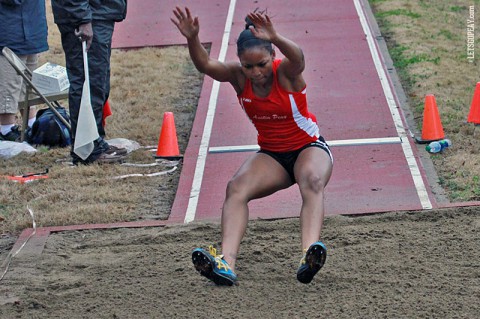 With temperatures expected to dip into the high-30s over the weekend, conditions will be less than ideal for the event. Austin Peay, with no dedicated indoor facility during the winter months, may be at an advantage in the March chill.
Junior Breigh Jones makes her outdoor debut in the 400m dash this weekend. In her first two seasons, all Jones has done in that event is smash the school record, qualify for the NCAA East Regional twice and advanced to the NCAA Championships a year ago. What she'll do for an encore is anyone's guess, but the quest for a second straight OVC gold medal begins this weekend.
Sophomores Chancis Jones and Kaylnn Pitts look to build off promising first-week results – Jones won the long jump last week, while Pitts took the top spot in the triple jump at the Georgia Relays.
Austin Peay's 100m dash duo of senior Erika Adams and junior Lamontra Robinson could turn some heads this weekend. Not only is Adams, the school-record holder in the event, scheduled to run but Robinson, who hit her personal-best at last weekend's Georgia Relays, has come on strong of late as well and is poised for a breakout performance in the near future.
The hurdles contingent will run deep this week. Not only will sophomores Amia Butler and Myiah Johnson – who picked up the win the 100m hurdles at Vanderbilt last season – be competing in the 100m hurdles, but senior Natalie Olberding, who finished just off the podium last season, will be lifted as well by the arrival of junior Michaela McGhee, who is scheduled to make her first appearance in the 400m hurdles this weekend.
The Lady Govs will take Easter weekend off before getting back into the swing of things at the Hilltopper Relays, April 10th-11th, in Bowling Green, KY.
Video – Chancis Jones