Austin Peay Sports Information

Clarksville, TN – Starting pitcher Alex Robles posted his second complete-game outing this season, leading Austin Peay State University's baseball team to a 7-4 victory against Belmont, Friday night, in the opening game of their Ohio Valley Conference series at Raymond C. Hand Park.

For the second straight year, Robles (3-2) threw a complete game against Belmont, following up his one-hit shutout last season with Friday's effort.

The sophomore right-hander held Belmont to two runs in the first seven innings before surrendering single runs in both the eighth and ninth innings.

Robles retired the first seven batters he faced and only an error in the third inning broke the streak. He ultimately struck out 11 of the first 12 batters he faced before allowing a one-out single in the fourth, ultimately leading to the game's first two runs.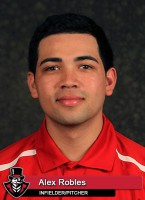 Austin Peay (18-12, 10-6 OVC) responded with two runs of its own in the bottom of the fourth. Right fielder Josh Wilson hit a two-out double down the right-field line to drive in two runs and tie the game.
Two-out runs were the night's theme as the Govs struck for two runs again with two outs in the fifth. Second baseman Garrett Copeland did the damage with a two-run home run to left center, giving Austin Peay a 4-2 lead.
Austin Peay would strike for three runs in the seventh, again all with two out. Third baseman Logan Gray had a RBI single, Robles was hit by a pitch with the bases loaded and catcher Ridge Smith had a RBI infield single, extending the APSU lead to 7-2.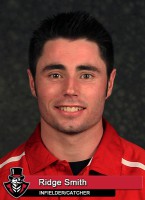 Belmont (16-14, 8-4 OVC) also scored all its runs with two outs. Designated hitter Nick Egli and third baseman Tyler Walsh hit back-to-back RBI singles for an early 2-0 lead.
First baseman Matt Beaty drove in the Bruins eighth-inning run with a single and one inning later it was pinch hitter Dom Veltri who drove in a run with a single in the ninth.
Robles (3-2) scattered seven hits over nine innings but more importantly did not walk any of the 26 batters he faced. He struck out a season-high eight batters.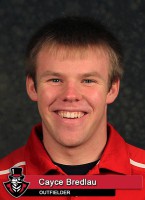 Copeland and Wilson each had two RBI to pace the Govs. Left fielder Cayce Bredlau and first baseman Dre Gleason each had two hits in APSU's nine-hit outing.
Belmont starter Dan Ludwig (3-3) suffered the loss after allowing seven runs (five earned) on six hits in seven innings, but did strike out 10 batters.
First baseman Matt Beaty had Belmont's lone multihit outing, going 2-for-4 with a RBI.
Austin Peay and Belmont continue the three-game OVC series with a 2:00pm, Saturday contest.
Box Score
Belmont (16-14 / 8-4) -vs- Austin Peay (18-12 / 10-6)
| | 1 | 2 | 3 | 4 | 5 | 6 | 7 | 8 | 9 | R | H | E |
| --- | --- | --- | --- | --- | --- | --- | --- | --- | --- | --- | --- | --- |
| Belmont | 0 | 0 | 0 | 2 | 0 | 0 | 0 | 1 | 1 | 4 | 7 | 1 |
| Austin Peay | 0 | 0 | 0 | 2 | 2 | 0 | 3 | 0 | X | 7 | 9 | 1 |
W: ROBLES, Alex (3-2)    L: LUDWIG, Dan (3-3)
[370center]
Belmont 4
| | Player | AB | R | H | RBI | BB | SO | LOB |
| --- | --- | --- | --- | --- | --- | --- | --- | --- |
| c | DIAMOND, Alec | 4 | 0 | 0 | 0 | 0 | 0 | 2 |
| cf | FERGUSON, Drew | 4 | 0 | 0 | 0 | 0 | 1 | 0 |
| 1b | BEATY, Matt | 4 | 1 | 2 | 1 | 0 | 0 | 0 |
| 2b | FULLERTON, Tyler | 4 | 0 | 1 | 0 | 0 | 1 | 1 |
| dh | EGLI, Nick | 4 | 1 | 1 | 1 | 0 | 1 | 1 |
| 3b | WALSH, Tyler | 4 | 0 | 1 | 1 | 0 | 1 | 0 |
| lf | STOVALL, Joseph | 3 | 0 | 0 | 0 | 0 | 2 | 0 |
| ph | AMMONS, Desi | 1 | 1 | 1 | 0 | 0 | 0 | 0 |
| rf | WASHINGTON, Brennan | 3 | 0 | 0 | 0 | 0 | 1 | 0 |
| ph | VELTRI, Dom | 1 | 0 | 1 | 1 | 0 | 0 | 0 |
| ss | CONGER, Kyle | 2 | 1 | 0 | 0 | 0 | 1 | 1 |
| p | LUDWIG, Dan | 0 | 0 | 0 | 0 | 0 | 0 | 0 |
| p | ETHERIDGE, Connor | 0 | 0 | 0 | 0 | 0 | 0 | 0 |
| | Totals | 34 | 4 | 7 | 4 | 0 | 8 | 5 |
Batting
2B:BEATY, Matt (1); AMMONS, Desi (1)
Baserunning
SB:BEATY, Matt (1); EGLI, Nick (1)
CS:WALSH, Tyler (1)
HBP:CONGER, Kyle (2)
Fielding
E:WALSH, Tyler (1)
Austin Peay 7
| | Player | AB | R | H | RBI | BB | SO | LOB |
| --- | --- | --- | --- | --- | --- | --- | --- | --- |
| cf | MASSONI, Patrick | 3 | 0 | 1 | 0 | 0 | 0 | 0 |
| pr/cf | HAMILTON, Chase | 1 | 1 | 0 | 0 | 0 | 0 | 0 |
| lf | BREDLAU, Cayce | 5 | 1 | 2 | 0 | 0 | 3 | 0 |
| 2b | COPELAND, Garrett | 4 | 2 | 1 | 2 | 1 | 2 | 2 |
| 3b | GRAY, Logan | 3 | 0 | 1 | 1 | 1 | 1 | 1 |
| p | ROBLES, Alex | 3 | 1 | 0 | 1 | 0 | 2 | 0 |
| c | SMITH, Ridge | 4 | 1 | 1 | 1 | 0 | 1 | 0 |
| rf | WILSON, Josh | 4 | 0 | 1 | 2 | 0 | 0 | 3 |
| 1b | GLEASON, Dre | 4 | 0 | 2 | 0 | 0 | 1 | 2 |
| ss | WILLIS, Imani | 4 | 1 | 0 | 0 | 0 | 2 | 0 |
| | Totals | 35 | 7 | 9 | 7 | 2 | 12 | 8 |
Batting
2B:WILSON, Josh (1); GLEASON, Dre (1)
HR:COPELAND, Garrett (1)
Baserunning
SB:MASSONI, Patrick (1); HAMILTON, Chase (1); COPELAND, Garrett (2); WILLIS, Imani (1)
HBP:MASSONI, Patrick (1); ROBLES, Alex (1)
Fielding
E:WILLIS, Imani (1)
Sections
Sports
Topics
Alex Robles, APSU, APSU Athletics, APSU Baseball, APSU Men's Baseball, APSU Sports, Austin Peay State University, Belmont, Bruins, Cayce Bredlau, Clarksville TN, Dan Ludwig, Dre Gleason, Garrett Copeland, Governors, Govs, Josh Wilson, Logan Gray, Matt Beaty, Ohio Valley Conference, OVC, Raymond C. Hand Park, Ridge Smith, Tyler Walsh