Clarksville, TN – For two years, Austin Peay State University softball player Niya Sparks had to look well down the list on the stat sheet to see her season totals.
That's not the case anymore; with the junior finally reaping the rewards of a lot of hard work and self-belief in becoming one of the top hitters at her position in the Ohio Valley Conference.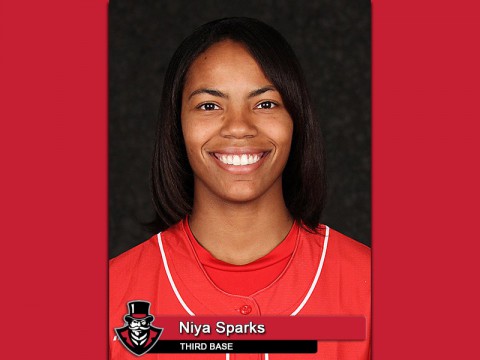 Sparks, a third baseman, came out of Lexington High School in west Tennessee touted as a big-time power hitter and run producer – with 39 career home runs — for a team that made three state tournament appearances.
But her freshman and sophomore seasons proved to be tough ones, as she entered this season with a career .109 batting average and only one home run in 110 career at bats.
"I came to Austin Peay with a lot of confidence after high school," Sparks said. "You hit so many home runs and have so much success, you think I ready for college (softball), but it's totally different experience. "I'll admit, that where were times after bad games when I would think maybe you should give it (playing) up, but then again you have to dig past that and still think about why you play the game."
It has been that belief in playing the game, for Sparks, and a lot of hard work that has proven to be well founded – with the junior leading the team with a .329 batting average, while tying for the team lead in home runs, with seven.
"We've talked with her from the time she got here about slowing down and being more selective," Austin Peay head coach Stephanie Paris said. "When she got her she was a grip it and rip it type of kid, but now she's become a more complete hitter, with a different approach at the plate.
"She's more disciplined, she's taking more walks, and it's all playing off for her. She is seeing that it is paying off for her and it is making her successful hitter for us this year."
More successful and more complete at the plate, with Sparks having an on-base percentage of .461 – up over 150 points from her first two years average – and a slugging percentage of .646 – over .500 points better than her career average.
If the season were to end today, that slugging percentage would be the fourth-best in school history for a single season.
"I'm just trying to be better for my teammates and not just for myself," Sparks said. "I've had to learn to be relaxed at the plate, be patient, but at the same time be aggressive on pitches I need to hit.
"I'm just trying to become the complete hitter that my coaches and teammates have told me I could be."