Austin Peay Sports Information

Murray, KY – Austin Peay State University's softball team got a two-run homer from Laurel Burroughs in the top of the sixth inning, Sunday at Racer Field in the Ohio Valley Conference series finale with Murray State, but it wasn't enough with the Lady Govs coming away with a 5-2 loss.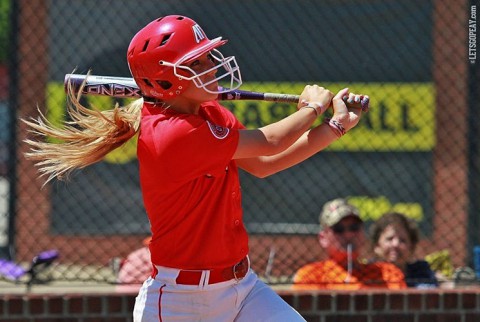 The home run was the eighth of the year for Burroughs, tying Christiana Gable for the Austin Peay (9-34, 5-19 OVC) lead.
Burroughs' home run – which also scored Chandler Groves, who had opened the inning by drawing a walk – was just the third hit of the game up to that point for Austin Peay; with Mel Pavel picking up a single in the second inning and Burroughs a single in the third.
Murray State (32-16, 17-7 OVC) got on the board first — with a run in the third inning — but it was the three runs the Racers pushed across in the bottom of the fourth inning that proved to be the difference, while adding an insurance run in the bottom of the fourth.
Austin Peay had a chance to tie the game in the top of the seventh inning, with Rikki Arkansas and Courtney Brower picking up back-to-back, two-out singles, which brought up Groves – the team's second-leading RBI producer – as the possible tying run at the plate.
But Murray State starter CheyAnne Gaskey (17-8) got Groves to fly out to medium center field to end the game.
Austin Peay Lady Govs Softball are back on the field Saturday, May 2nd for a doubleheader against Southeast Missouri in Clarksville, TN. The first game starts at 12:00pm and the second begins at 2:00pm.
Box Score
Austin Peay (9-34 / 5-19) -vs- Murray State (32-16 / 17-7)
| | 1 | 2 | 3 | 4 | 5 | 6 | 7 | R | H | E |
| --- | --- | --- | --- | --- | --- | --- | --- | --- | --- | --- |
| Austin Peay Lady Govs | 0 | 0 | 0 | 0 | 0 | 2 | 0 | 2 | 5 | 1 |
| Murray State Racers | 0 | 0 | 1 | 3 | 1 | 0 | X | 5 | 8 | 0 |
W: GASKEY, CheyAnne (17-8)    L: HOOPER, Sidney (2-11)
Austin Peay 2
| | Player | AB | R | H | RBI | BB | SO | LOB |
| --- | --- | --- | --- | --- | --- | --- | --- | --- |
| lf | GROVES, Chandler | 2 | 1 | 0 | 0 | 1 | 0 | 2 |
| 2b | BURROUGHS, Laurel | 3 | 1 | 2 | 2 | 0 | 1 | 0 |
| 1b | GABLE, Christiana | 1 | 0 | 0 | 0 | 2 | 0 | 1 |
| pr | LAKE, Marissa | 0 | 0 | 0 | 0 | 0 | 0 | 0 |
| 3b | DiBENEDETTO, Vinchen | 3 | 0 | 0 | 0 | 0 | 2 | 0 |
| dp | HOEG, Morgan | 3 | 0 | 0 | 0 | 0 | 2 | 2 |
| c | PAVEL, Mel | 3 | 0 | 1 | 0 | 0 | 0 | 0 |
| ss | INAGAKI, Erica | 3 | 0 | 0 | 0 | 0 | 0 | 0 |
| cf | ARKANSAS, Rikki | 3 | 0 | 1 | 0 | 0 | 1 | 0 |
| rf | BROWER, Courtney | 3 | 0 | 1 | 0 | 0 | 1 | 0 |
| p | HOOPER, Sidney | 0 | 0 | 0 | 0 | 0 | 0 | 0 |
| p | BLACKWOOD, Allie | 0 | 0 | 0 | 0 | 0 | 0 | 0 |
| | Totals | 24 | 2 | 5 | 2 | 3 | 7 | 5 |
Batting
HR:BURROUGHS, Laurel (1)
Baserunning
HBP:GROVES, Chandler (1)
Fielding
E:INAGAKI, Erica (1)
Murray State 5
| | Player | AB | R | H | RBI | BB | SO | LOB |
| --- | --- | --- | --- | --- | --- | --- | --- | --- |
| ss | BECKER, Alexa | 3 | 2 | 2 | 1 | 1 | 0 | 0 |
| cf | RAMSEY, Mo | 3 | 0 | 1 | 1 | 0 | 1 | 0 |
| 1b | BUNCH, Katie | 1 | 0 | 0 | 0 | 0 | 0 | 0 |
| 1b | TWADDLE, Jessica | 2 | 0 | 0 | 0 | 1 | 0 | 1 |
| 2b | MILLER, Shelbey | 4 | 1 | 2 | 1 | 0 | 0 | 1 |
| c | RODGERS, Jocelynn | 3 | 0 | 0 | 1 | 0 | 0 | 2 |
| pr | HOWARD, Erica | 0 | 0 | 0 | 0 | 0 | 0 | 0 |
| 3b | GLASS, Maggie | 2 | 0 | 0 | 0 | 1 | 0 | 0 |
| lf | LEVINS, Cayla | 3 | 1 | 2 | 0 | 0 | 0 | 0 |
| dp | ODOM, Taylor | 2 | 1 | 1 | 0 | 1 | 0 | 2 |
| pr | DOWNEY, Erika | 0 | 0 | 0 | 0 | 0 | 0 | 0 |
| rf | RICHARDSON, Mallory | 3 | 0 | 0 | 0 | 0 | 1 | 2 |
| p | GASKEY, CheyAnne | 0 | 0 | 0 | 0 | 0 | 0 | 0 |
| | Totals | 26 | 5 | 8 | 4 | 4 | 2 | 8 |
Batting
3B:MILLER, Shelbey (1)
SH:RAMSEY, Mo (1)
Baserunning
SB:BECKER, Alexa (1); RAMSEY, Mo (1)