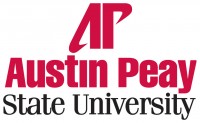 Clarksville, TN – On April 28th, Austin Peay State University recognized several outstanding faculty members during the annual Academic Honors and Awards Ceremony in the Mabry Concert Hall.
The University's top faculty honor, the APSU National Alumni Association Distinguished Professor Award, was presented to Dr. Nell Rayburn, professor of mathematics. Rayburn earned her Ph.D. in mathematics from Vanderbilt University, and in 1988, she arrived at APSU as an assistant professor.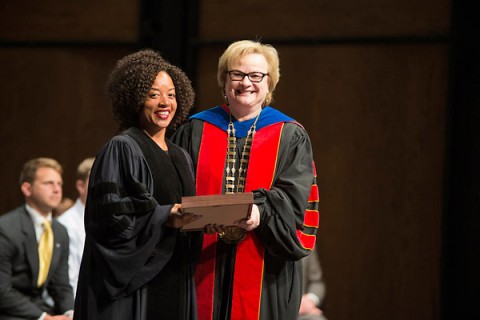 During her career at Austin Peay, she has received the Socrates Award, the Distinguished Community Service Award and the Academic Advising Award.
The University presented three tenure-track faculty members with the Socrates Award, which recognizes those instructors and professors who are known around campus for their ability to inspire and motivate students. This year's recipients were Kristen Hershey, associate professor of nursing, Dr. Andrea Spofford, associate professor of languages and literature, and Jane Semler, associate professor of allied health sciences.
The University's Richard M. Hawkins Award, presented each spring to a faculty member who has demonstrated exceptional scholarly and creative behavior, was presented to Dr. Dwonna Goldstone, professor of languages and literature. Since joining the APSU faculty in 2001, Goldstone has published four articles in peer-reviewed journals, three essays in book length collections and five reviews of scholarly books. Her own book, "Integrating the 40 Acres: The 50-Year Struggle for Racial Equality at the University of Texas," won the 2006 Coral H. Tullis Memorial Award for best book on Texas history.
Each year, the Distinguished Community Service Award recognizes a full-time teaching member or departmental chair whose service has enhanced or will enhance the quality of life in the Clarksville-Montgomery County area.
Dr. Minoa Uffelman, associate professor of history, received the award this year because of her efforts to blend her research with the interests of the local community. She has given 50 presentations to various groups interested in local and regional history in the 19th and 20th centuries, written numerous articles in support of these talks and organized more than 30 lectures and presentations that have helped the local community become more aware of its past.
For more information on these awards, contact the APSU Office of Academic Affairs at .