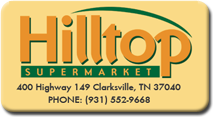 Clarksville, TN – On Saturday, May 2nd, Hilltop Super Market held their 6th Annual BBQ Cook-Off. The weather perfect for the event. The sweet aroma of BBQ cooking drifted along the cool breeze that day.
People drifted in and around the BBQ cooking contest all day. Hilltop was selling BBQ, ribs, etc, that everyone was enjoying.
"This is a great event. It is a good way to kick off Spring. What more American thing to do on a Saturday than to enjoy BBQ. I really enjoyed it," said Montgomery County Sheriff John Fuson.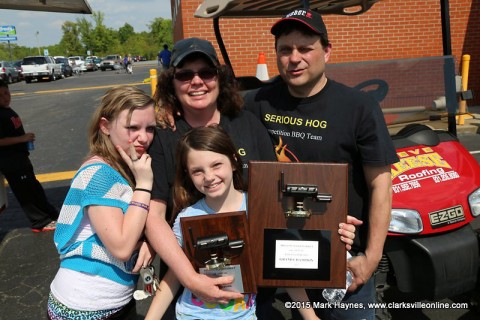 The categories this year are chicken, ribs, pork and dessert. There was cash prizes for the 1st, 2nd and 3rd place finishing teams per category and an overall Grand Champion.
Judging was based on a point system from 1 to 10 (10 being the best). Each entry was judge for it's taste, texture and appearance. Total points per entry determined the champion.
"The people here at Hilltop are great. The facilities are great, were on blacktop. Had a great car show last night. I would say there were 500-1000 people here last night. There were a couple of great bands," said James Brawner of Team Grillin' n Chillin'.
"The hospitality here is second to none. We always enjoy coming to Clarksville, cooking and meeting new people," stated Brawner. "It's just a great community, great neighborhood and were happy to be here."
There were 17 teams in this years event. They were: Big B BBQ, Rib Cage Tenn, The Q Crew, Backyard Kuisine, Serious Hog, Wolf Candy BBQ, Tenn River Porkers, Double A BBQ, Grilling and Chilling – Davidson, Custom Cookers, Smoke em' if U got 'em, Midnight Smokers, Grillin' n Chillin', B & B BBQ, Buckshot Malone Pig Shack, Tenn Double D BBQ, and Gateway BBQ.
"This is a great event. Dwayne, Mike and all of them do a great job. I came last year. It was my first time. I will definitely come back. They do a good job. It is well organization and a great run contest," said Kevin Hamlin with Customs Cookers out of Paris, TN.
The judging started with chicken at 12:00pm, then spare ribs at 12:30pm, pork at 1:00pm and finally dessert at 1:30pm.
"All of the entries were good. It was very difficult to judge. We have a lot of good cooks from all over the county here. You're at the right place if you wanted to eat some good food because this is where it was today," stated Sheriff Fuson.
"I think this was the best group of competitors we've every had. The scoring was so close," said Mike Jackson, Hilltop manager. "Everybody was pretty much neck and neck. It was a tight competition."
Once the judging was done, the score sheets were computer tallied to determine the winners.
Smoke 'em if U got 'em came in first in the dessert category. Tenn River Porkers placed second with Serious Hog coming in third.
"The desserts were super. Our group only got to judge four of them. But they were good, very good," said Sheriff Fuson. "After eating all that food, the desserts were a good way to finish it all off."
"I think the dessert category was a great one to add. We've seen some fabulous desserts, anything from cakes to pies to banana pudding. It was all kinds of things. It was really good," stated Jackson.
For chicken, it was Gateway BBQ grabbing first place with second going to Wolf Candy BBQ and Grillin' n Chillin' coming in third.
Big B BBQ won first in pork ribs. Rib Cage Tenn came in second with The Q Crew getting third.
In the pulled pork category, first place went to Custom Cookers from Paris, TN, second went to Midnight Smokers and Serious Hog came in third.
When asked about their win, Hamlin with Custom cookers stated, "It was surprising. I've been in a slump so maybe this will turn it around for me."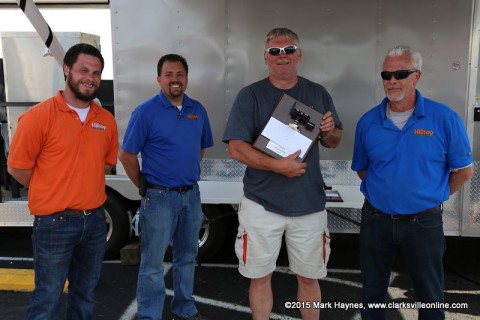 Once the scores were totaled from all three categories, it was Serious Hog winning Grand Champion. Big B BBQ came in second and Backyard Kuisine was third.
The Serious Hog team consisted of Matt Rooks, his wife Lisa Rooks and their granddaughters Caden and Lexie Schimmel.
"The win is amazing. It's our first Grand Championship. We been doing competitive barbecuing for a few years now and it's the first time we've put it all together for a grand. It's quite an amazing feeling," said Matt Rooks from team Serious Hog. "We've had a few category wins and some placings before but never something like this where we won the whole thing."
"Last time we got next to last place with our chicken so I went and pulled out every recipe that I liked, wrote them out and made a combo. I picked the qualities I liked out of each one," stated Lisa Rooks.
"They put on a great event. We came here last year. We'll come here every year their will to have us. We were the last ones here," stated Matt Rooks. "We got this new rig over the winter and it allows us to be organized so that even though we showed up late we got our work done."
"This was one of the best cook-offs we've every had. It was the biggest turn out we've every had. We had 18 teams originally, one guy got sick and had to drop out last night. So we wound up with 17 teams in the big cook-off and 8 teams in the Country Boy cook-off," said Jackson. "There were probably 80-100 cars out here last night. So it was a great turnout, sold a lot of BBQ, everybody was happy, so were just tickled to death."
"We really appreciate everyone that helped us out like Dwayne Byard, Palmyra Volunteer Fire Department, Montgomery County Sheriff Office, the car show guys, along with the Hilltop crew," stated Jackson.
A special thanks to all the sponsors that help make this event possible; Ajax Distributors, Ideal Distributors, Mitchell Electric, Action Air, Cumberland Bank and Trust, Satellite Electronics, Wyatt's Body Shop, U Jumpin' Foulks, Queen City Restaurant Equipment, Clack's Salvage, Steve Keese Roofing, Terry Brown Auto Sales, Beck's Logging and Hauling, Mark Davis Trucking, Movies-N-More, Jimmy Miller Construction, Rainbow Electric Service, Sun Loan, Jackson's Body Shop, Southside Veterinary Clinic, Mid-Tenn Alarms, Back Lot Pickers, and Modern Day Drifters.
The Results
GRAND CHAMPION
Place
Team
1st
Serious Hog
2nd
Big B BBQ
3rd
Backyard Kuisine
PULLED PORK
Place
Team
1st
Custom Cookers
2nd
Midnight Smokers
3rd
Serious Hog
PORK RIBS
Place
Team
1st
Big B BBQ
2nd
Rib Cage Tenn
3rd
The Q Crew
CHICKEN
Place
Team
1st
Gateway BBQ
2nd
Wolf Candy BBQ
3rd
Grillin' n Chillin' – Springville, TN
DESSERT
Place
Team
1st
Smoke 'em If U Got 'em
2nd
Tenn River Porkers
3rd
Serious Hog
Photo Gallery
Hilltop Super Market
Hilltop Super Market is located at 400 Highway 149, Clarksville TN. From Clarksville, you would take Hwy 48/13 south across the Cumberland river, turn right on highway 149 and Hilltop Super Market is located on the left at the top of the hill next to Freds. Hilltop serves the grocery needs of the southern Montgomery county area.
Visit their website at: www.hilltopsupermarket.com.